Reading Time:
10
minutes
If you run a Shopify store, some of the biggest questions around blogging include these:
Should you host your blog on Shopify or a subdomain with WordPress?
Is it worth your time running a blog, or will it just be a waste of time?
What are some examples of Shopify sites blogging well?
Let's dive right in.
Should you host your blog on Shopify or a subdomain with WordPress?
This one is fairly straightforward: run your blog on Shopify.
There are big benefits to having your blog on a subfolder of your Shopify domain, and not a subdomain with some other blogging CMS, perhaps up to a 40% traffic boost by moving from a subdomain to subfolder.
Just look at the passion here:
If your entire business is based on blogging, then sure use WordPress. But if you're already on Shopify, don't overthink it, just run it on the built-in Shopify blogging system.
If you really can't decide or are trying to over-optimize your future state, do this instead: write your first 100 blog posts right within Shopify's blogging system. If after doing that you have some big reason to move the blog posts over to a subdomain and run it on WordPress, do it then.
And yes, there may be some complicated setups where it can make sense to take a traffic loss because you'll make up for it in other ways by using WordPress' flexibility on a subdomain, but that's rare.
Is it worth your time running a blog on your Shopify store, or will it just be a waste of time?
This is a complicated question, and depends on your funding, business model, profit margin, risk forecast and more.
To put it simply, most Shopify stores will benefit from running a blog over the long term. Here are four scenarios and recommendations, hopefully one of these applies to you.
1. Startup Shopify store, with no money for paid ads: you should focus on blogging
Most Shopify stores sell very visual products. Products that people like to see visually. For that reason paid ads are the main way to gain traction early on. Facebook Ads, Google Shopping/Product Listing Ads, retargeting ads, etc.
But if you have zero budget for ads, your only option is free social media, word of mouth, and the sweat equity you can put in via blogging.
You really don't have many options here, so get writing.
2. High-growth Shopify store, with a budget for paid ads: put blogging on the backburner
If your store is taking off, and you're currently getting great ROI from paid ads, email, and paid social, keep your foot on that pedal.
Blogging is a much longer feedback loop and takes a long time to ramp up. While your brand is in high-growth mode, you should focus on scaling with paid ads to learn and adapt quickly, generating the revenue you need to keep fueling your business until it starts to plateau.
You shouldn't totally ignore blogging. It can be a good place to communicate with your current customers, make announcements, and show some personality. But for a traffic-generating purpose, you'll be spending a good amount of money up front, as well as human capital, and the payoff takes much longer. That being said, when you start to notice paid ad prices starting to rise in your industry, and acquiring customers is becoming more expensive, you should start laying down the groundwork for blogging in preparation for scaling in the near future.
3. Complicated or expensive product: blogging should play a significant role
Inbound marketing and SEO really does work best for complicated and higher-ticket products and services. That's why there's a lot of SEOs hired by local lawyers, but not local coffee shops.
If you're selling products that are high-ticket items and are complicated, you should make blogging and educational content a part of your process early on.
Does this apply to luxury products, like luxury handbags? Not really. You're selling on status, design, and envy, and you don't really need to write 20 articles about the intricacies of a luxury handbag. That being said, there is still space to talk about the intricacies of technical product features or interviewing the product designer.
A better example of a Shopify store that is expensive and complicated would be a new exercise machine product that is thousands of dollars and requires explaining since it's an innovative product.
Another good example would be Edit Stock, a store that sells award-winning films you can edit.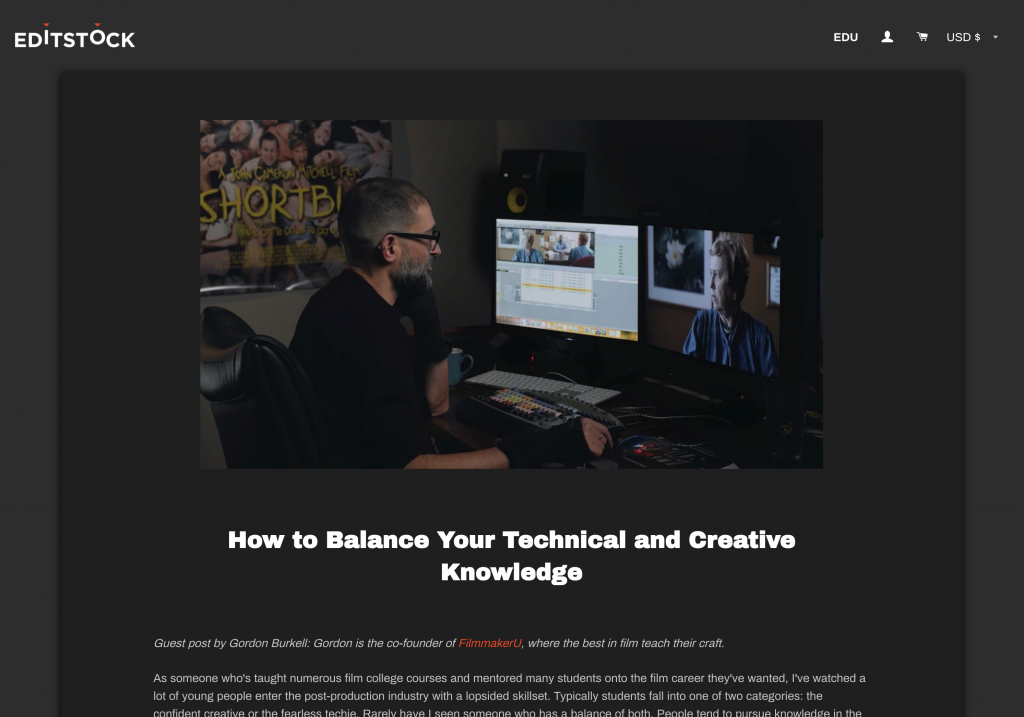 Listen to a podcast interview explaining the nuances of selling higher-ticket ecommerce items.
4. Post-high-growth brand, maturing market with competitors: turn up the blogging and content marketing
The best example of this is Casper. The DTC mattress industry has exploded, causing paid ad prices to rise to very high levels, sometimes into totally unprofitable levels. Casper faced that reality and has recently been ramping up their time and energy into blogging and building links with content marketing.
This helps Casper earn more "free" organic traffic, which has a longer shelf life and much higher ROI in the long run. By turning up the blogging intensity and earning backlinks via content marketing campaigns, they can earn more of a share of voice for the "sleep" conversation.
Casper's organic traffic has been consistently increasing: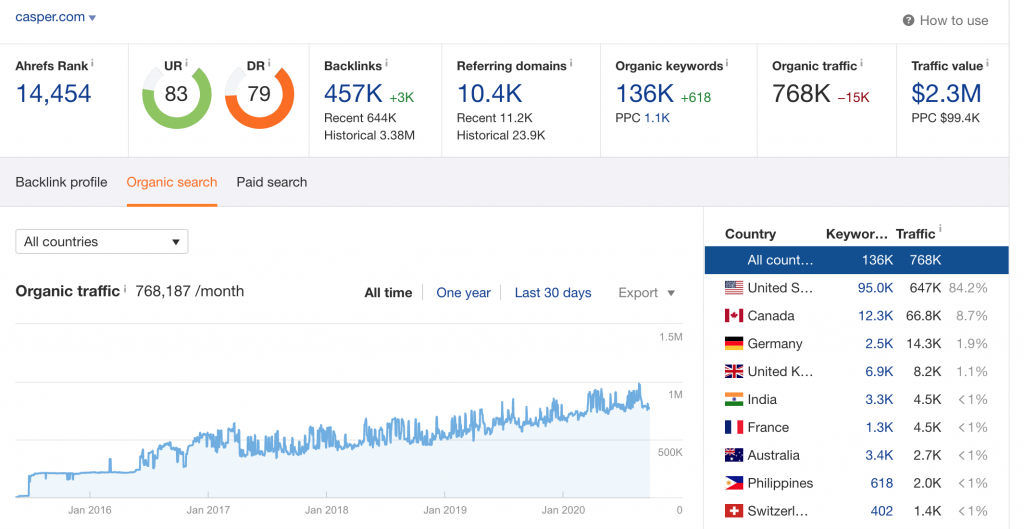 And they've been investing in content marketing for link building as well: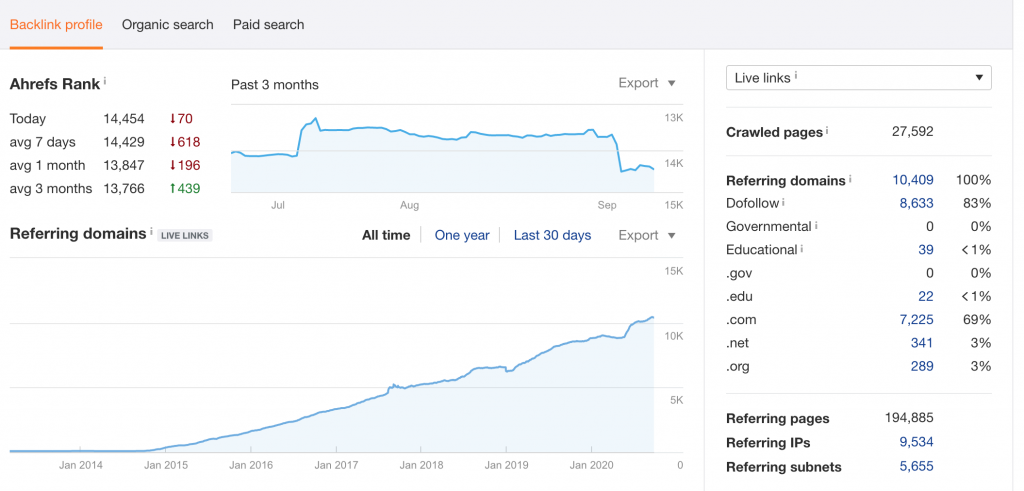 Shopify Blog Examples
Here's a quick list of some of my favorite Shopify blogs that create good posts and are getting some traction via organic (SEO) traffic.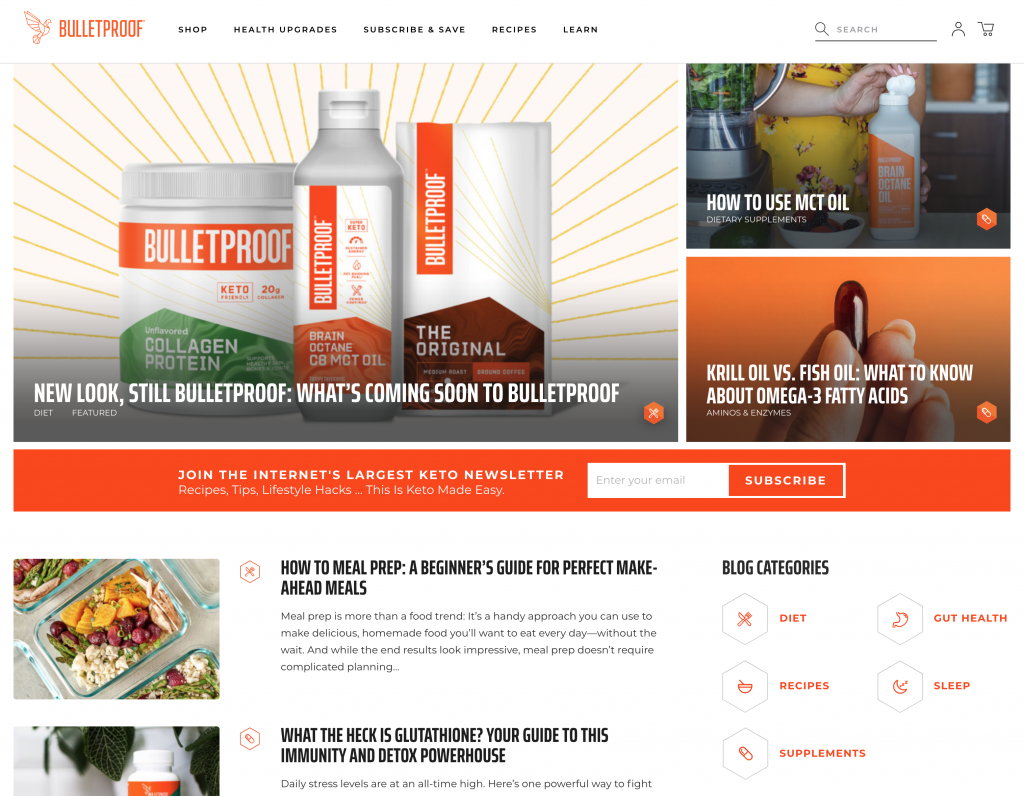 Bulletproof is way more than an ecommerce store, it's a movement. Ok that's a bit cheesy, but they've built a huge brand for themself, starting with content.
Given their space, there's a lot to write about since there's a ton of information, misinformation, and daily searching for health topics.
They introduce new topics and explain concepts well, building trust with their readers: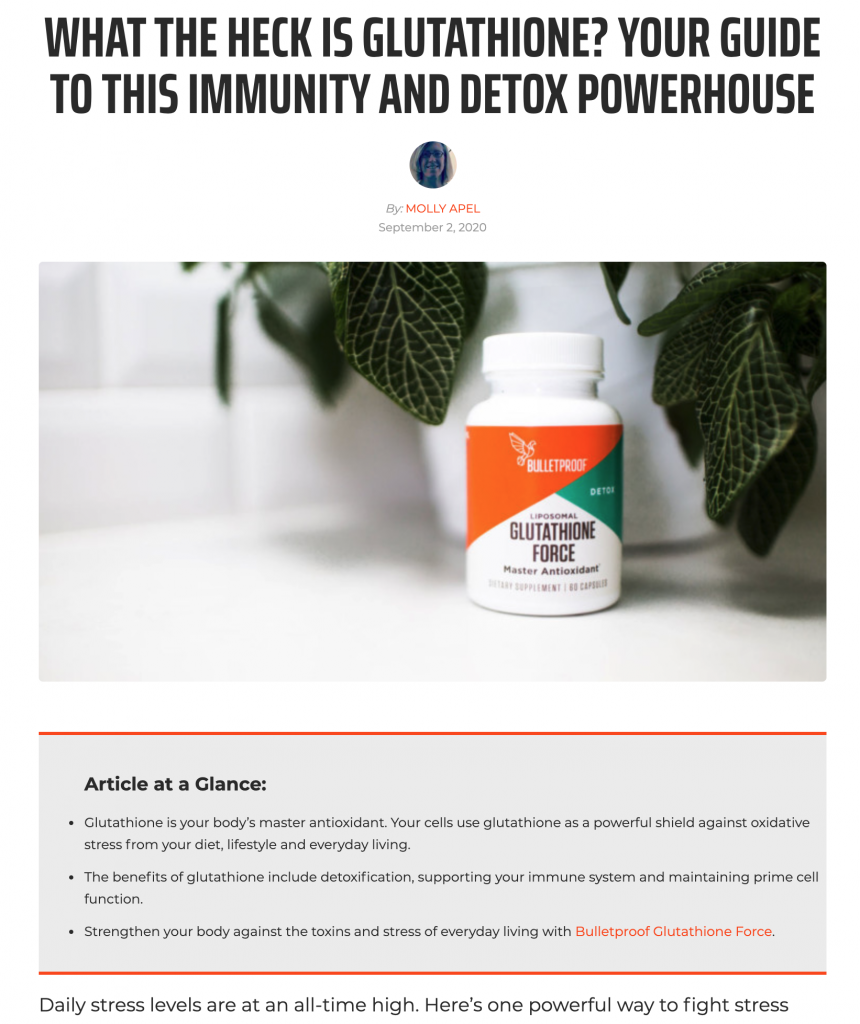 In fact, close to 75% of all organic traffic to their website comes through their blog: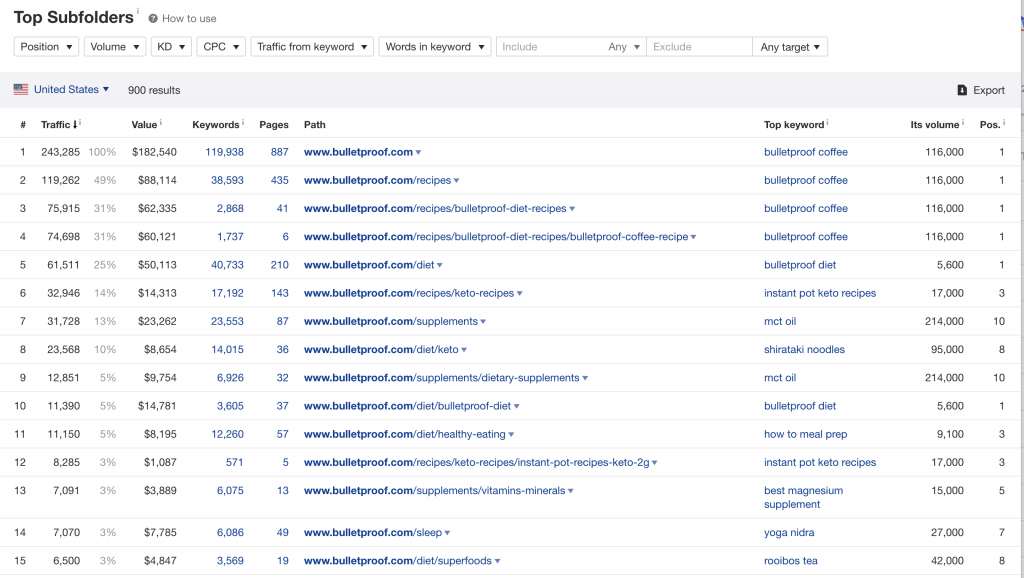 Pretty compelling example, especially for any Shopify brands selling health-related products.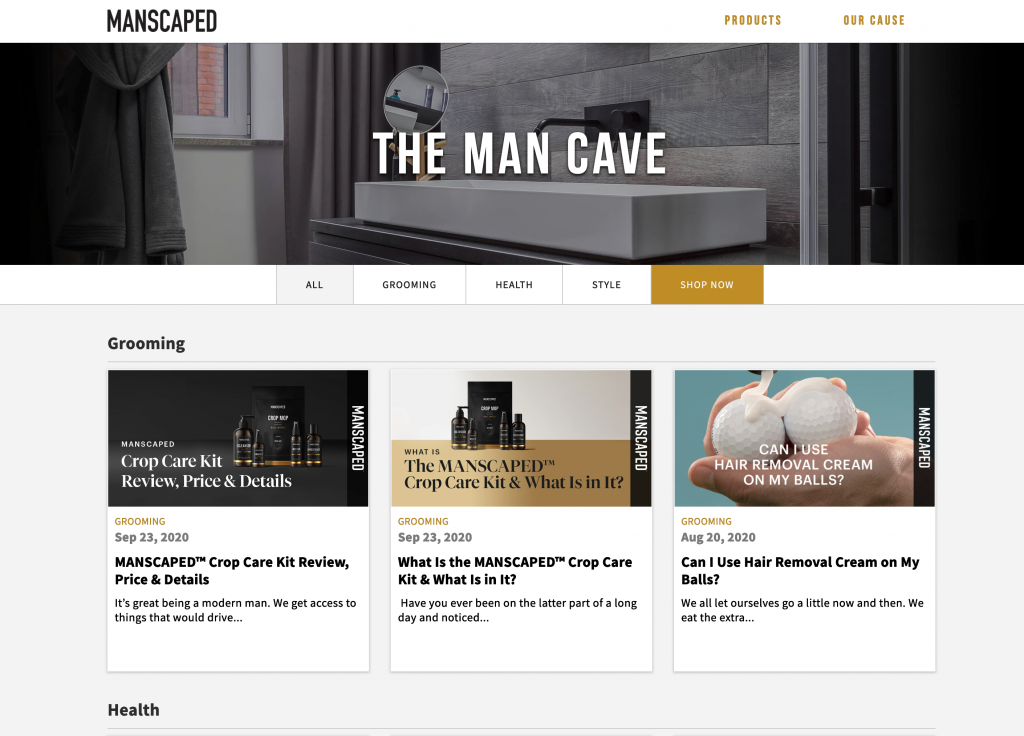 Seems like Manscaped came out of nowhere, and now they're everywhere. Their organic traffic graph seems to support that observation, with rapid growth since early 2017: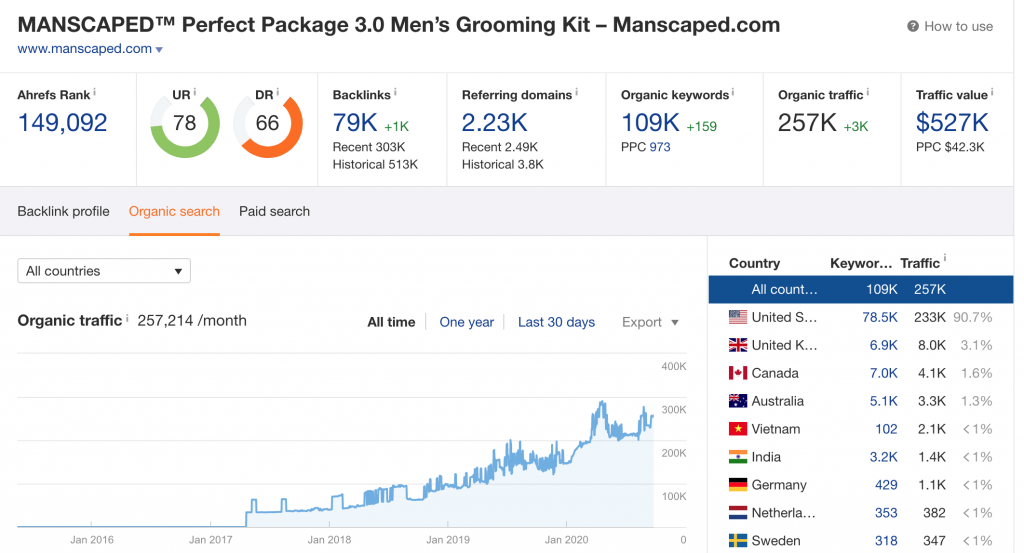 And they take blogging seriously, covering grooming, health, and style as their main categories.
Sticking with the irreverant brand, they're not afraid to tackle topics like these: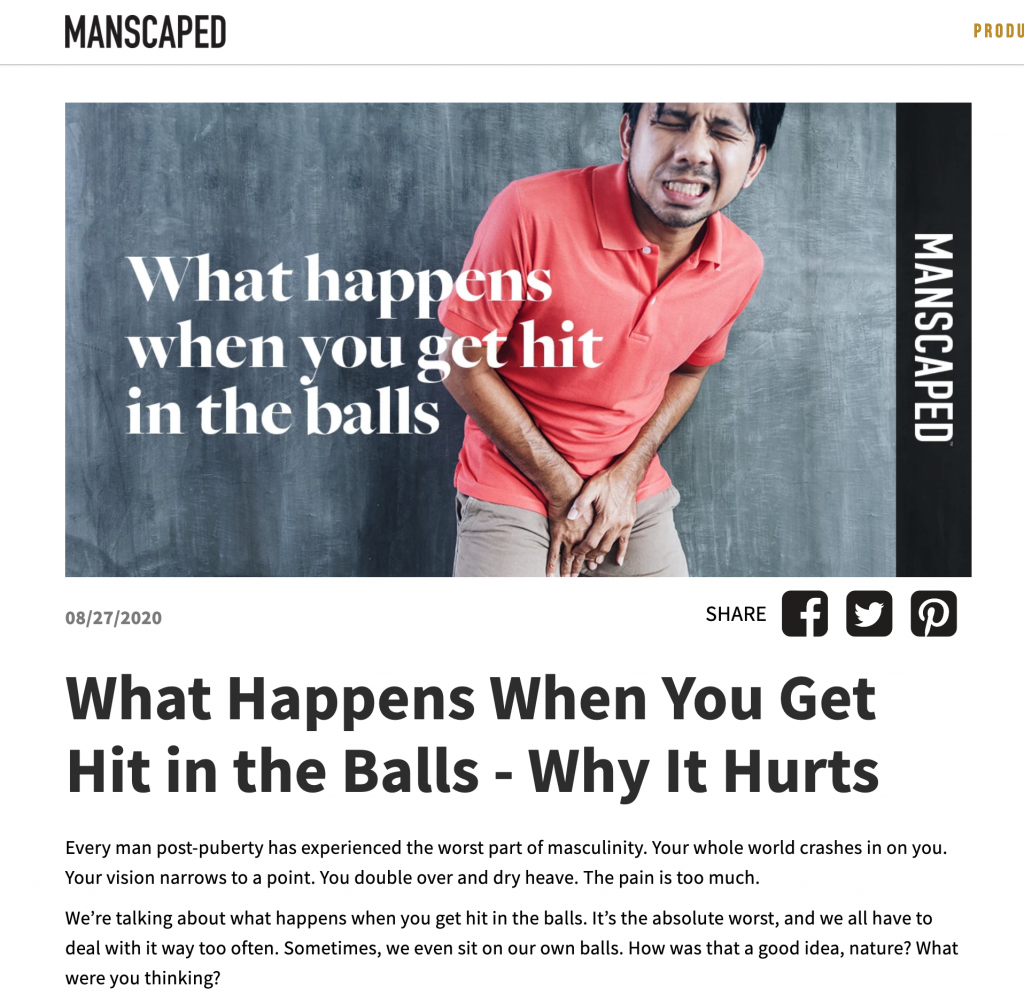 And they address the topic comprehensively, going into the medical details. Gotta love that.
This strategy has worked well for them, with the blog generating serious numbers. If they were to pay for this same amount of organic traffic to their blog, it would cost $76,000 a month on the low end: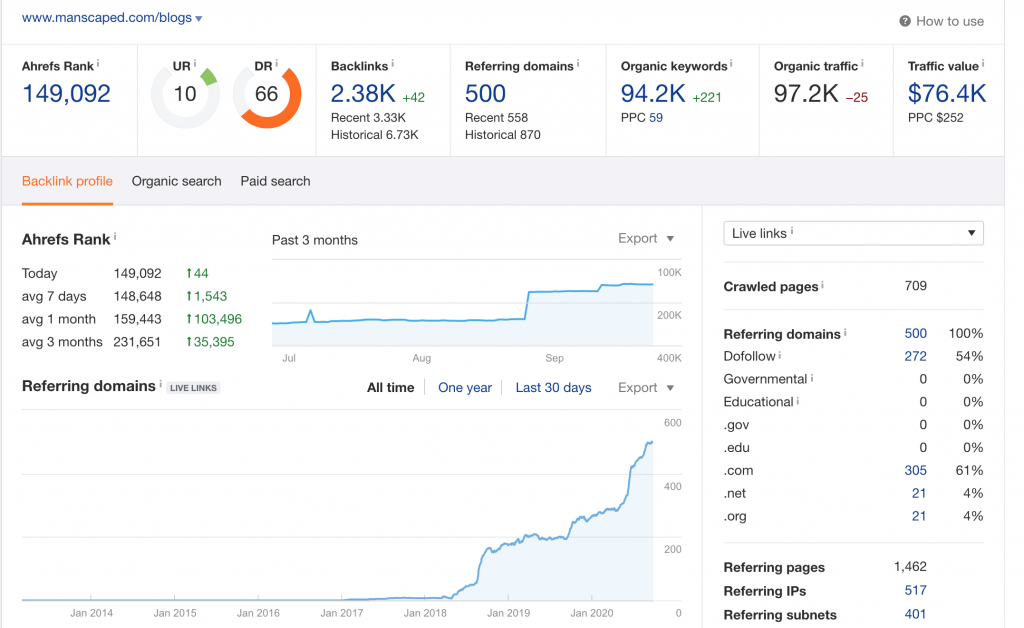 For new-ish brands a few years old, model off of Manscaped, they're doing well.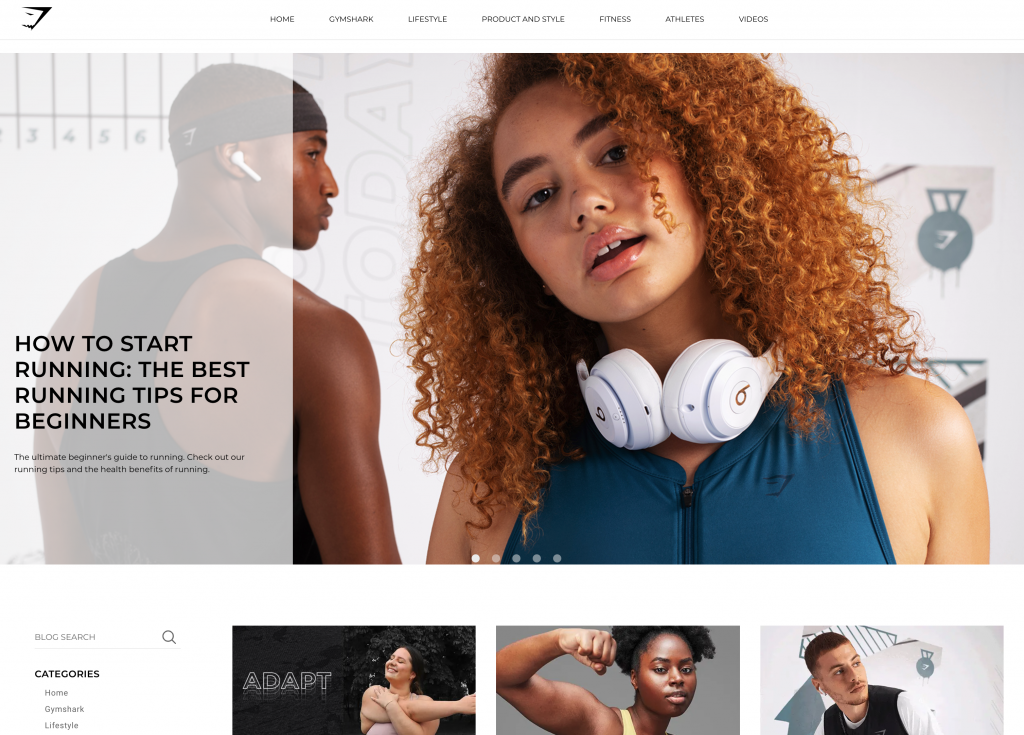 Gymshark is actually just an average example for a blog, but worth looking at given the recent press they've received.
Their blog is a mix of how-to material, product announcements, and company communications. This mix is a good example for most Shopify brands, using the blog for multiple reasons.
Their #1 traffic driving post is The Best Traps Exercises To Build Bigger Trap Muscles, which brings in about 5,000 – 20,000 organic visitors a month.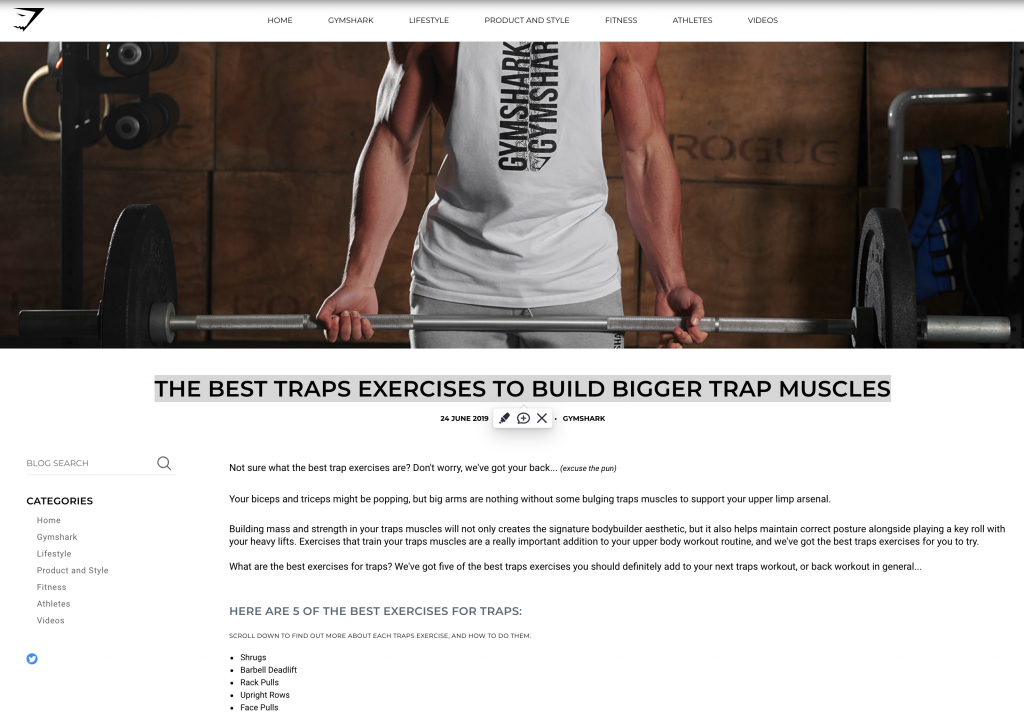 The post is useful with some good gifs, but they could do a lot better. The formatting on the blog is kind of weird, and they could go into more depth if they really cared about ranking #1 for "trap exercises" instead of #6. The current #1 ranking article on Man of Many includes 17 exercises and has more useful videos.
I assume Gymshark is still in paid ad scaling mode, and so their blog is on the backburner.
I love the Alo brand, having worked out in their studio in L.A. many times. But they've given up on their blog, with no posts since July 2019: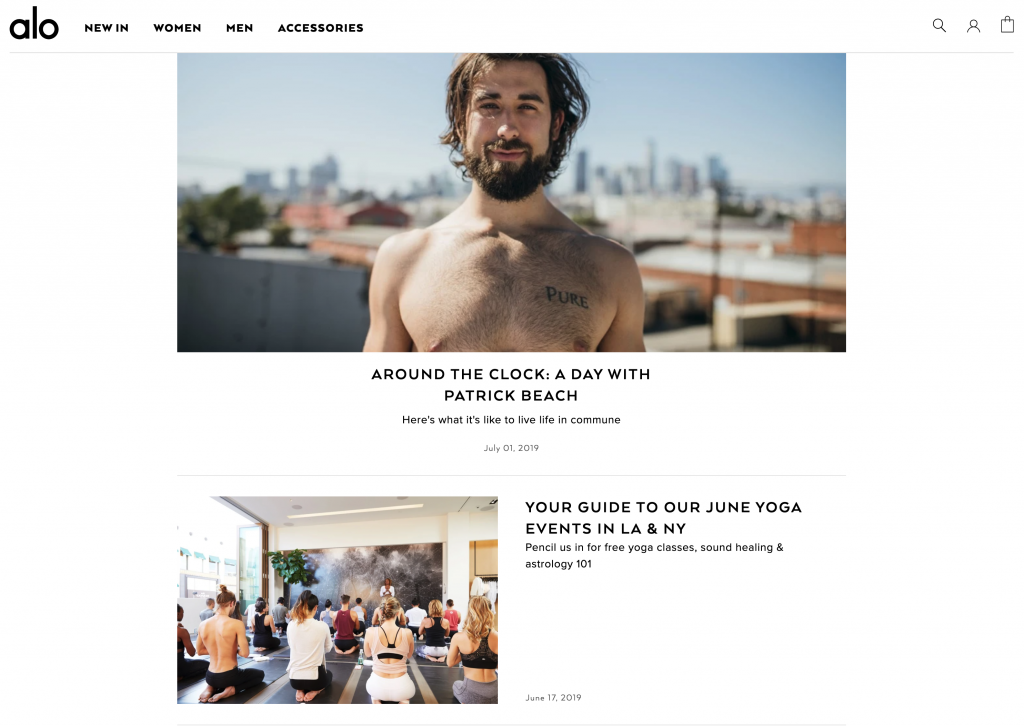 They're doing just fine, but this just goes to show that some of the best brands still ignore the blog sometimes.
It's also an example of a company with a really strong brand not needing to rely on their blog to generate traffic. But remember, you're not Alo. When you're making margins on $128+ yoga pants and $180/yr online yoga classes, you can turn up that CAC to 100!
Shopify Blogging Best Practices
This is an overview of best practices for blogging on Shopify. It's a "Cliff notes" version, and there's a lot more nuance and strategy that can be applied when you dive deeper, but the best recommendation is to get started now and adjust as you go.
1. Set honest goals
What is your goal with your blog? Is it to drive new traffic from people who have never heard of you? Is it to communicate with current customers? Is it mainly for product launches?
Be honest with yourself when setting these goals. Sure you may want to drive 10,000 monthly visits from your blog, but do you have the conviction to follow the long process that's required to get there? A new blog starting from scratch needs at least 6 months to a year to begin to see compounding results.
Be clear on setting your goals, which then informs your content strategy.
2. Build a content strategy
You should map out a content strategy for the blog aligned with your goals.
If you want a lot of new organic traffic from strangers, you'll want to do a lot of keyword-based blogging. If you're mainly creating blog posts as landing pages for social media contest, that will change things big time.
Most sites will have a blend of blog post types with different goals, and want to align these with larger marketing campaigns and initiatives on other channels.
3. Build topic/content clusters
Brainstorm all of your blog post ideas, and then group them into categories, based on either keyword research or your intelligent brain.
Prioritize these clusters based on your above goals. If SEO is the goal, prioritize the clusters with the easiest keywords that also have high volume to get earlier wins.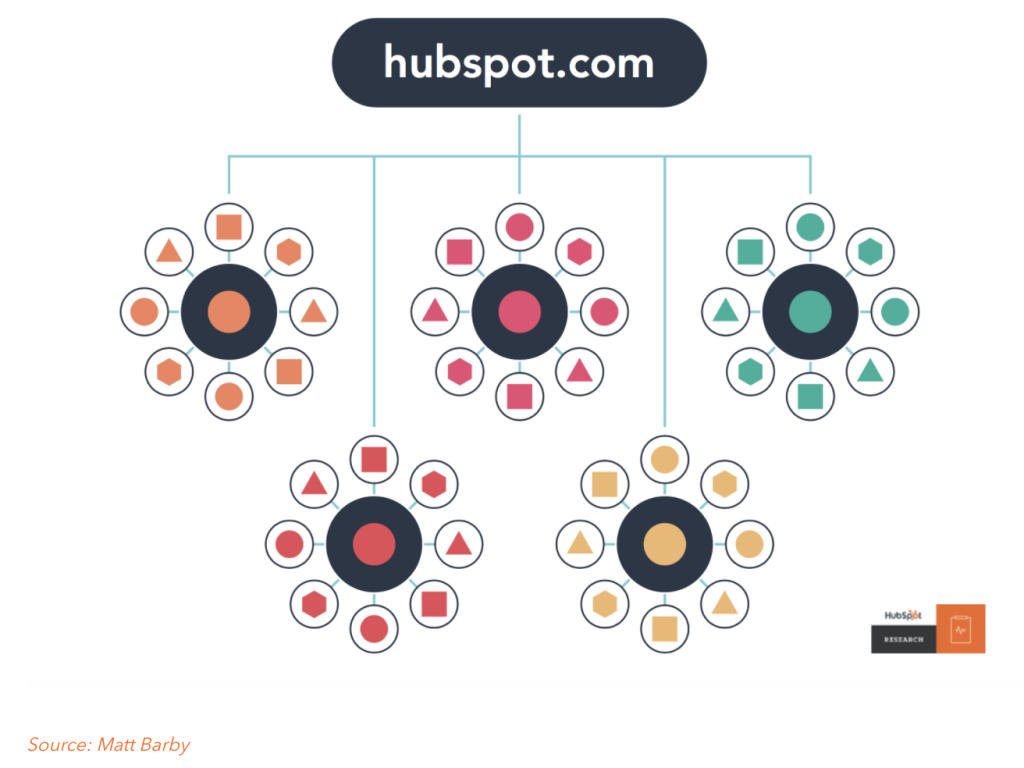 These clusters should be about five posts per cluster, but that's not a magic number, just a starting goal. These can eventually grow to 10-20+ posts, although there will be natural breaking points where they'll go on to form sub-clusters.
4. Put pillar content at the center of your cluster
Also called cornerstone content, these are long, in-depth, meaty articles that are the main hub of your content cluster. Related articles in the cluster should link back to this pillar.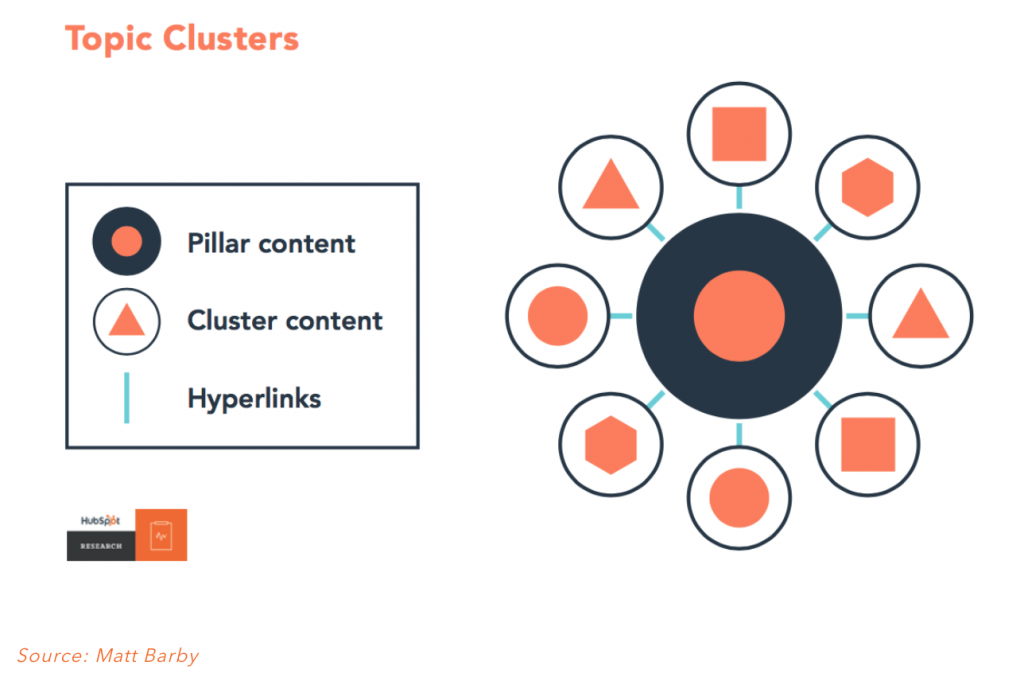 This has SEO benefits, sure, but really you're following the inbound marketing model of creating content that answers users' questions at every level of the buyer's journey.
5. Advanced: Map articles to the buyer's journey
In addition to each article being a part of a content cluster, you should think deeply about how each piece of content maps to the buyer's journey and sales and marketing funnel.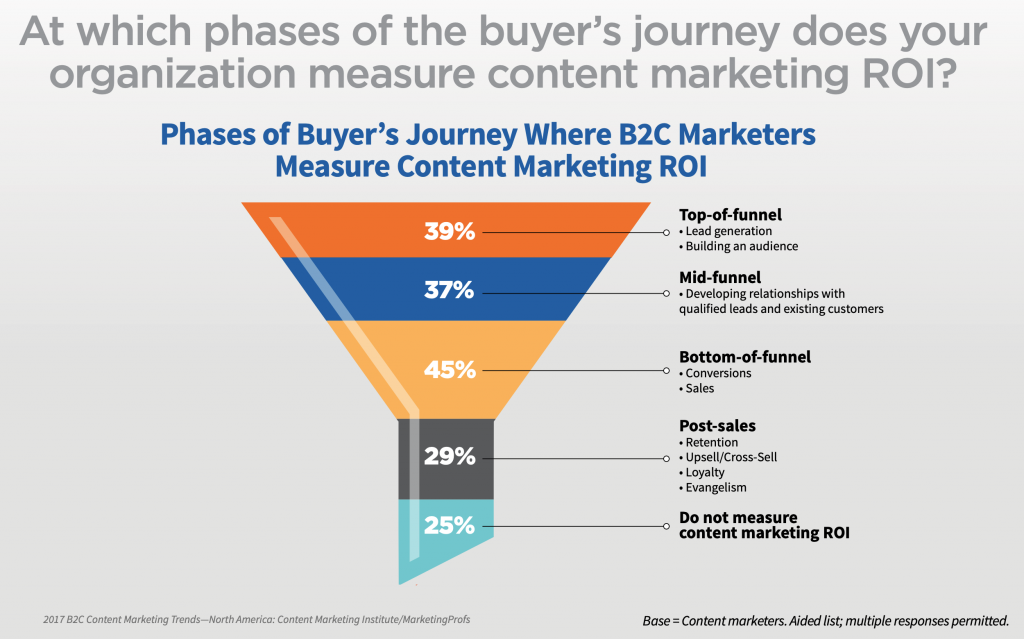 6. Have subject matter experts write these
It's tempting to farm out the writing to the lowest bidder, but you should just stop and not do it at that point. Trust me I've gone down that route and it's frustrating to go back later and rewrite everything that was just drivel.
You can still use a content writing or marketing agency to produce the content, but they should involve your team members as subject matter experts, interviewing them on what they know about the industry, and using industry lingo. Readers can smell a fake right away.
7. Write catchy headlines and intros
Just like paid ads, you want humans to feel compelled to click on your article because of your genius, catchy headlines and intros. They can read your article if they're not compelled to click first.
8. Include tons of visuals
It's cliche #99 but most humans are visual learners. Once they land on the page you want to supplement text with tons of visuals, examples, assets that illustrate and explain. The bonus is sometimes other websites will use custom visuals you create and link to you.
9. Include internal & external links
By linking internally to other blog posts and pages on your site (especially product and category pages for that $$$), you're sending signals to Google about the relation between your pages and semantically how the pages are connected.
Internal linking is one of the easier and highest ROI activities out there, so do it in every post by linking out to about 3-5 other pages per 1,000 words.
It's counter-intuitive, but there are compelling studies showing the power of linking externally as well. When linking to trusted sources, you're teaching the algorithm that you're an important node in their link graph.
10. On-page SEO basics
I've purposefully left on-page SEO basics for the end, because while it's important, it shouldn't distract the creator from primarily making #reallygoodcontent.
The on-page SEO basics include:
Do keyword research for SEO-focused posts
Include keywords in page title (HTML page title)
Write compelling meta description, keywords helpful but not critical
Use subheaders to guide reader, include keywords where possible
Ensure there are no big technical SEO issues holding you back
Advanced: Look at entities to include by using a tool like Clearscope.io – entity salience for you nerds: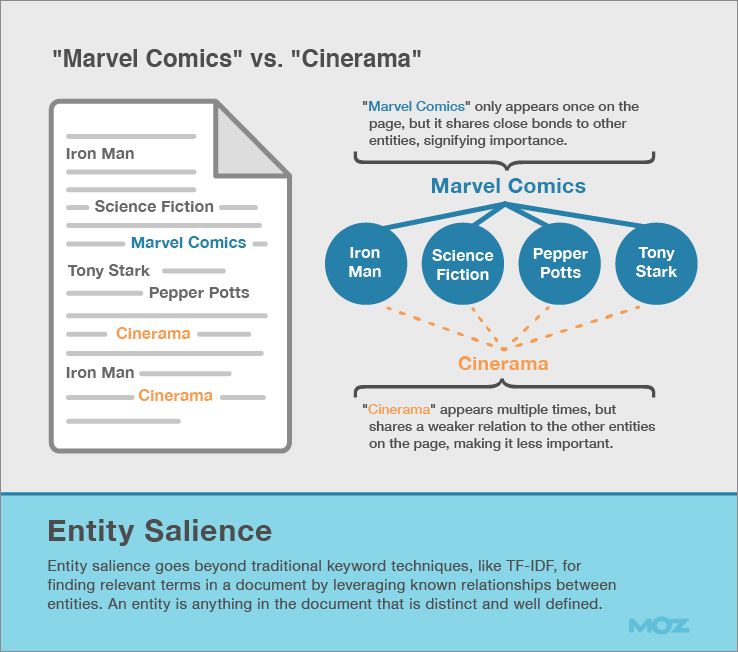 See this illustration for an amazing guide on on-page SEO: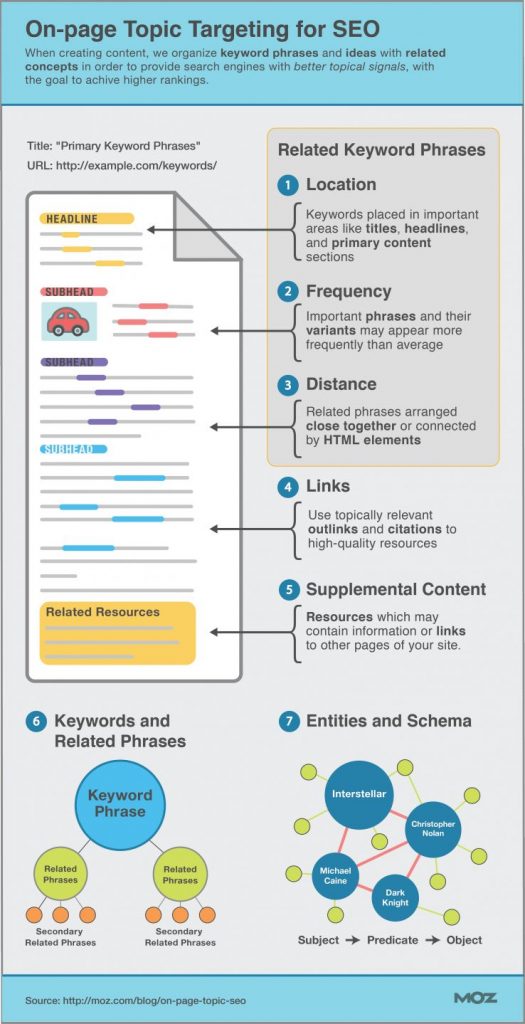 And this video (still relevant this year):
No One-Size Fits All Answer
There's no blanket statement or approach that works for everyone. If there was, small business ownership would be a lot harder.
Think deeply about your goals, strategy, team and ability to create and commit to a blog before deciding where it should fall in line. At the same time, there's nothing as good as just trying it out and building that blogging muscle. It's much better to build it before you need it.