Reading Time:
4
minutes
Content for ecommerce websites is crucial for supporting all channels – email, social, paid search, referral, and organic.
But what do you need to produce? When in the brand's growth and time of year do you need to create it? How do you match content to the right channel with the right audience at the right time? Where do you repurpose content that worked in one channel but you're uncertain about the other?
80-90%+ of ecommerce sites can follow this 5-part P-C-L-B-C method, in order to create content that supports all channels:
Product pages
Category pages
Landing pages
Blog content
Content marketing campaigns
A quick word about channels
Ecommerce brands selling sub-$500 products are typically going to see the most early bang for their buck testing creative and paid ad campaigns and finding the right product-market-channel fit.
Typically this means the right amount of content and copywriting to support sales. Ecommerce brands can buy revenue up to a certain point. When these brands eventually start to get lots of competitors the ad unit cost will get very expensive, and then it will economically makes sense to layer on organic SEO as a focus channel.
We've created this acronym with all channels in mind, but a special lens of looking at the long-term, compounding benefit of creating content for organic SEO traffic.
1. Product pages
Product pages are the heart of ecommerce websites, and some DTC brands have just one product page for a long time, until they start to build out a larger product count.
For smaller brands, product pages are tough to do "SEO" for in the sense that searchers are typically wanting to land on a category page with a variety of options – meaning a category page.
If a user is searching for a "Ben Sherman shirt", Google's showing category pages because the search is too ambiguous: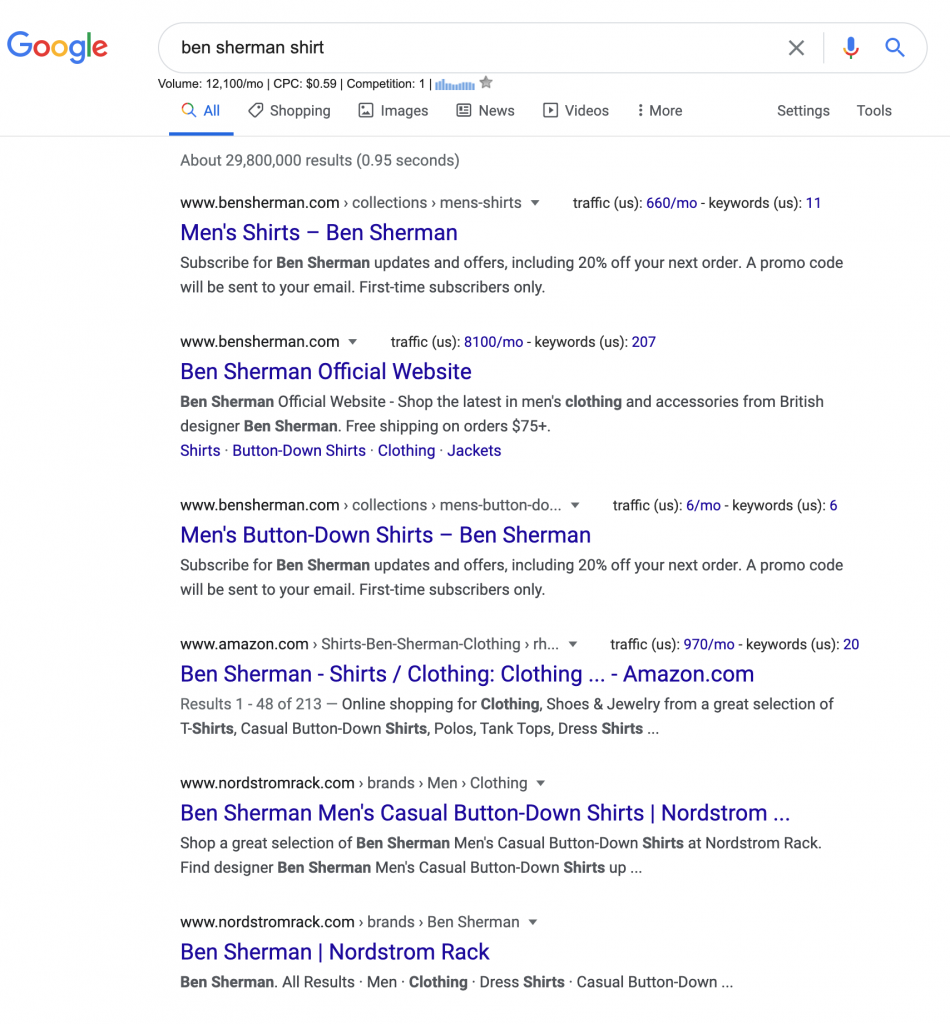 And so the only time product pages really come into play is with super specific searches: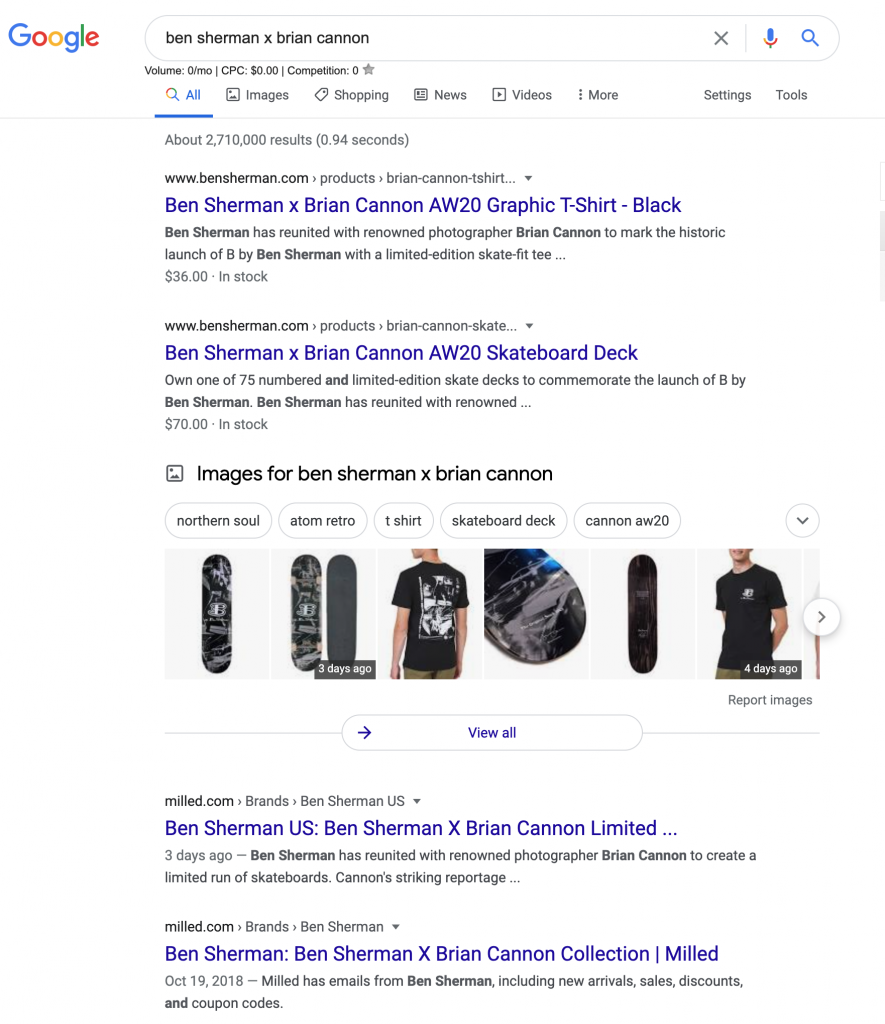 Don't get me wrong, product page content is super important for supporting the sales and helping the conversion, but in many verticals, it shouldn't be a focus for organic search rankings.
2. Category pages
When the brand has a few dozen products, category pages start to come into play.
For organic SEO traffic from Google search (and Bing), category pages are preferred landing pages when searchers type in a broad terms, as we saw with the Ben Sherman search above.
The easy fix that most ecommerce brands ignore is just a little bit of text content on the page. Google's image-text recognition technology isn't quite there, and so some intro text and deep-dive text on every key category page is a game changer for supporting rankings.
Even better if you can go deep like Wayfair and make it a full on educational piece: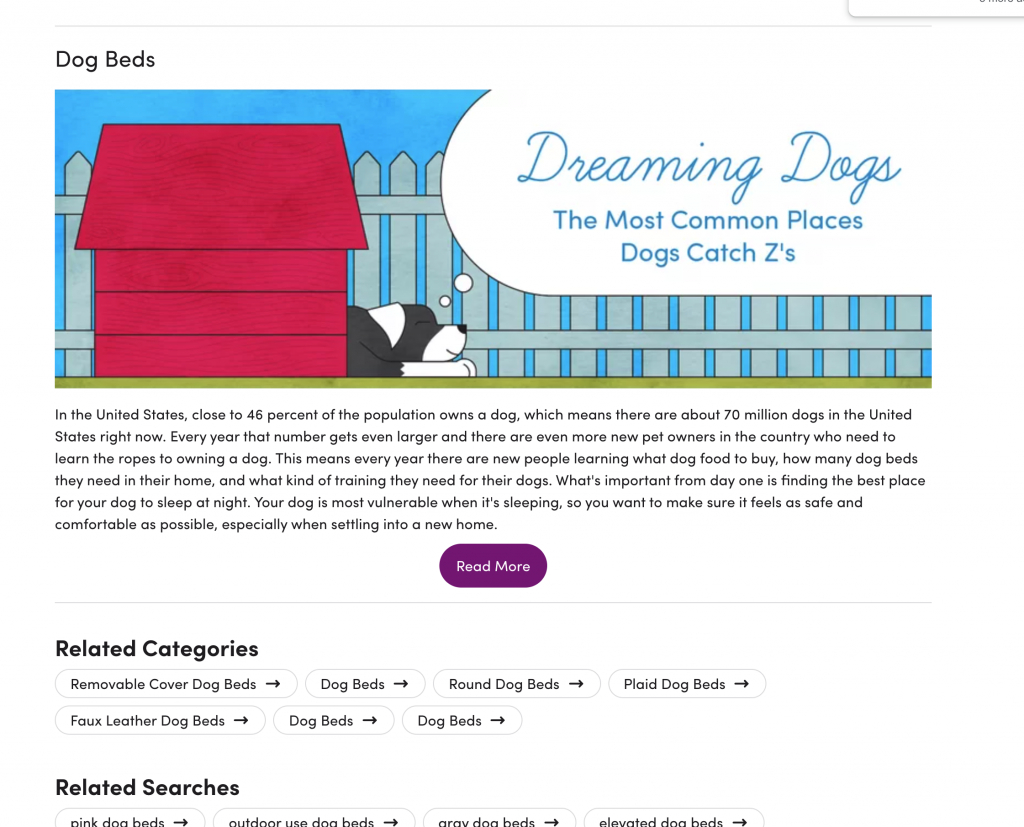 3. Landing pages
Some ecommerce companies are really good at essentially making their product pages like landing pages.
Replete with beautiful images, a deep dive into benefits, and drool-worthy copy, the user can't help but buy.
So when there's a fit, product pages as landing pages are the way to go.
But there are times when landing pages are used for temporary campaigns being promoted on social media, via email, or general brand awareness ad campaigns.
A smaller slice of savvy ecommerce show-runners will strategically use SEO landing pages to capture searches.
If you're something like Wayfair, eBay or Bed Bath and Beyond you can do this at scale with sophisticates software generating landing pages based on keywords.
If you're an upstart or high-growth contender, you'll have to pick and choose just the most lucrative keywords to target with landing pages.
4. Blog content
Blog content is always a cluster when it comes to ecommerce sites. It's often an afterthought for fast-moving merchandisers focused on the next batch of products coming out next season.
Many don't know what to write about, or use it simply for promoting brand promotions and as a pseudo-landing page for email campaigns.
There's tons of opportunity for ecommerce sites, but the brand should absolutely wait for the right time to commit. Many brands are impatient in seeing the ROI via blog traffic and in an Adderall-fueled paid media world with programmatic and Facebook Ads allowing constant split testing of creative and to the penny ROAS, it's tough to dedicate dollars to the mushy world of content for
But because it's hard is exactly why you should do it.
Brands in it for the short haul and looking for a quick exit to private equity should absolutely ignore the blog and spend on ads until they're losing as much money per product as Casper and can IPO.
I actually predict that in the future we'll see ecommerce brands start to buy out blogs and affiliate sites in their industry, and bolt-on the blog or use it as an external, softly-branded asset to influence consumers.
5. Content marketing
Even fewer ecommerce brands make it to level five – content marketing for organic traffic.
Content marketing campaigns can have huge benefits in building a moat for your brand – but it requires patience. A minimum of 3-6 months to measure results, and a full 1-2 years to fully realize ROI.
Content marketing is actually perfect for ecommerce brands with more mature markets. Direct to consumer mattress companies have exploded to dozens of contending brands, and one ghostly company has fully committed to their content marketing strategy to build a moat.
There needs to be an SEO-informed executive at the helm to champion this initiative and help connect the dots for the rest of the organization.
But for those looking to plant the seed today for benefits over the next few years and beyond, content marketing to earn digital PR placements and links back to the site is in the upper pinnacle of smart content strategies for ecommerce brands.