How do you implement an SEO and marketing strategy for your travel company that actually works?
You start with a business goals, reverse engineer competitors, and set realistic milestones.
SEO isn't fast, and it isn't easy, but it's one of the highest ROI marketing processes out there.
The travel industry is awash with competition. Yet those that can market their travel company properly, and bring in new customers at a reasonable acquisition rate stand to make huge profits.
Huge OTAs (Expedia, Priceline, Kayak) spend millions on television and online marketing ads, while smaller outfits focus on a higher quality customer service. Hopefully, you've been able to carve out a niche for yourself to stand out from the crowd, if not there are a few ideas in here.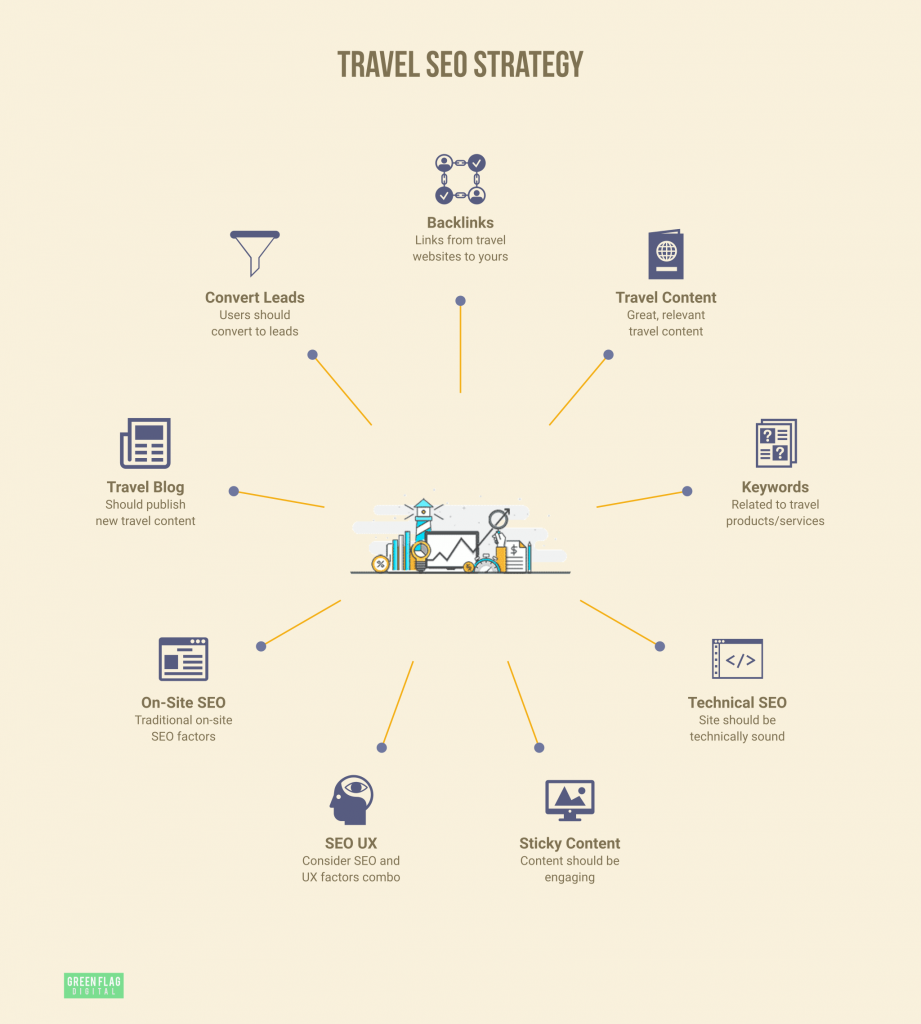 My goal is to quickly overview some key takeaways for travel marketing and SEO, and what's working now.
What follows is general guidance that applies differently to different types of travel companies. Tour operators and flight scanners will have different business models. A local walking tour's marketing & SEO strategy will be entirely different from a global hotel search engine. Be sure to build and craft your strategy based on the subindustry, maturity, and business model of your business.
Get clear on the value of SEO up front, and if it's not a top 3 priority compared to your other opportunities, make sure you're appropriating the budget accordingly. Said simpler, you should but 80-90% to your top 3 highest alpha generating marketing channels, but for your secondary and tertiary channels, don't ignore them completely. See our SEO budgets post for more.
Travel Search Marketing
There are two categories of search marketing: paid search through Google AdWords or Bing ads, and search engine optimization (SEO). We focus on SEO so that's what we'll be talking about here.
What you want to think about with travel search marketing is the life cycle of a visitor. When booking travel, the journey is long and meandering. Visitors are crosschecking many sites at once, looking at pricing, quality, trust, efficiency, fun, and many other factors. It's very complex.
Google did a study exactly on this and found:
"The modern customer journey is complex. So it's important to focus on the key moments that can help inspire people to buy your product or service. We analyzed millions of consumer interactions through Google Analytics to show how different marketing channels affect online purchase decisions. What are the most important moments along the journey for your customers?"
When using their amazing industry-specific tool, they found this common customer journey for travel buyers:
What this means for you is you need to be there at ever step of the way, and have some form of content for the user. This applies at an overall digital marketing level, where you want to map different channels to different stages of the customer journey, but also even deeper on an organic search level.
Not all keywords are created equal. Although the diagram above shows that travel customers often start their journey with organic search, it's present all the way through the process.
How do your potential clients find you in organic search?
If we look at travel keywords, we see that there are hidden meanings behind each one. Each keyword has a specific intent. Google is trying to find out what the user means behind each keyword, what they want to accomplish.When a prospective customer starts their search for a travel company, they start searching in general terms. As they narrow down their search, however, they get more specific and closer to the final buying moment.
Here's a quick example. Let's say you want to go on vacation next summer. Here is a progression of searches you might find yourself using over the next 3 months as you plan and finally book your vacation:
"best places to visit in 2023"
"best countries to visit in summer"
"best countries to visit in summer 2023"
"best european countries to visit summer 2023"
"itinerary for best european summer vacation"
"best cities in europe to visit in summer 2023"
"best european travel companies for couples"
"goahead tours reviews"
"kensington tours reviews"
"goahead tours vs kensington tours"
"kensington tours italy reviews"
"kensington tours discount code"
In this quick example, we can see how over the span of a few weeks or months someone would start with broad ideas, and then slowly narrow down their search by deciding on a specific company and looking for that final discount code before booking.
In reality, the user may be doing dozens or hundreds of searches, opening many tabs at once and doing a deep dive.
There's a deluge of information available to the modern traveler, and travel companies need to provide a matching deluge of quality content that is also optimized for search engines and humans.
What would that process look like from start to finish?
1) Here's an example of keywords for a travel tour company selling tours in Munich, Germany: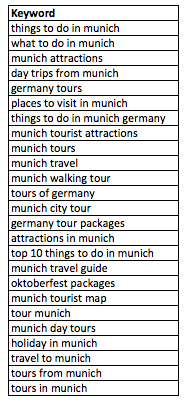 As you can see, there are a lot of keyword options. It's hard to know where to start.
2) Which keyword is best? Well, we can look at two other factors: volume and cost-per-click (CPC). Volume means the amount of searches per month, and CPC means the price of the keyword, or what someone would pay per click in Google AdWords through their auction system.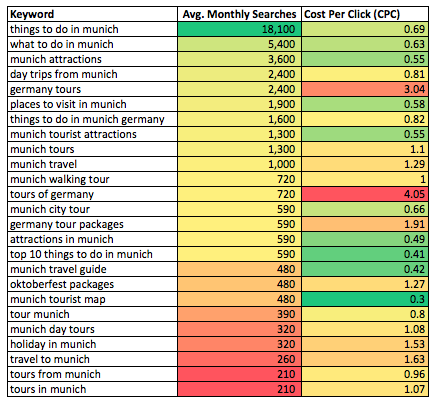 Now we're starting to see where we can focus, and which keywords are more important than others.
3) But going even further and using this new info, we can now map customer intent & customer journey stages to these keywords.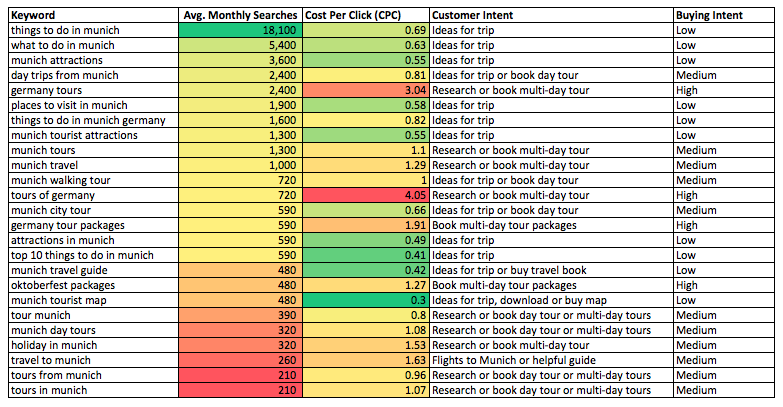 This exercise turns a list of 25 keywords from just "good-to-know" information to an actual report that maps to your marketing funnel.
4) Going deeper we can create actionable ideas based on these keyword. Using this info, we decide what content to create.

This is far superior to just a spreadsheet with a list of keywords and data puke. What we have here is a list of things to do over the next quarter. Content to create, keywords to track, and how it fits into the customer journey.
What's the ROI for ranking for these 25 keywords? Is it worth going through this effort? Well if we multiply monthly searches by what advertisers are willing to pay, we get this: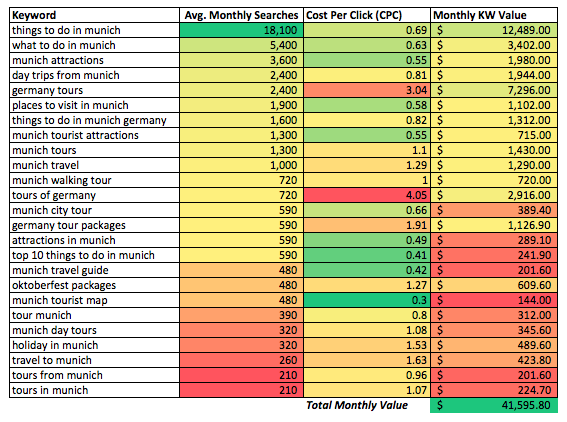 So for just these 25 keywords, there's over $40,000 a month in organic traffic up for grabs.
Yes you can go deeper into this and analyze:
Keyword difficulty
Actual expected clicks for each keyword and basket of thematically related keywords
Total search potential
Cost to create each asset
Resources needed to beat current competitors ranking for these terms
Etc.
The list goes on, but hopefully this gives you a taste of the research involved, just to know where to begin. See more luxury travel keyword ideas here.
SEO for the travel industry is challenging. You must be thinking like the consumer, giving them what they want, integrate SEO with your overall content and marketing teams, show ROI, and also focus on the technical and behind-the scenes factors that can make or break your search strategy.
It's tough, but with the right game plan and customized strategy for your site, it's all about following the map and executing it well. And faster than your competitors do.
Breaking down travel SEO further, we can broadly speak to it in two ways: things you do on your website, and things you do off your website.
Travel SEO and On-Site Factors
If your travel brand has been around for a good while, has received press, mentions, links and decent traffic, then it's likely you'll want to put a lot of your focus onto things you can do on your website for quick wins.
Most every site has some low-hanging SEO fruit that can be picked for quick wins. A few examples:
Take your top 5 organic search landing pages, find out what's making them work, and add some core SEO improvements to make them even better
Find keywords your top pages are almost ranking for (positions 11-20) and optimize for those additional keywords
Add in better internal links throughout the site
Take your competing pages and set them up so the most powerful and best converting page is the focus
Bring together thematically similar pages with "content hubs"
Test page title tags based on what is working in your paid search campaigns
Rewrite title tags to evoke emotion for better click-through-rates
Optimize pages for answer snippets by including succinct questions and answers on pages
Create bulleted and numbered lists to try to rank for position 0 in search results with answer boxes
Find no longer working redirects and dead pages and redirect them to new ones
Optimize your XML sitemaps, robots.txt and more
Improve site loading pages on most important pages
The list goes on and on and for each site it's different. It depends on the size, depth, age, and theme of your site to know where to focus first. For huge travel brands that are relaunching their website design and/or platform, there will be hundreds or thousands of old pages to redirect. Conversely, a newer, more focused site will want to focus on improving the depth and quality of the few important traffic-driving pages on the site.
What makes SEO for travel websites both exciting and daunting is the pure volume of opportunities. There are so many searches for everything travel, that wading through the most important topics and keywords can be a full-time job.
With the right expertise and experience, however, one can quickly spot what's worth optimizing and what can be left along.
Travel SEO and Link Building
SEO isn't complete without talking about link building.
Unfortunately, link building is really hard in the travel industry because it's so competitive. (SEO for the travel industry is hard or easy depending on the narrower niche, but link building is generally hard for all parts of the industry.)
What may work in other industries just doesn't have the same success rates in the travel industry.
From my own testing, outreaching to travel bloggers and other sites with our well-designed infographic received a much more subdued response or a request for payment when compared to the same approach in another industry.
What this means is you'll need to work harder and get more creative to really stand out. You'll want to push the limits as to what you can create that is truly worth talking about and adds value.
For example, we put together this world map: Around the World in Perfect Weather for a client, and it was picked up by a software mapping company and a general interest men's site, among others: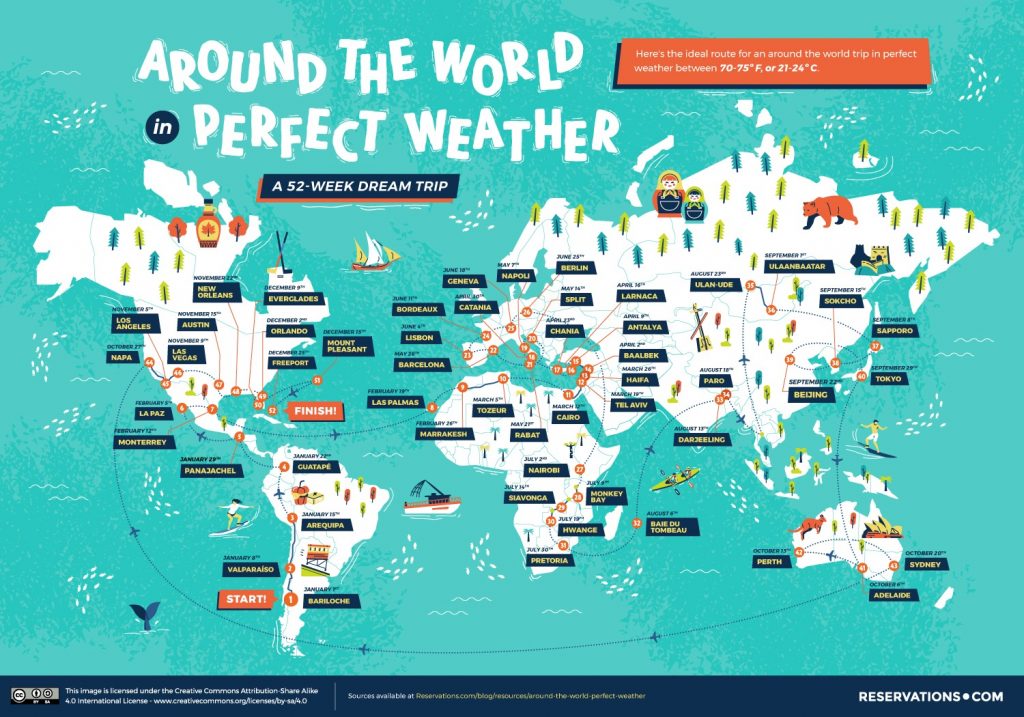 But in other cases, we found more success targeting security research sites, business productivity sites, or movie sites – but travel bloggers rarely link.
Quick refresher: the point of link building is to get other websites to link to your site. Whether they mention you in a blog post, resources page, feature you in an interview, share your graphic or video on their site, or a number of other ways, the goal is high quality links in a high volume.
So what are some examples of link building in the travel industry?
Your CEO gets interviewed by the New York Times, Condé Nast Traveler, or some other huge outlet (this is the ultimate goal)
A member from your team is interviewed on a podcast and gets linked to in the podcast notes
You create an amazing data-driven infographic and bloggers want to include it in one of their blog posts
You create a travel calculator that gets shared and linked to
You create the ultimate guide to a certain event, type of travel style, or country that becomes the definitive resource and is linked to
You guest post for other websites, linking back to your own
You reach out to sites with resource pages to include a link to your best resource
Your company gets listed on your partners' websites
There are hundreds of other ways to get links. The key thing is to focus on quality, relevance, and ensure you're getting enough of them. Oh, and you also don't want to pay for organic links or engage in tactics against Google's policies. If you have a brand that you care about long term, you want to stay safe with white-hat practices only.
Which leads us to the latest and greatest in the world of link building: digital PR.
Travel Industry Digital PR
Digital PR and travel content are actually a match made in heaven.
The travel industry was one of the first to embrace the original versions of content marketing and public relations.
Why? Audience size, trip size, and money.
If you think about it, almost everyone wants to
Where do you start?
Here's a brand new video showing some approaches for generating digital PR ideas in the travel industry:
In it I cover:
How Google News is the place to start
What search terms to use to find campaign ideas
Where recency search operator come into play
How to spot the travel brand in the news coverage
Why bigger publications are easier to land on than small ones
Intro to some frameworks that are popular.
What About Travel Content Marketing?
Content marketing is a newer term, but the idea has been around forever. Perhaps more than any other industry, the travel industry has fully embraced content marketing earlier than anyone else.
Without repeating old stories, Michelin wanted to sell more tires so they went around rating restaurants in France and creating Michelin guides. They distributed these guides to customers, who became for familiar with their brand, which eventually resulted in more tire sales for Michelin. It worked.
Case in point, travel guides and brochures are a standard in the travel industry.
They're not always a standard in other industries, like construction or teen clothing. But in the travel industry, content marketing is one of the oldest and time-trusted tactics.
So we know that content marketing is essentially creating interesting content related to your brand that you can promote for exposure and traffic back to your website.
When it comes to online content marketing for travel companies, here are some example types:
High-quality blog posts on your company blog
Guest posts on other travel blogs (hard to get but worth it)
Infographics
Videos
Instructographics
Interactive infographics
Maps
Visual data
Product and service pages
Long-form online travel guides
Downloadable ebooks
Email campaigns
…and more
The hard part is know where to invest your budget, when to do it, how to execute, how to analyze, and how to learn from your experience.
Additionally you'll want to tie in content marketing with ROI. This has historically been difficult to do, but there are formulas and ways to analyze the content marketing piece to tie it in with actual revenue.
The goal of content marketing is to build up the visibility, traffic, and authority of your site. It indirectly affects revenue, as content marketing generally focuses on the top of funnel and middle of funnel visitors, with a small portion focused on bottom of funnel visitors before they are handed off to your sales or customer service team.
So how does content marketing relate to the other forms of marketing? Content marketing has a lot of overlap with search marketing, email marketing, and paid marketing, and they synergistically work together. They are all a part of your travel digital marketing strategy, which is then part of your overall travel marketing strategy. Hopefully that makes sense.
Travel Tour Company Marketing
We've spoken broadly about travel marketing, but what are some aspects that are more important for travel tour operators?
You Own the Client End Relationship 
It's both a blessing and a curse that you own the most important part of the travel process – making sure the client has the best trip possible.
Compared to travel agents, travel aggregator websites, booking engines, etc, the amount of contact and information you have on a client is gold. You have a much deeper and meaningful business relationship and can use that to your advantage.
You have their email address, phone number, preferences, and in-person conversations that you can use for future marketing and retention efforts.
An analogy would be purchasing a new espresso machine online:
Google is the search engine that gets you there.
You check out a bunch of websites, including brand websites, ecommerce stores, etc.
You read blogger opinions and start narrowing down your list of options.
Review websites further build the case and help you decide, eventually pushing you to…
Amazon, where you purchase the espresso machine.
The goods are then delivered by UPS to your front door.
Of all of these companies helping you get something, Amazon owns the end customer information, which makes their customer data and retention that much stronger. They have the strongest part of the relationship, and perhaps that why so many of us buy from Amazon on auto-pilot.
As a tour company, you have the ability to interact with and predict your customers wants and desires more than other travel businesses. Use this to your advantage.
Tour Operators Have Deep Knowledge of Destinations 
As the tour operator – whether you're offering daily walking tours of the Coliseum in Rome, multi-week Safaris in Africa, or luxury trips to the World Cup every four years – you have deep knowledge of the destination.
You know more than Wikipedia about your trip. More than the New York Times. More than travel bloggers.
This is your number one advantage when it comes to content marketing, SEO, and the trust that visitors will place in you. If you don't transfer the knowledge in your head and internal documents to your public website, you're missing a huge opportunity.
Google's search engine is overweighting deep, thorough, in-depth content more than it ever has. Those that can provide the ultimate guide to their trips and destinations will be far ahead of the pack.
Old-school travel tour operators may not trust the power of the internet to drive sales. But you do, and you can use that trust in online bookings and leads to push your expertise online.
Consumers want to read everything online before they even pick up the phone. Be sure to offload as much information as you can divulge, design it in an enticing way, and watch the leads come in.
Travel Agency Marketing
From what I've read online, travel agents have faced a ton of competition since the rise of OTAs and the internet in general. What was once the best way to book trips has become one of many choices. That being said, travel agents still send a significant number of travelers to destinations around the world, and they'll be around for a while.
To be completely honest, I wouldn't bill myself as an expert in travel agency marketing, but from what I know from general travel and tour marketing there's a few tips I think will help travel agents.
Focus on Depth Not Breadth
Speaking from the perspective of organic search, and new clients finding you online, it's very unlikely that small travel agencies will be able to compete with the big boys.
It'll be a long road for you to ever earn organic traffic for "tours to italy" – it's just such a competitive term, and every Expedia and TripAdvisor of the world will beat you to it.
So instead of trying to earn traffic on a wide variety of topics, pick a few that you have a lot of expertise in
Refocus Your Website on Conversion and Design 
It's easier than every to have a well-designed, high-converting website built for you, but it's still a process.
From my research, I see so many small travel agency websites with just really outdated designs.
I understand it costs money, time, and expertise to build and maintain a site. But what's your alternative?
If you are depending on the internet to bring you sales, you must focus on your website.
Expect to spend a few thousand dollars to have it really well done. It's an investment, and you shouldn't be skimping on design.
If you're not advertising on the radio or in phone books (and you probably shouldn't be), make sure you're directing that money to building your web presence, starting with your own site.
Write a Personal Monthly Email Newsletter
If you're a small to medium sized travel agency, your unique selling point is the help and guidance of travel agents, as well as the custom attention you offer.
You can extend that to monthly email newsletters that are actually helpful.
If you simply chose one of your most popular packages every month and wrote a list of questions and answers, you'd be better off than 80% of email newsletters. Too often, these are boring, stale emails that just encourage the receiver to go buy something.
Be sure to offer your unique knowledge that no one else has.
What Makes the Travel Industry Different from All Others
1. Travel Marketing is Seasonal
Whether you're focusing your travel services around specific events or specific destinations, there's going to be differences depending on what you serve. When looking at your website traffic and leads, you have to keep this in mind and time it correctly. It matters more in this industry – more than many others.
You may look at search volume estimates for an event or travel destination this month and not be impressed with the metrics, but if you look at it over the length of a year, you'd be impressed when the monthly spikes come in. You can find this data with Google Trends and Google Keyword Planner. We also have a list of travel trends ideas here to get you started.
Pro tip: Capture Leads During News Coverage
News and media outlets focus on what's happening now. That means if your event or trip is happening in 6 months, it's unlikely to get coverage now. The coverage will happen when the event is going on. This changes depending on the nature of your business offerings, but seasonality is definitely important.
For example, I worked with a company that offered Running of the Bulls tours in Spain. That happens early July every year. Rather than seeing a traffic spike 2-3 months before when it's the best time to book, often the traffic spikes happen during the event. Most of the traffic is from people who are reminded of the event and want to go the following year, so this is an absolute PRIME time to capture their attention. If nothing else, capture their email address so you can market to them 6-9 months later.
Reversal: In the dead of winter, you can bet that consumers are thinking about their warm summer plans, this is a given. So you also need to account for news and media covering topics in the present for planning future trips.
2. High Cost Travel Products
In regards to standard monthly expenses, traveling is expensive. Even if you're just taking a plane to a nearby city for a few days, the vacation will cost a few hundred dollars. What this means is it's a high touch sales process. Most every potential traveler is not going to call your company and book on the spot. It happens, but as the length and price of your packages increase, you should expense longer and longer sales cycles.
The key thing to understand, and many travel veterans may roll their eyes at this simplification, is that selling travel services online is much different from selling a book online. You can't expect a one-call close, and you can't expect most visitors to purchase a $4,000 package on your online shopping cart.
Pro tip: Allow Monthly Payment Plans
If there's one thing we can learn from infomercials and car dealers, it's that monthly payment plans work like gangbusters.
Many consumers don't like to do math, so make it easy for them. Show them exactly how much they'll be paying monthly, and suddenly that dream trip is a lot more affordable.
You can extend this even further by offering online calculators that instantly show them the pricing, and allow online deposits to be taken.
3. Consumers Will Do Thorough Research
Armed with the power of the internet and unlimited choice, consumers know more about your business than your friend does.
This means that your sales teams are no longer the only source of information as it was in times past. Which is good news because you'll no longer be paying your sales and customer support to answer simple questions. But it also poses a challenge because you have to do more work to educate the customer about your offerings, or someone else will.
Pro tip: Answer All Questions with a Giant FAQ Page
One of the highest trafficked pages on a client's website for a trip was their FAQ page. That's because Google is rewarding long and thorough content, and consumers love this.
Right now, open up your email and find the 10 most common questions that prospective customers ask you about your travel products. Write out helpful 2-5 sentence answers for these questions, and post this on your website today. Track it for the next 8 weeks, and you're almost guaranteed to receive new traffic to this page like never before.
4. Reviews are Extremely Powerful
Put yourself in a traveler's shoes for a moment – you're spending a lot of money and time, taking off work, rearranging the family's schedule, and much more – all to have a little bit of fun. Do you want to risk all of that on a company that has so/so reviews? Most likely not.
What this means for the company, is you have to believe in your product, and take care of your customers to the extreme. You also need to engender brand loyalists and brand advocates as much as possible.
There's a challenge with certain platforms like Yelp that may hide your best reviews and only show negative reviews. This is a challenge that many businesses face, and we just have to work harder to overcome this.
Pro tip: Make Requesting Reviews Automatic
Are you automatically asking for reviews after a trip is complete? You can do this with your marketing automation system. It will take a bit of planning and configuration, but you can set up an automated system where two weeks after your client returns home from their trip and is all settled in, they'll automatically get an email from you asking about their experience and if they can leave a review.
5. Trust is Key
Are you responding to calls and emails as fast as possible? Are you walking customers through the process? Are you empathetic to their needs?
Relating to the reviews, customers essentially trust you with their life, depending on the location. They trust you not to sign them up for a dangerous tour, sketchy hotel, or non-tested restaurant.
They trust you to put their best interests in mind. It's a lot of responsibility, and we need to remember that always.
Pro tip: Show Trust Symbols on Your Website
Trust symbols are awards, badges, or even anti-virus software logos that help consumers trust your website and brand a little bit more.
It also includes micro-copy: helpful little informational text that guides them through the process of booking and requesting quotes on your website.
6. This is a Discretionary (Yet Fun) Purchase
When times are tough, consumers tighten up their spending. Although we may view travel and vacation as a necessary part of life, many who are watching their budget will cut out travel before they cut out alcohol or gambling, for better or for worse.
So when the economy is good, travel interest may soar, but when the economy is in a downswing, it can really hurt travel operators and agencies.
It's important to plan for this, be aware of the economic conditions, and tailor marketing and products to react to the overall macroeconomic environment.
Pro tip: Use Analytics Tools to Determine Your Demographics
You may have a good sense of the demographic profile of your current clients, but is there a hidden audience visiting your web properties that you're not aware of?
Using tools like Google Analytics, Segment, Mixpanel, Facebook's tracking pixel, and others, you can get rich demographic information that will help you understand your risk level for economic turbulence, and how to plan for this.
7. Market Disruption and New Opportunities
What was popular then isn't as much now. In the 1980s no Americans dared venture to vacation in Vietnam or even Thailand, today both locations are growing rapidly.
World markets are opening up yearly. Cuba is open today when it was absolutely closed off only a year ago
Beyond the binary opening and closing of countries are lifestyle decisions. Tour companies dedicated only to athletic tours are growing. There are tour companies dedicated only to the largest bucket list events around the world, or obscure annual celebrations.
You can use the principle of the first-mover advantage to be the first to act on these opportunities and grab market share before your competitors do.
Pro tip: Use Google Trends to Predict Demand
Google Trends is the pulse of the internet. It graphically displays what's trending and what's dipping in consumer search demand. Keep an eye on your space and the new opportunities popping up with this tool.
When you spot an opportunity, you can test market response by throwing up a landing page or blog post and keeping an eye on web traffic.
8. Consumers are Cutting out the Middleman
Just like travel agents have seen a drop in numbers since the advent of online discounters, consumers can probably cut out your service eventually. As foreign countries become more industrialized and globalized, consumers might be less afraid to do it on their own, and book their trip directly with locals at a fraction of the price.
The counterbalance to this is to offer something they can't put together on their own. Is it your local guidance? Do you have connections they can't get? Access they can't get? Extra amenities to make it all a more seamless process?
Pro tip: Use Surveys to Determine the True Advantage of Your Service 
What you think is the most important part of your service may be wildly different from what your customers value.
You may think that your access to difficult to acquire tickets is your differentiator when in reality your customers just want to have a good time and get perfect service. Or it may be the opposite – you'll never know without polling your customers.
9. There Are Emotional Components to Purchases
I've heard reports from the field of tour participants saying they would pay double the price for what they received on the tour. What was it? Convenience and ego.
A tour guide took a video of a tour participant Running with the Bulls and the participant wasn't aware of that. Afterwards when they saw the video, it blew their mind. If you're leading tours can you take photos and videos that show the tour member doing something they want to post on social media? That's the ultimate proof.
During the same event, we provided access to the front of the line for the running of the race. While everyone else had to wait on the streets for two hours, our members were drinking coffee and enjoying the view. Can you provide that level of access to something that your customer can't get on their own?
Pro tip: Surprise and Delight
"Under-promise and over-deliver" may be an overused expression, but it's rooted in human nature. If you can think of one or two extra perks to deliver to your clients that they weren't expecting, that could be the kicker that brings them back to you next year.
10. Social Media Infiltrates
Social media grew rapidly for a few years there and was only a novelty in the beginning. Now we can't ignore it. As it matures it becomes more and more a part of consumers' decision cycles, another outlet for information and research. They may not purchase directly from social media, but if you can gain more exposure by being in more places at once, well that counts for something.
Pro tip: Don't Try to Use all Social Media Channels
For advanced travel organizations, yes you're expected to be everywhere all the time. But for organizations in the growing stages, you don't have the expertise or bandwidth to tackle all platforms at once.
Go to where your audience is, and focus on that social platform until you're the expert, then move on. If your clients are older, focus on Facebook. If they're younger, focus on Instagram. If they're teenagers, focus on Snapchat.
There's no perfect answer for everything, but think of your audience first, and meet them there.
Travel Email Marketing: A Complement to SEO Traffic to Retain Visitors Long-Term
If you acquire emails of past and potential customers, you're sitting on a gold mine of value. Estimates peg the value of each email address at $40, but if properly nurtured, they can be worth much more in the travel industry.
One of the best things we've done on travel websites we've worked on was to implement an end-to-end email marketing program. This program included both traditional email broadcasts (some call it "blasts"), and email marketing automation.
Travel Email Marketing Automation
One of the best ways to stand out is to be top of mind in your customers mind. Email marketing automation makes that much easier than the past.
Email marketing automation allows you to send the right email to the right person at the right time. Let's put together a hypothetical list of people as well as their preferences:
| | | | | |
| --- | --- | --- | --- | --- |
| Name | Email Preferences | Travel Destinations | Travel Frequency | Typical Budget |
| Bob | Quarterly | Europe | Yearly | $$ |
| Ashley | Weekly | Worldwide | Every 3 months | $$$ |
| Brian | Monthly | Africa | Yearly | $$$ |
| Alex | Weekly | Worldwide | Every 6 months | $ |
| Tiffany | Daily | South America | Monthly | $$ |
As you can see from our very small sample size, every person is different, but with the right email marketing tool, they can be grouped, tagged, categorized, and sent the right email at the right time.
You could divide them all up into different lists based on their location preferences, travel frequency, budgets, and email preferences.
When you hear the term "big data" in the news, this is part of it in a small way. You may not be analyzing billions of data points, but you're using the available tools out there to learn as much about your customers as possible so you can serve them in the best way.
When it comes to email marketing for travel companies, focusing on the right email to the right person at the right time is more important than any other industry.
Tying it all Together: Travel Marketing Automation
There are so many moving pieces, things to remember, and subtle details needed to build out a smooth travel web marketing campaign from start to finish, that it's almost humanly impossible.
Thankfully, software companies have helped us solve this pain with marketing automation tools.
Note: this section can get a bit technical and advanced, so if you're just starting out you can bookmark this for later after you've applied all the online travel marketing basics.
If you think about it, your website is like a 24/7 salesman. It's always working, always providing information, always ready to collect contact details.
But there are a lot of things the website can't do that you need humans for. It can't send out emails, can't follow up with more information, can't help qualify a lead to determine if it's a good fit, can't schedule a call in your calendar.
What helps fill in the gaps between your human marketing and sales staff and your "dumb" website is intelligent marketing automation.
Marketing automation sounds like a scary word if you've never heard of it, but in reality these are the most important tasks it helps accomplish:
After a lead fills out a form, automatically have an email send to them addressed to that person by name, custom tailored for the trip they are interested in
Automatically follow up with a lead within 5 minutes of them filling out a form, asking them to answer a few more questions
Recognizing when a past customer is revisiting your website, so your sales team knows when to send a friendly check-in email
Deliver brochures and downloads via email once requested, then follow-up after a 2-day delay providing more information
Connect your marketing software with your sales CRM so your marketing and sales teams are sharing customer details (never have that embarrassing email mistake)
Automatically schedule calls on your calendar with automated follow-ups
As you can see, marketing automation software helps eliminate the most redundant, yet still important tasks. If you like answering emails at 3 AM in the morning instead of having software do it for you then I suppose you can do without it, but most marketers have welcomed this technological advance with open arms.
There are many different software services for marketing automation, here are a few of the top services:
Entry Level: ActiveCampaign, HubSpot Marketing Free
Mid-Level: HubSpot Pro, ActiveCampaign Enterprise, Center-LeadPages-Drip (one company), Zoho
Enterprise Level: HubSpot Enterprise, Marketo, Pardot
There are countless other contenders that you can find with some research, but my top recommendation if you can afford it is HubSpot or ActiveCampaign.
If you're on a budget and just starting out, ActiveCampaign or Drip is the best way to start, although HubSpot's Marketing Free options is great if you plan on upgrading to HubSpot in the future.
Marketing automation is fairly new, but it truly is the future of digital marketing. There is a deluge of content being produced daily that we now have to compete with, there are more marketing technology offerings than ever, and our visitors have higher expectations than ever before. Without a grand strategy in place, we'll miss a lot of opportunities, and your marketing automation software sits as the hub of that strategy (along with your brain).
Want to Learn More?
If you've found this helpful, I'll continue writing more on travel marketing ideas and strategies.
I'm also available to take on a limited number of travel marketing clients monthly. Currently, I have two openings. If you'd like to hear what that entails, simply contact me here.
Want to Learn More?
If you've found this helpful, I'll continue writing more on travel marketing ideas and strategies.
I'm also available to take on a limited number of travel marketing clients monthly. Currently, we have two openings. If you'd like to hear what that entails, view our travel SEO services page.