Reading Time:
10
minutes
Travel is back in full swing in 2023.
You've seen the celebrities and VCs back in Italy this summer, showing off their fancy Positano wedding photos.
Citizens of the world are continuing their 2022 revenge traveling and filling the flights, trains, and cruise ships around the world like never before throughout 2023 and into 2024. After a few long years, we can all breathe a collective breath and move on with a greater appreciation for the industry.
Our agency has experience in the travel tours and hotel booking areas within travel, and dearly love helping consumers get out and have real experiences.
To get a complete picture of the resurgence of the industry, we looked at the publications, headlines, and digital PR ideas that are trending currently and with future growth looking interesting. Let's dive in.
Video: How to Find Travel Digital PR Ideas Now
How do we generate digital PR ideas in the travel industry? This video goes through our approach of using Google News in combination with search operators and common frameworks to see what's working now.
We cover:
How Google News is the place to start
What search terms to use to find campaign ideas
Where recency search operator come into play
How to spot the travel brand in the news coverage
Why bigger publications are easier to land on than small ones
Intro to some frameworks that are popular.
Start with the Top Travel Publications for Pitching Ideas
We recommend pitching top-tier travel publications instead of going after travel bloggers, when you want earned, not paid coverage.
Sponsored posts have their place, but true media coverage via PR pitching for travel publications is at once very hard and very valuable.
Thankfully there is a rich bounty of travel media that can be pitched, and they're hungry for stories. Start with this list from Muck Rack:

Beware: there are some travel publications that are digital-only, fly-by-night "travel magazines" without a true audience. They will look decent for a half-second, but when you dig deeper you'll see they are worthless content and PR mills. We recommend sticking with trusted travel magazine coverage, paired with some lateral industry publications, like food, business, and cities.
Standout Publication: AFAR – the fastest-growing travel magazine
According to Statista, AFAR was the fastest-growing magazine publication in the United States in 2020, with a 59% increase in their monthly audience. 
This is especially impressive considering that AFAR is a travel magazine and 2020 was the start of a global pandemic. Statista's source attributes Afar's growth to a spike in mobile web viewers, while runner-up, WIRED, earned a 51% increase in their monthly audience mostly from unique video views.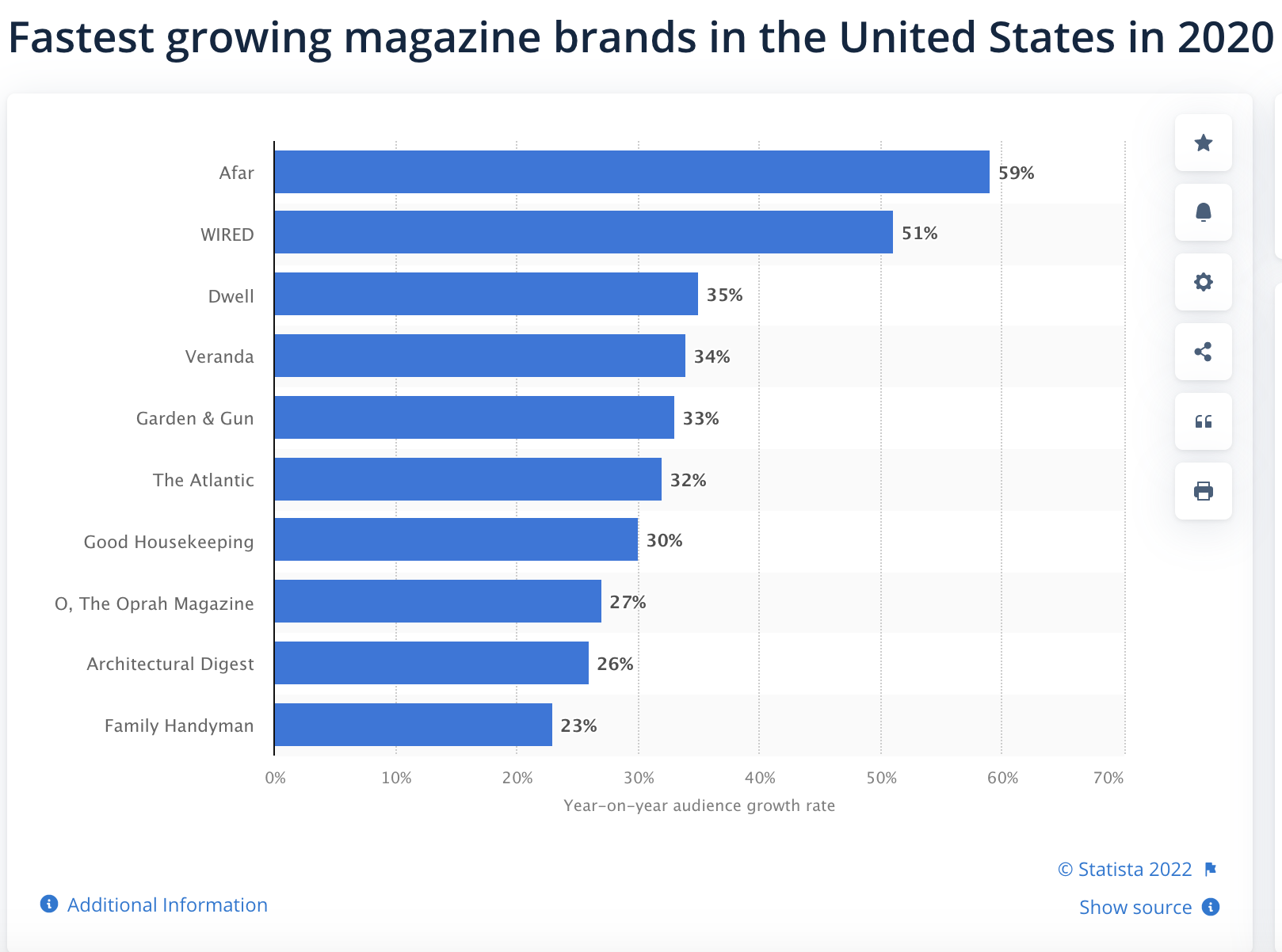 AFAR's success seemed to be on track from the get-go. In 2019, the magazine celebrated its 10-year anniversary in which the founders Greg Sullivan and Joe Diaz reflected on their rapid growth in the past decade, attributing it to thie unique perspective they had on what a travel publication should look like.
​​"We wanted to avoid the conspicuous consumption that travel magazines at the time were doing. I always say it's the supermodel on the elephant on the deserted beach. That's the fantasy of travel. We love elephants and pretty people and deserted beaches, but we don't see that on our trips. We wanted to do something that spoke to seeing the world as it really was and celebrating that." – Joe Diaz
Media is ever-changing and audience attention changes faster than you can spell "PR". Kudos to the publications that successfully pivot their focus to meet the general public's attention where it's at in real-time. AFAR has proven successful in keeping up with current trends while sticking very strong to their core values and being genuine above all else.
Here's a roundup of some of AFAR's direct competitors and how their companies are currently growing according to LinkedIn data.
Top travel publications see 1-year headcount growth, but down vs 2020
How did AFAR fare vs other travel magazines?
AFAR leads the group in 1-year growth in employee headcount, yet like most of the group is down vs April 2020, right in the throes of pandemic chaos for the travel industry.

Most surprising is the success AFAR is seeing with a relatively small headcount compared to related publications. Digging further, when we look into organic SEO traffic we see numbers that further support AFAR's growth: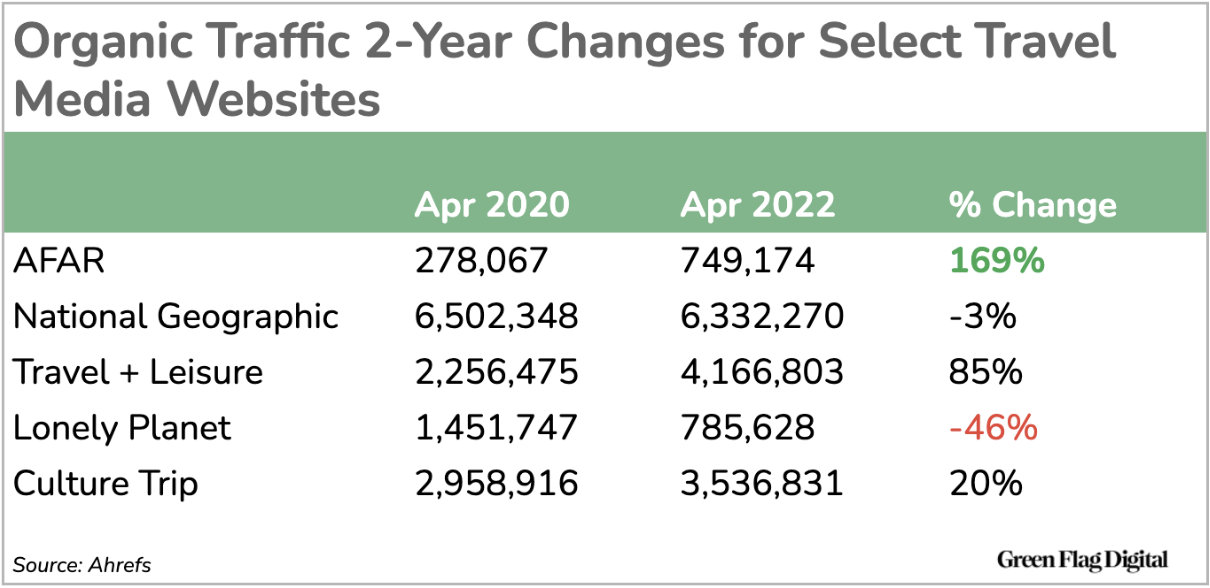 Most surprising are the cuts across the board in page counts for these sites, which have mixed impacts on their resulting traffic numbers: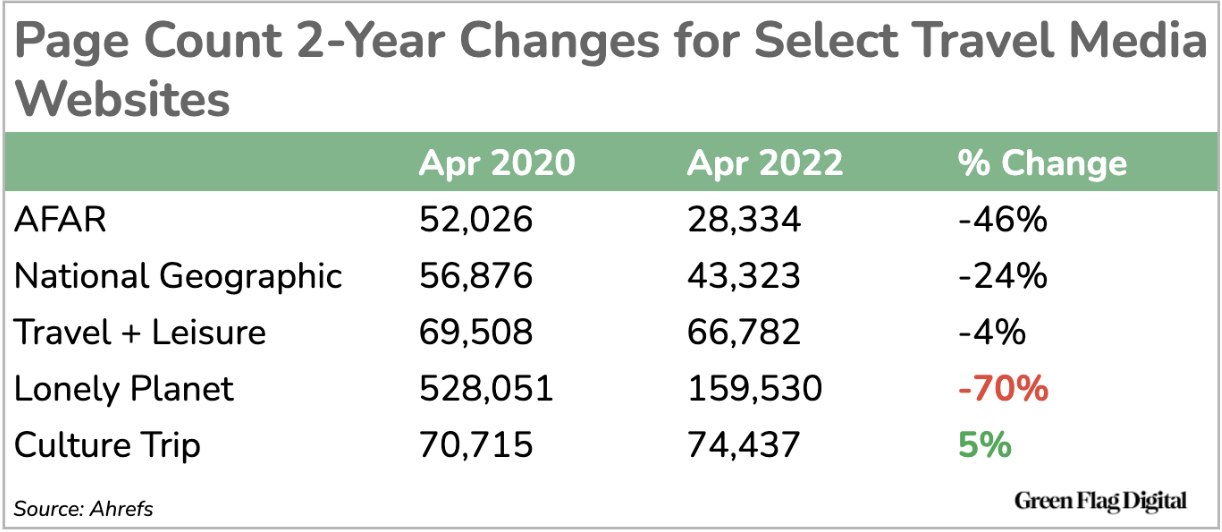 These publications must have fully bought into the idea of cutting their content cruft. The theory goes that by removing unnecessary pages on your site, the quality of the site improves overall. When that happens, pages being linked to and from are higher quality. This also preserves Googlebot crawl budget for very large sites. It's not always perfect, however, as we see Lonely Planet had both the deepest page count cuts as well as the largest traffic loss. 
Overall, it's fascinating to see parallels in general audience reports, employee headcount, and organic SEO metrics that are largely correlated.
Not shown here are social media, newsletter, and video growth numbers that can also have a massive impact on company performance.
Seasonal Story Trend to Watch: Insane Airline Travel Prices 2023-2024
This trend started in Summer 2022, but we have witnessed a fluctuation in airline flight prices this year, depending on the season and destination. Journalists, consumers, and the industry at large are fascinated by flight fluctuations.
If you're looking to insert yourself into the story of the season and follow the news cycles, this is a good evergreen trend to watch. Evergreen because: flight prices will fluctuate for a very long time, including the future rocket trip to mars prices. However, there can be temporary fluctuations throughout the based on seasonality, but also micro-cycles and super-cycles based on macro trends.
There are also one-time trends like the pandemic. If you operate in travel and are impacted by flights, which is most travel companies, then this is one to watch out for.
There are a few ways in which we like to determine whether or not flight prices are trending in the news:
Look at what major news publications are reporting on.

Look for spikes in content keywords in the media using the SEO search tool, Ahrefs.

Look for keyword search volume in Google Trends to validate that consumers are interested in the subject as much as the media is.

Analyze past digital PR campaigns on the topic that have done well.
With these validation tools in mind, we may decide how to feature topics like flight prices if they might turn out to be a top hit this month. There's always talk of big trips in any one season, and destination prices change depending on the season as well. Pay attention to keep tabs on when you have a story to touch on and pitch.
#1: What major news publications are reporting on
NPR – Airline ticket prices are expected to keep rising for several reasons
This aired on NPR's Morning Edition and is worth a listen if you have three minutes for a briefing on why you probably should just stay home this summer.
Thrillist – What is Revenge Travel & Why Is It Driving Up Flight Costs?
Yes, "revenge travel" is a real term floating around in the media right now and you may even be feeling it yourself. Coined for the pent-up need to travel now that we finally can, some people are willing to spend ridiculous amounts to get outta Dodge.
ABC News – The airline pilot shortage is real and will cost all of us
Pilots are humans too! And just like humans, they need a day off. The cost of fuel isn't the only thing driving flight prices through the… sky?… as airlines are facing staffing issues and having to cancel more flights. Tread lightly when booking your next getaway.
#2 & 3: Spikes in keywords from both media and consumer search trends data
The SEO tool, Ahrefs Content Explorer, is a great tool to get a general idea of how newsworthy your topic is because it'll give you a glance at the volume and headlines of recent articles online that mention your search keywords. Think of it as peer validation – other people like you thought this was a good topic to write about.
Google Trends shows that consumers are actively searching for this topic online, so there is a market for the content that you're about to produce. Not only can you use this as idea validation, but you can also create an entire campaign around Google searches, as a lot of publications have successfully done before. 
Looking at our trending airline/travel topic, Ahrefs Content Explorer shows recent spikes across the media for terms like "travel costs" and "pilot shortages". Furthermore, both the media and consumers are interested in "why are flights so expensive right now" according to Google Trend reports.
#4: Successful past digital PR campaigns on the same topic
The ideal digital PR campaign topic is as creative as it is evergreen. Finding successful campaigns in the same topic that have been done before can be one of the best ways to validate that an idea will perform well, even if the campaign was done years ago.
We found three similarly-framed campaigns from three different companies that were each as successful as the last:
The World's Best Airports for Business Travellers (Globe Hunters). 5 dofollow backlinks with a DR over 50, placement on PhilStar Global (DR 81) and Smarter Travel (DR 78).
The World's Most Relaxing Airports (My Voucher Codes). 1 dofollow backlink from Canadian publication, La Presse (DR 86).
Revealed: The World's Most Family-Friendly Airlines (Play Like Mum). 8 dofollow backlinks with DR over 50 including Zendesk (DR 92) and The Sun (DR 90).
Each of these is very simple in its presentation, showing that if your campaign is centered around a lot of different data factors, it's sometimes best to keep the data the focus of the article. The World's Best Airports for Business Travellers and The World's Most Relaxing Airports articles both rely on only an interactive table to visualize their data, while The World's Most Family-Friendly Airports includes a static table with a brief explanation of the overall campaign as the sole image.
Stepping a little further away from the airline talk and focusing more on the vacations themselves, here are two very successful digital PR campaigns worth shouting out, both having earned backlinks from CNBC and 70 other publications with domain ratings (DR) 50 and above:
The Fastest-Growing Vacation Hotspots (ParkSleepFly)
This campaign is a great example of how to use Google search trends to create an entire campaign. They looked at the most popular vacation spots on three different levels – by country, by city, and popular by US state, and formatted the highest-ranking hotspots as a listicle. ParkSleepFly earned dofollow backlinks from 12 publications with a DR above 50, including CNBC and MSN which are both DR 92.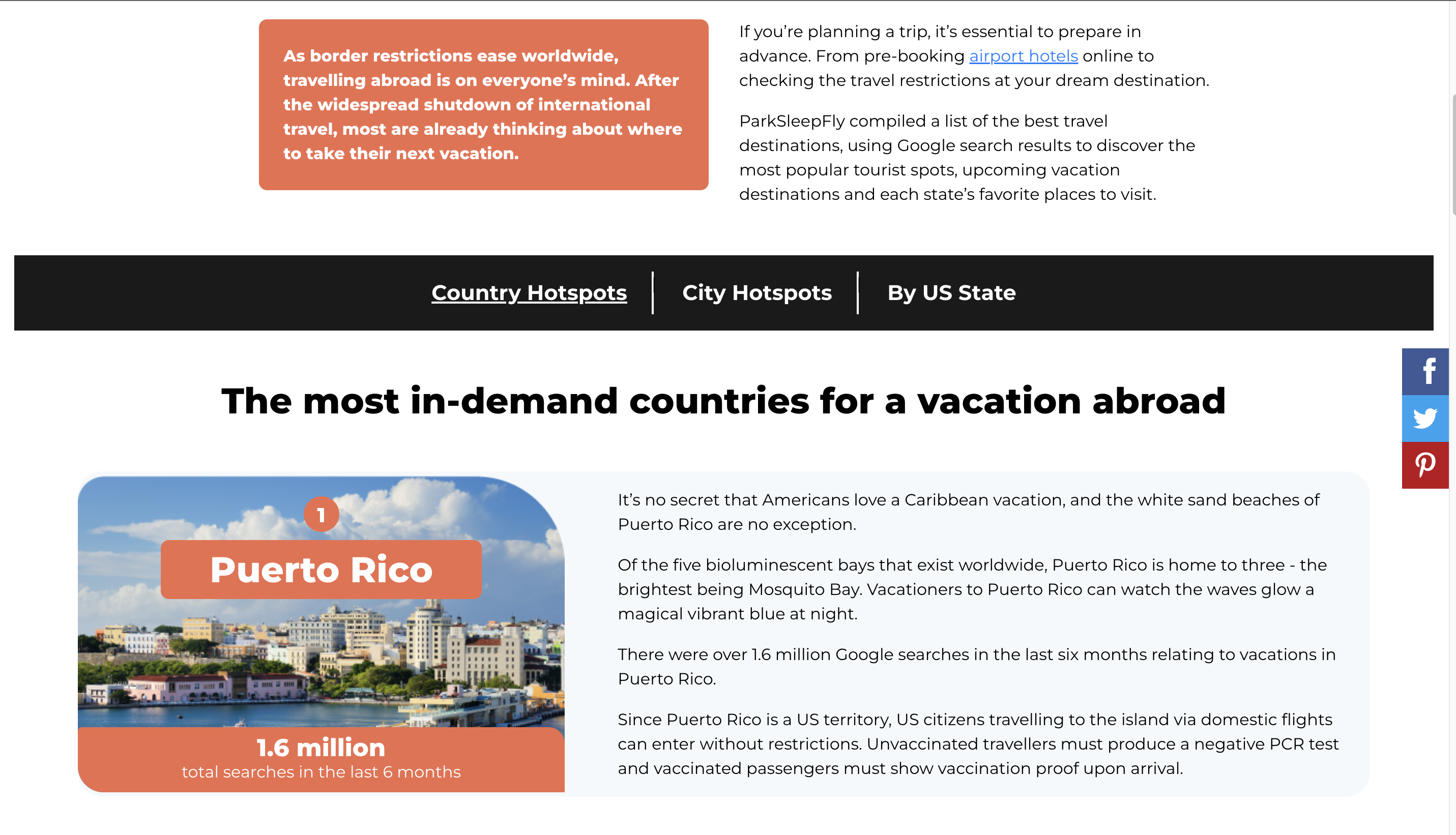 The 50 Most Searched For Bucketlist Travel Experiences (Unforgettable Travel Company)
In another successful search trends article, Unforgettable Travel Company listed the top 50 most popular travel experience searches and categorized them by the country that the experience is in. CNBC also covered this campaign, as well as Apartment Therapy (DR 87) and 13 other publications with a DR above 50.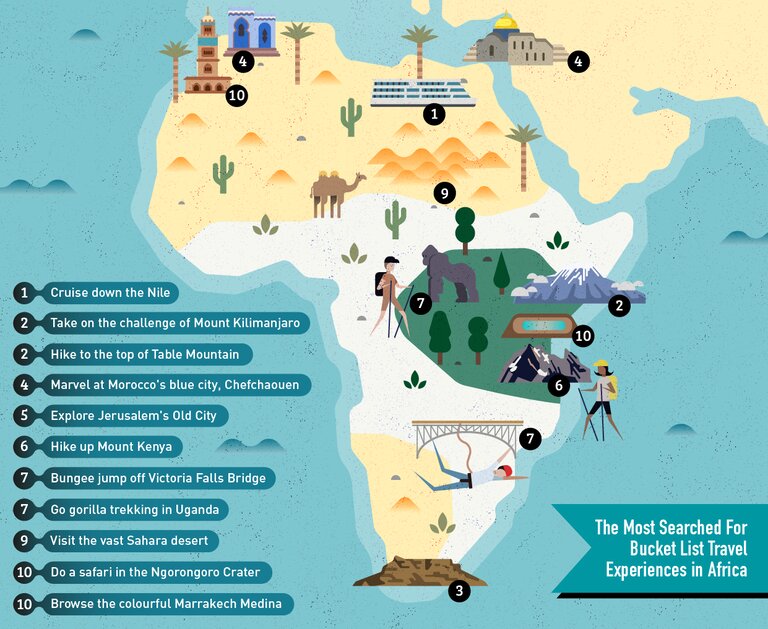 Another way to get involved with the conversation is honing in on one of the greater economic reasons why travel is costing more this summer and adapting that reason to your specific beat. Take this moveBuddha article for example, that adapted the bigger issue of rising gas prices to a campaign that made sense for their product: Rising Gas Prices will Blow up your Moving Costs this Summer – Here's how to Fight it.
Unused Campaign Ideas
Because we're generous and full of great ideas, we've even come up with a few potential digital PR campaigns waiting to be claimed.
Idea: The World's Most Hated Airlines
Best for: Travel, transportation, or customer reviews companies (but could really be adapted to anyone).
Details: Inspired by the RAVE campaign, Most Hated Brands in Every Country. This campaign is straightforward and bound to give readers that "So relatable." feeling. Take the most popular airline companies around the world and use tools like Google Trends and Twitter language analytics to tally occurrences of negative talk about each airline. There really should be no shortage of angry tweets to any of the airlines so data collection will be a breeze.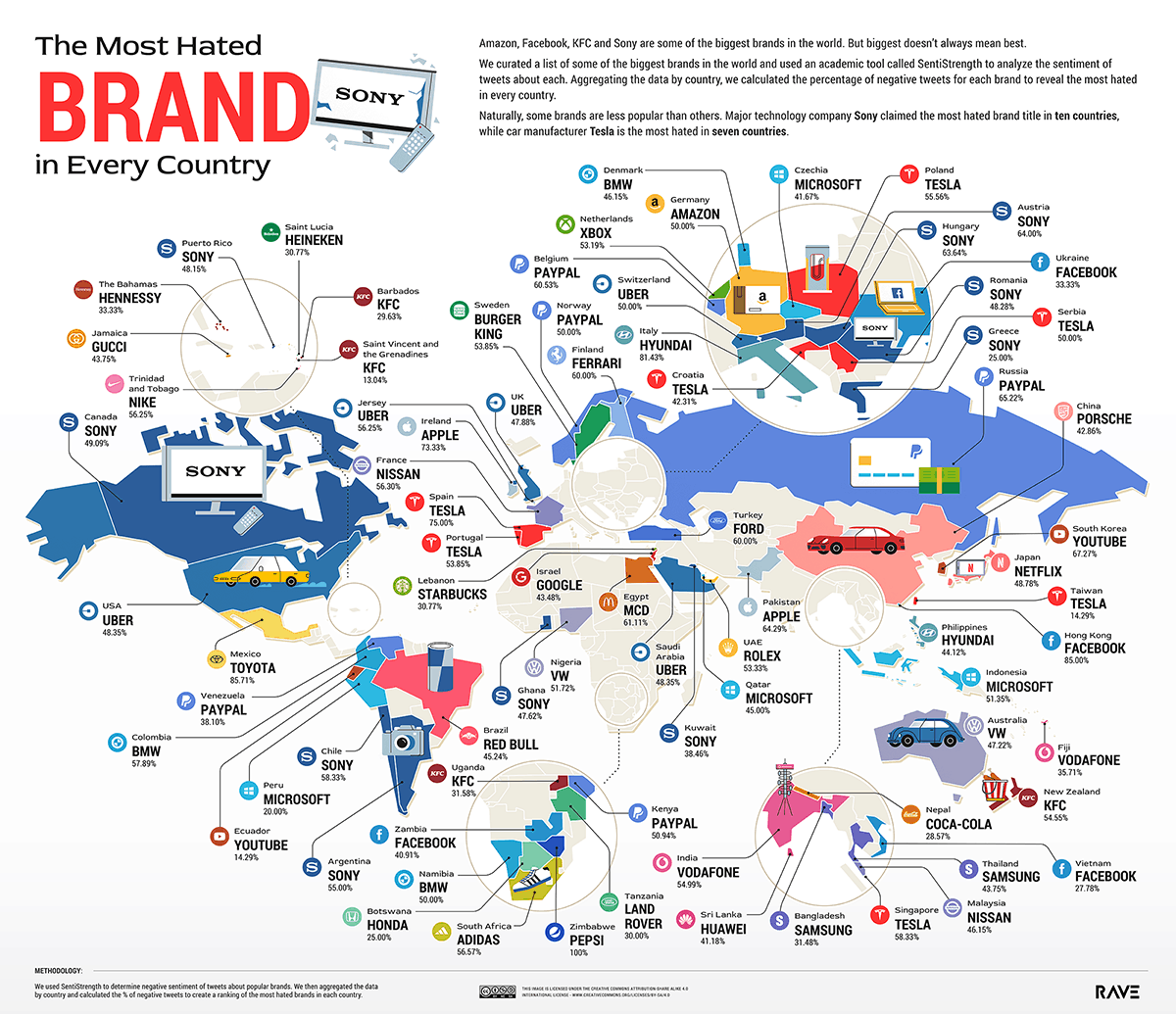 Idea: Is being a pilot worth it right now?/10 careers better than being a pilot right now.
Best for: Career/economy beats.
Details: With everything going on in the airline industry, being a pilot these days does not seem as glamorous as it once was. The idea here would be to look at elements from a handful of other careers and compare them to everything that comes with being a pilot to determine whether or not it's really worth the trouble right now. Career factors to consider could include: salary, years of education required (plus potential cost of that education), typical time off, whether or not you have to work weekends, the average age of retirement, etc.
Here is an example for formatting inspiration of what the infographic comparing different jobs could look like: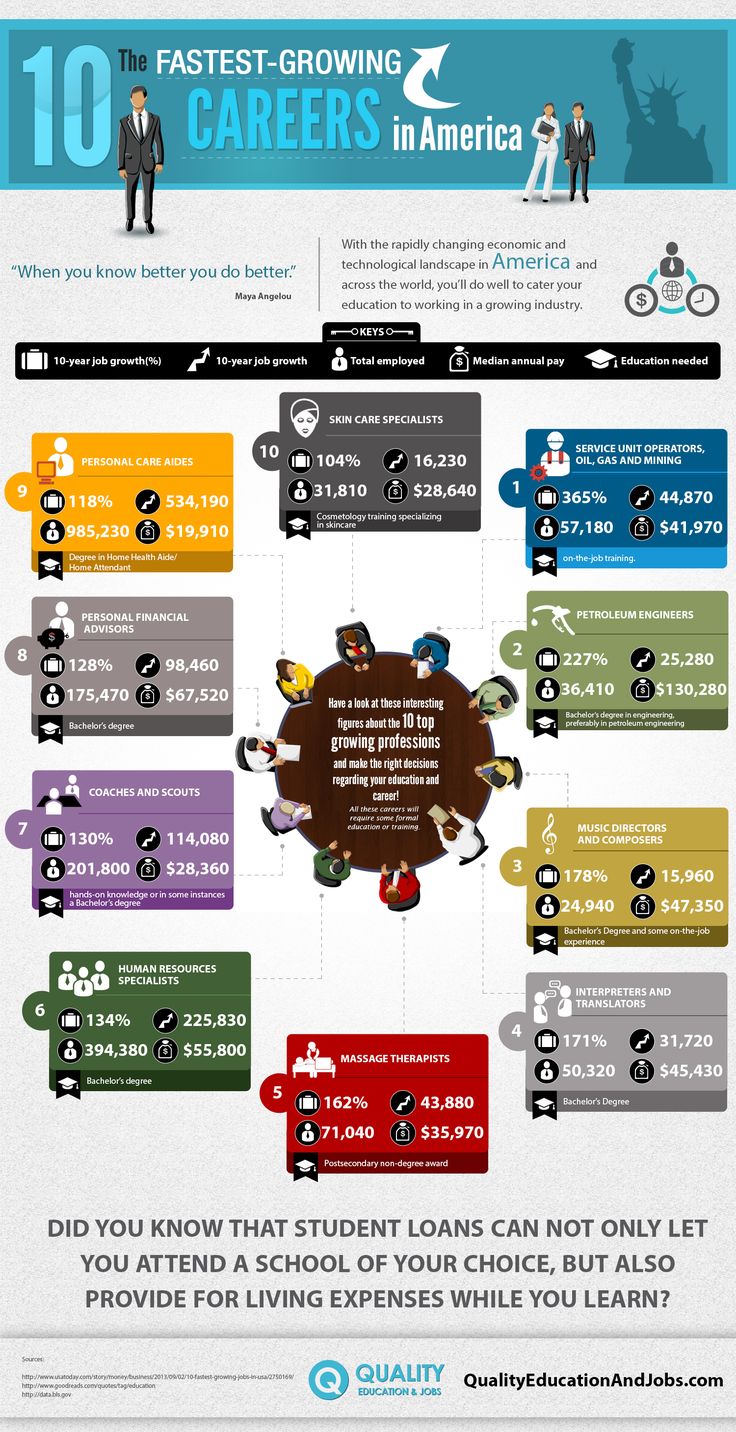 Idea: The cost of a 100, 1,000, and 10,000-mile vacation
Best for: Family, travel, personal finance.
Details: Choose a starting point (like LA or NYC) and calculate the basic cost of a week-long vacation to each of those places. The idea here is that the airline fares will far outweigh the closer destinations and prove that road trips may be the way to go this summer.
The image below from Orbitz is a great example of a vacation budget breakdown infographic. It would be smart to also include a bar graph comparing the cost of each vacation distance for this variation of the campaign.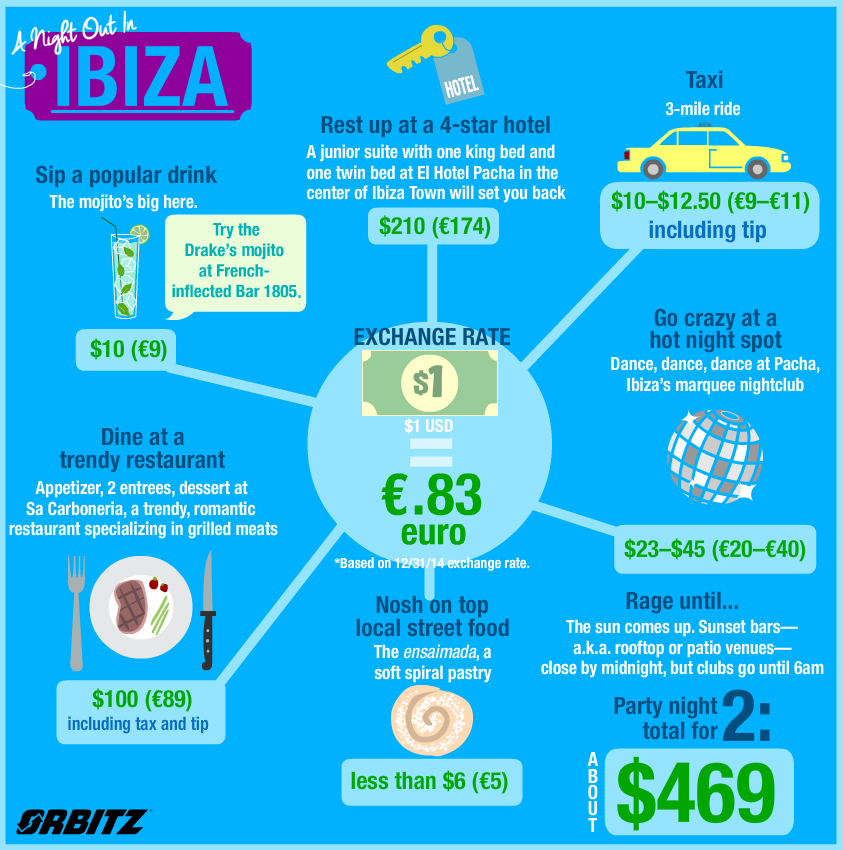 Do any of these ideas speak to you? Let us know what you're feeling!
Dive more into how we think about the travel industry and marketing and SEO strategies here.
About this series:
We wanted to give back to the world we love – the world of ideas, stories, and commerce – with our take on the trends and publications we're seeing growth in recently.
This will be a regular series where we focus on one publication that's making waves – whether it's a startup news publication, industry magazine, or breakout blog.
We'll also drop in a few trends we're observing.
We hope to inspire journalists, digital PR practitioners, and brands alike to help produce interesting work.
Editor's note: reviewed and updated by Joe Robison for fall and winter 2023 travels. Updated some 2022 sections for 2023 to 2024 predictions, as well as more link resources. Thank you to Mercedes Martinez for the original draft and research.