Reading Time:
11
minutes
We wanted to give back to the world we love – the world of ideas, stories, and commerce – with our take on the trends and publications we're seeing growth in recently.
This will be a regular series where we focus on one publication that's making waves – whether it's a startup news publication, industry magazine, or breakout blog.
We'll also drop in a few trends we're observing.
We hope to inspire journalists, digital PR practitioners, and brands alike to help produce interesting work.
At the risk of sounding like your pompous coworker in the dev department or your Gen Z cousin who just spent their college fund on an NFT, we're talking about crypto in this month's edition of Digital PR Trends.
Before you tune out, don't be alarmed – we're by no means experts on the topic so won't be providing any financial advice or pushing investments on you. We will, however, strongly suggest that you find a way to incorporate the topic into your next digital PR campaign.
Whether you're interested in it or not, crypto has been all over the news in the past couple of months and is making its way into mainstream media. Leading publications like Forbes and CNBC now have dedicated 'Cryptocurrency' subtopic sections on their websites. If you're looking for a hot topic to inspire your next campaign, look no further.
Standout Websites in Cryptocurrency
These publications are unique in comparison to the publications in other industries we've analyzed because cryptocurrency didn't get a lot of press until recently. Even in the past year, you can see the immense growth from each website analyzed. 
Take, for example, the online publication Decrypt.co which saw a 1070% increase in organic traffic in just the last year. The average growth rate for each crypto news site is well above what we saw from travel and real estate online publications in May and June respectively.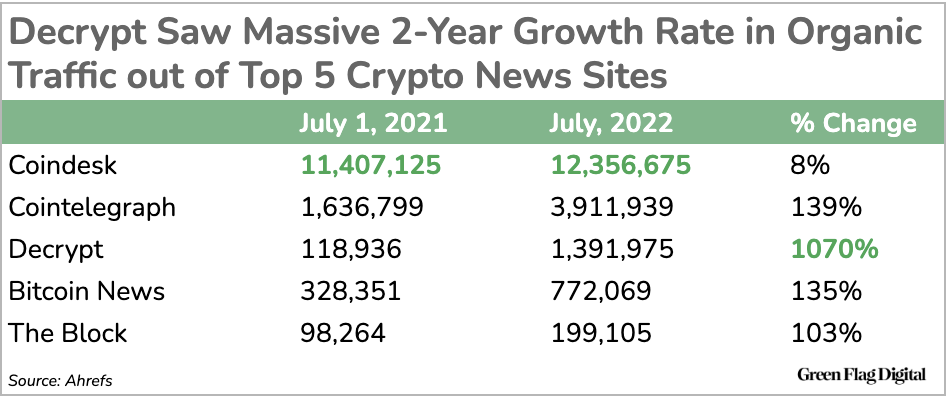 When looking at historical data for these top publications, Coindesk and Cointelegraph are the only two that have complete data back to early 2015 (Coindesk actually started in 2013) – Decrypt didn't come around until 2019 and The Block (formerly The Block Crypto) started posting a year prior in 2018.
Coindesk, being the oldest publication in the lineup, has set out to be a leader in the crypto news space from the get-go. In fact, their motto is "Leading the story on the future of money." Even Coindesk's employee headcount reflects their skin in the game.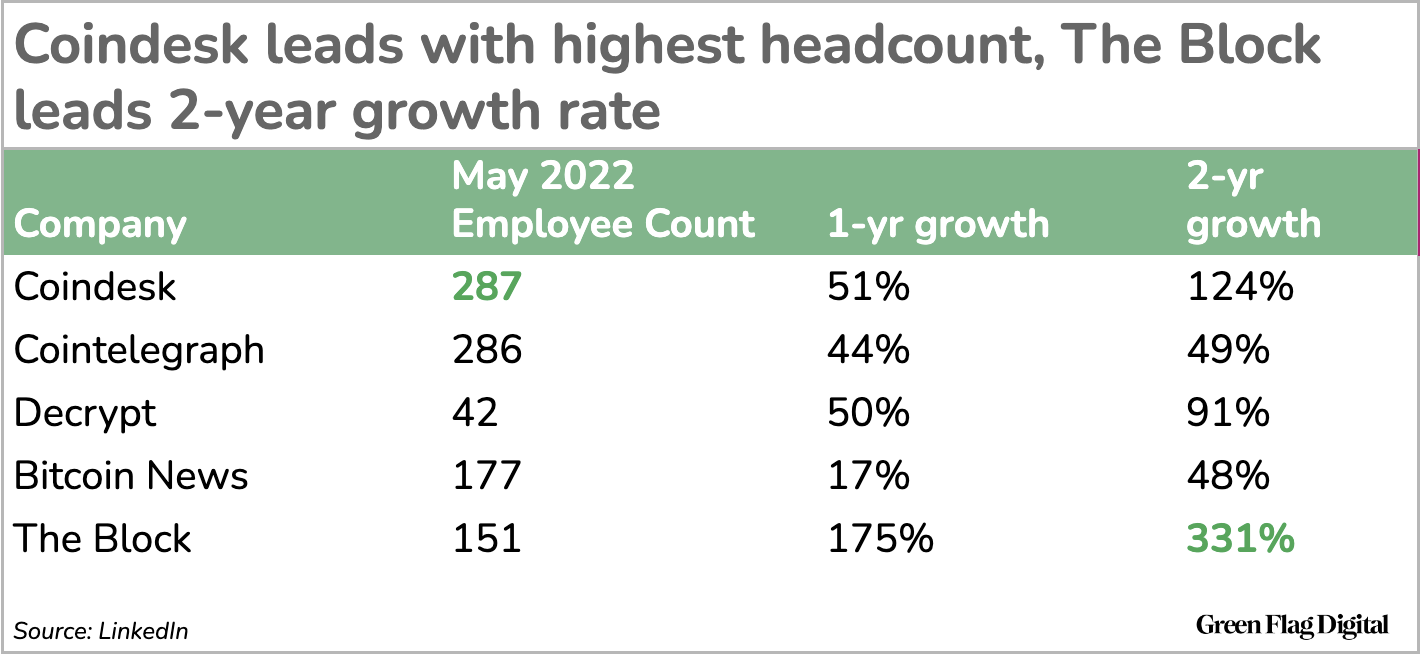 Other SEO metrics like page count and linking root domain count are across the board in leadership. Looking at all of these growth metrics is very representative of the history of the crypto industry and its ups and downs. Businesses in every outlet of the industry are trying to find their footing with high highs and low lows of interest. With most all of these growth percentages in the green, however, it seems they're all here to stay.
Interview with an Expert
We turned to experts in the space for insider advice on whether or not your company should focus efforts on a Web3 marketing strategy in the near future and what that might look like. Here's some amazing insight from Brady Werkheiser of Alchemy:
What do you think cryptocurrency's place in mainstream culture will be in the next 5 years?
BW: In the next five years I think cryptocurrency will have an undeniable stronghold over the 18-35-year-old demographic because blockchain innovations will deliver on their promise of a better alternative to today's status quo.
From reducing the cost to send money to family members across the world, to letting gamers own their in-game digital assets, and digital natives feeling truly part of their online communities through NFTs, the new generation of internet users will embrace the novel technologies the Web3 industry is building today.
What would your best advice be for a company that is interested in establishing itself in Web3 but doesn't know where to start?
BW: Companies interested in establishing themselves in Web3 should start educating their leadership, product managers, and employees on Web3 innovations, the opportunities it presents to create competitive moats between themselves and their competitors, and identify threats to their existing business model.
Some ways to start getting established in Web3 are:
Invite Web3 founders to speak at your company
Reimburse people for Web3 courses, books, or conferences
Build a culture that rewards learning about new technology
Do you think all businesses should consider a Web3 marketing strategy in the near future?
BW: I firmly believe that every leader should consider their Web3 marketing strategy because, in my opinion, every industry connected to the internet will be impacted by blockchain technology over the next 10-20 years.
The businesses that should accelerate their conversations about marketing to Web3 audiences are companies in the finance, entertainment, social media, gaming, and eCommerce industries because Web3 competitors already exist and are competing for market share.
Decentralized applications (dApps), protocols, and Web3 infrastructure providers like Alchemy, Circle, 0x, Lens Protocol, and OpenSea are making scalable infrastructure payments, trading, social media, and the sale of verifiable digital goods possible.
What are some examples of successful Web3 marketing campaigns you've seen recently?
BW: One of the best examples of successful Web3 marketing campaigns is organizing blockchain hackathons because it displays two of the most important aspects of Web3: community and innovation.
For example, Solana, a layer 1 smart contract development platform like Ethereum, has organized multiple hackathons over the last two years, each time generating exponential growth in their number of registrants, project submissions, and prizes.
With judges spanning investors, Web3 founders, and industry thought leaders, many Solana hackathon winners end up receiving startup funding or getting acquired.
To bring a billion people onto the blockchain, the industry needs applications that improve a billion people's lives, and to create these transformative dApps, the industry needs developers and best-in-class developer tools. Hackathons create an environment where these future-thinking entrepreneurs can build without borders.
July 2022 Story Trends: Crypto Market Highs and Lows
Of course, cryptocurrency is not a new subject, but the market has been at its worst since the first crash back in 2018. This crash has brought on new waves of discussions around crypto's place in the mainstream as well as massive business transactions making headlines.  Let's revisit the tools we use to determine whether or not a topic is trending:
Look at what topics, themes, and headlines major news publications are reporting on.

Look for spikes in content keywords in the media using the SEO search tool, Ahrefs.

Look for keyword search volume in Google Trends to validate that consumers are interested in the subject as much as the media is.

Analyze past digital PR campaigns in the topic that have done well.
Just like we did in June with the topic of real estate, we'll run our new crypto market trend through these steps to see if it would make a successful and newsworthy campaign topic.
#1: What major news publications are reporting on
CNBC – Ether jumps 30% in a week, 3AC founders speak out, and NFTs stolen via Discord: CNBC Crypto World
This is from CNBC's daily series, 'Crypto World', which covers current events in the crypto world and is a great go-to for debriefing on what's most important to know about the industry in real-time. Among trending topics today – stablecoins have gone up in value this week for the first time in months.
Bloomberg – Crypto Stocks Get Boost From Retail Traders Who Drove Meme Craze
Another great high-level look at what's going on in cryptocurrency from a trustworthy financial publication. Market talks from mainstream finance sites like Bloomberg and CNBC Business give good insight to real-world applications of crypto and how we can expect to be affected by its happenings, even if we're not in the weeds with it ourselves.
Forbes – Coinbase is Ready to Challenge the SEC
If you haven't already seen it, we've just experienced the first crypto insider trading case happen as a former Coinbase employee was convicted for passing on tips about when assets would first be available to a family member. The reason this is big enough for Forbes to cover and for us to be mentioning right now is that the SEC is stepping in on the case and toying around with ways to regulate the crypto market. More evidence of moving into the mainstream, and we are just seeing the beginnings of these developments 
#2 & 3: Spikes in keywords from both media and consumer search trends data
Recap of what Ahrefs and Google Trends are and how they can be used:
The SEO tool Ahrefs Content Explorer, is a great tool to get a general idea of how newsworthy your topic is because it'll give you a glance at the volume and headlines of recent articles online that mention your search keywords. Think of it as peer validation – other people like you thought this was a good topic to write about.
Google Trends shows that consumers are actively searching for this topic online, so there is a market for the content that you're about to produce. Not only can you use this as idea validation, but you can also create an entire campaign around Google searches, as a lot publications have successfully done before. 
For our July trending topic of cryptocurrency, we're going to take a look at various subtopics in the space that people may be searching for and see if they have true search volume. A look at Ahrefs Content Explorer shows clear media attention for Web3 picked up in the last year – though the content is down a bit this month, we're confident that with this upward volume, there won't be an end to Web3 content any time soon.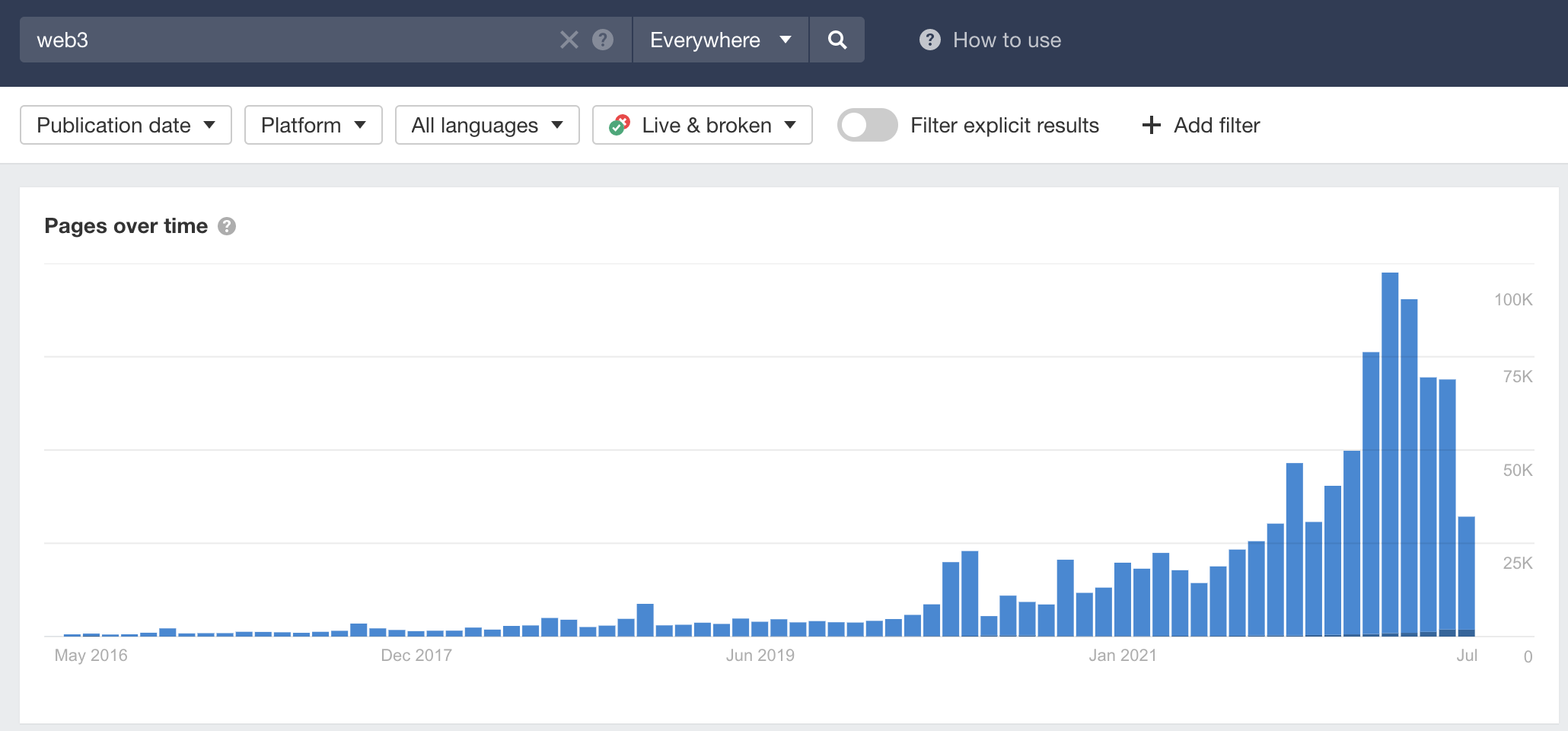 As for public interest, Google Trends confirms a recent peak in curiosity for terms like "3 Arrows Captial" and "ethereum merger".
Out of our own curiosity, we compared Google search volume for three popular cryptocurrencies (Bitcoin, Solana, and Ethereum) to see the fluctuating interest. The below chart updates the search volume in real-time so should be up to date for the day you're reading this article.  
#4: Successful past digital PR campaigns on the same topic
The ideal digital PR campaign topic is as creative as it is evergreen. Finding successful campaigns in the same topic that have been done before can be one of the best ways to validate that an idea will perform well, even if the campaign was done years ago.
We found three similarly-framed campaigns from three different companies that were each as successful as the last:
Here we go tooting our own horn again. But really, this campaign for moveBuddha was another one of our most successful campaigns to date, and it was published over a year ago at a time when cryptocurrency wasn't nearly as much of a mainstream newsworthy topic as it is today.  One of the biggest attributes to this campaign's success was the global aspect, which we mentioned as a 'Pro Tip' in last month's post. Unlike some city ranking studies we've done in the past that limit our pitching prospects to mostly local stations in the top 20 list of cities that actually make it into the article, this campaign is a global country-wide ranking that allowed us to pitch to virtually anyone in the topic regardless of location. This global ranking strategy can be applied to most topics, but especially cryptocurrency as it is a global economy that you are able to easily compare apples-to-apples.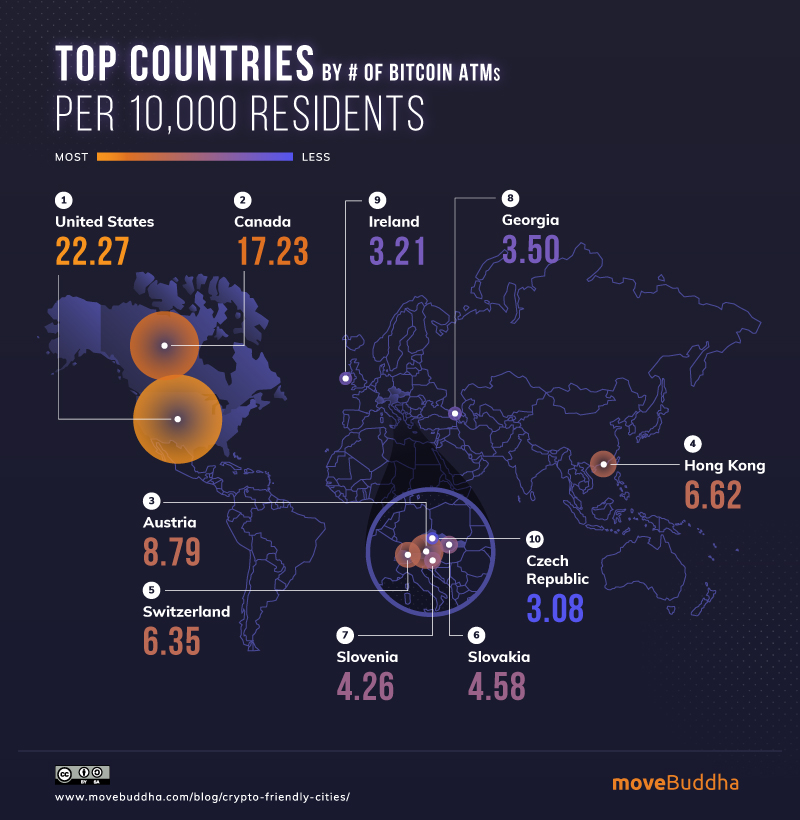 We wanted to include some mention of an NFT campaign in our round-up and thought who better than Visual Capitalist to create a visual guide to the visual side of the crypto market.  This campaign is a great breakdown – and great publicity – of the top most popular PFP NFT projects to date. The campaign itself has hundreds of Dofollow backlinks from high-quality sites, and it seems to have taken very little actual research from Visual Capitalist. This is a great example of a simple campaign that can perform well as a source of information alone.  There is no ranking here or saying that one NFT is better than the other, it's simply explaining the idea of a PFP NFT and presenting facts in an easy visual infographic.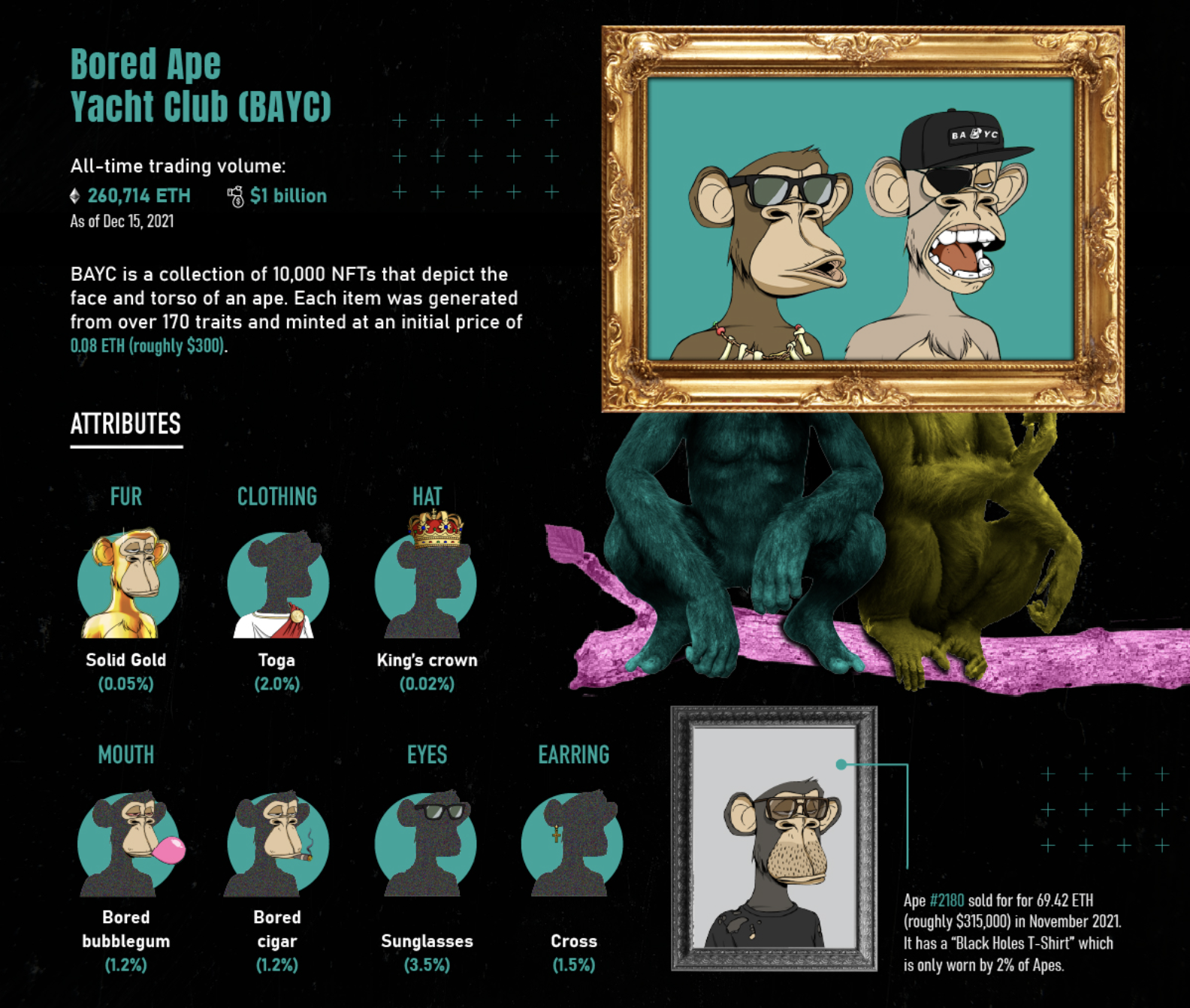 Pro Tip: Detailed infographics like this are very sharable and can earn organic traffic to your campaign with little effort once the campaign is live!
Fast Company released this listicle soon after the crypto market had one of its worst weeks last month. They tapped into Twitter, which has a large crypto audience, to find some UGC (user-generated content) to bounce off of. Another low-effort campaign with high ROI.
Unused Campaign Ideas
Because we're generous and full of great ideas, we've even come up with a few potential digital PR campaigns waiting to be claimed.
Idea 1: Everything you could buy with 1 BTC for the past 6 months.
Best for people in these spaces: Personal finance, economy, e-commerce (adapt to the product, i.e. 'How many [product] you could buy with 1 BTC.')
Details: This idea is inspired by the viral game, 'Spend Bill Gates' Money', which has since taken on many forms on the internet of spending various billionaires' money. In adapting this to the crypto topic, there is an opportunity here to visualize the volatility of the market by showing how much more or less you could buy from one month in 2022 vs another.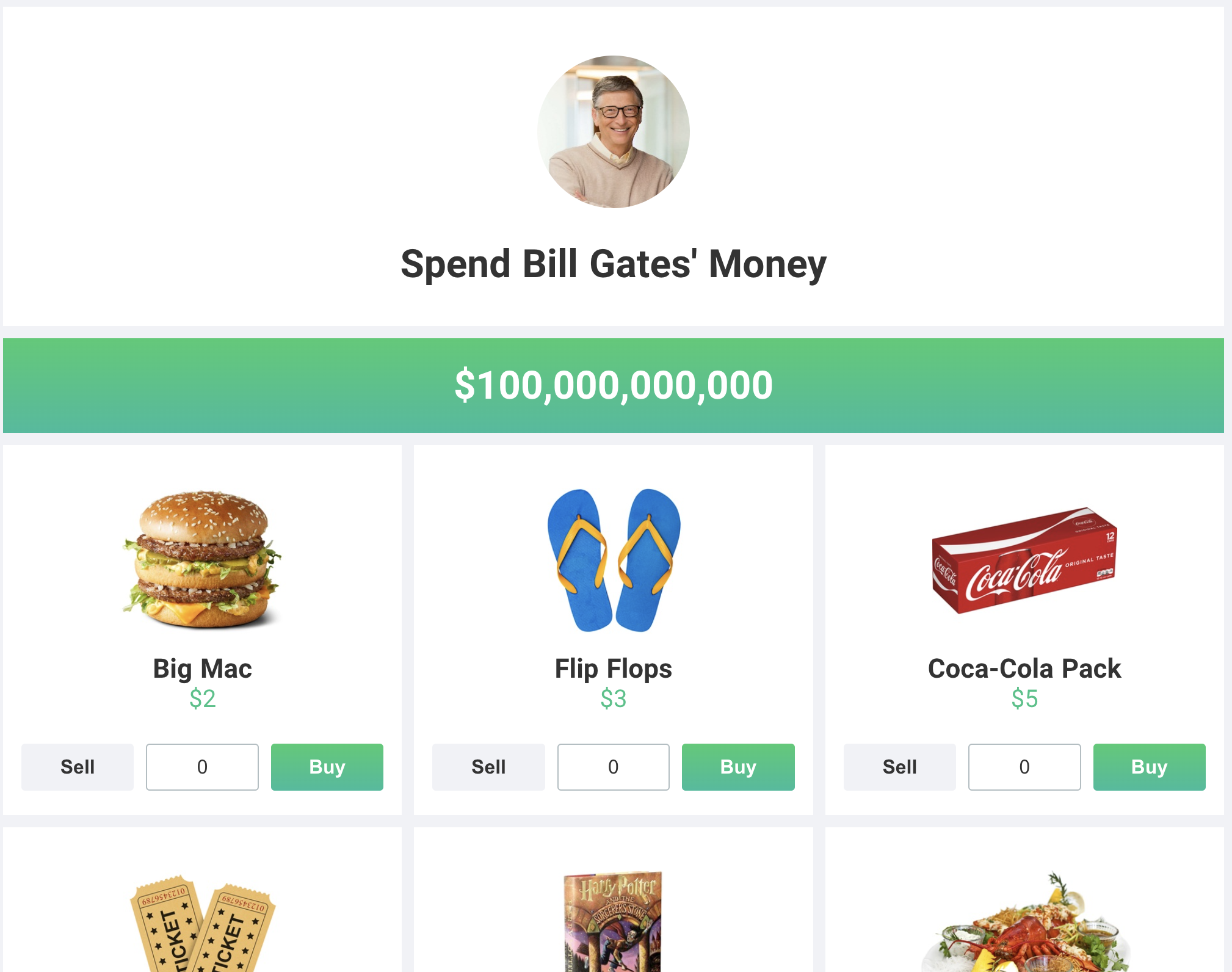 It's interesting and shocking enough to say that one Bitcoin was worth $47,000 in March and is now a mere $23,000, but it's even more interesting to say you could buy a Tesla for 1 BTC in March and today you'd have to settle for a jet ski. On second thought, with inflation where it's at these days, you're lucky if you can get a bicycle.
Idea 2:
Most expensive NFTs vs most expensive pieces of real art.
Best for people in these spaces: Lifestyle, art, investing
Details: We're actually surprised this one hasn't been done yet. There have been plenty of roundups of the most expensive pieces of art and the most expensive NFTs, but not as a comparison piece. At a quick glance, the most expensive pieces of real-life art far surpass the most expensive NFTs to date, but it would still be very interesting to see a side-by-side comparison of the top 10 sales in each category and possibly make predictions on whether or not there will ever be an NFT sale worth as much as the most expensive art piece. Plenty of people would be shocked to even learn of the most expensive NFT sale (hint: it's multi-millions), and a well-done infographic would be an easy grab for backlinks and even social shares.
Here's a very simple and easily-adaptable infographic example from Statista: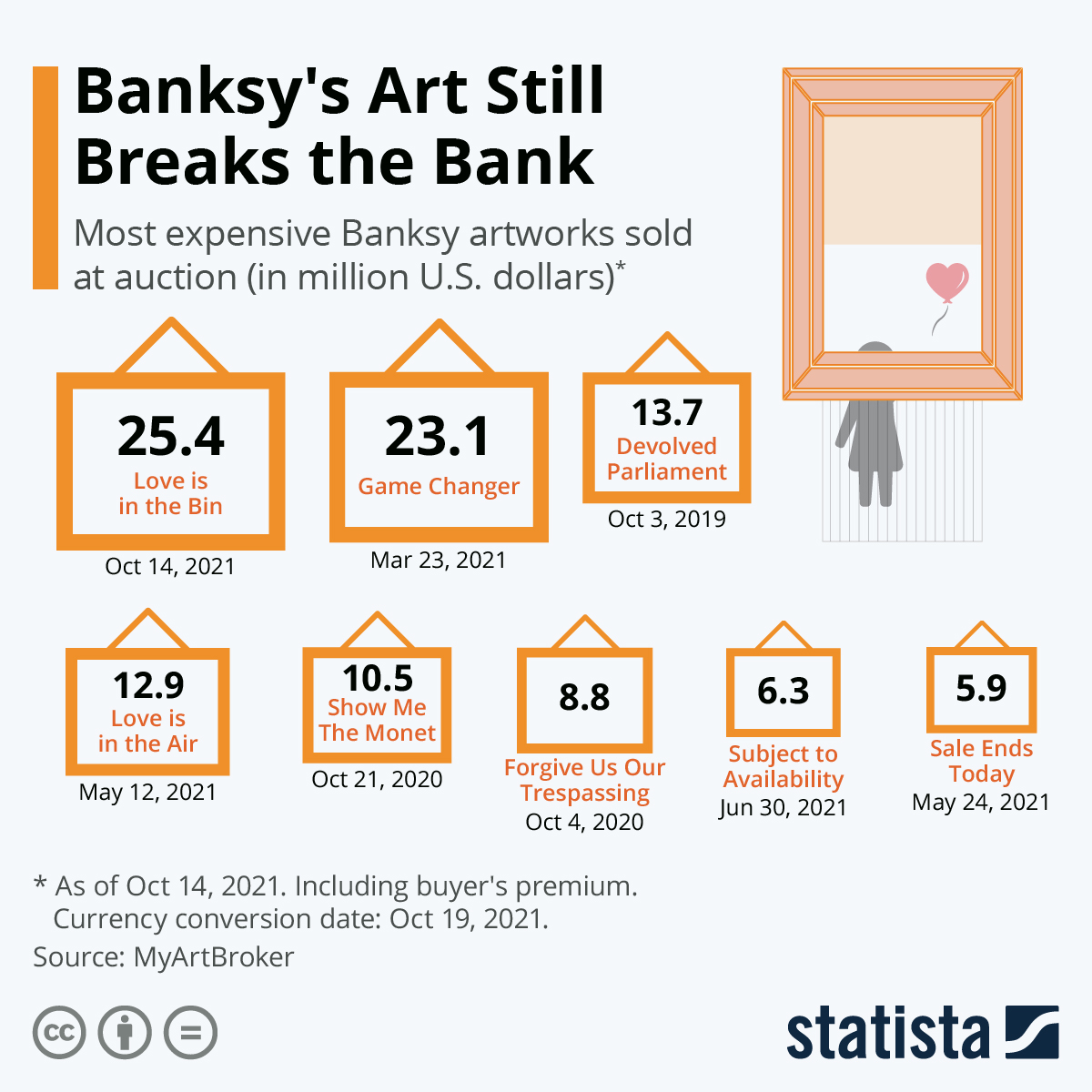 Idea 3: Asking different age groups what they know about cryptocurrency.
Best for people in these spaces: Entertainment, lifestyle, general news. Details: This one would be best as a video or audio campaign if possible (think: The Cut's YouTube channel), but could be done on Google Surveys as well. More for entertainment purposes, but something we believe would certainly go viral, a quick demographics check on the understanding of the crypto market would make for a great campaign. Here's the strategy – gather a sample across various age groups and ask them comprehension questions about crypto like:
Are you more likely to invest in Crypto or traditional stocks?

Describe the blockchain to your best ability.

Do you know how much Bitcoin is worth right now?

What does NFT stand for?
Again, video or audio responses to these would probably be the most entertaining, but written quotes could do just as well.
So, have we convinced you to quit your job and go work in full-time crypto trading? We sure hope not. Happy campaigning, anyways.