Reading Time:
20
minutes
Content is crucial for PR success, yet 9 in 10 PR professionals struggle with creating content.
Digital PR is a powerful method for making the news and getting attention for your brand with deliberate action.
It's the opposite of passively hoping that somebody somewhere takes a liking to your brand and mentions you in an article.
In fact, it's quickly risen to become one of the most powerful link building and attention-generating methods in the content marketer and SEO's toolbox. But not many companies have the staff or skillset to create and execute a campaign from start to finish. This post attempts to lay out a framework based on my experience running over 30+ digital PR and content marketing campaigns.
Let's dive in…
What is Digital PR?
Digital PR is the act of creating and pitching content to earn coverage on top-tier media publications
There are varying definitions of digital PR. One definition defines it as encompassing social media management, review management, podcasting, backlink acquisition, press placement and online reputation management.
But we're focusing on a more narrow, and most used, definition for this article. The reason most go for digital PR is to earn sweet, high-authority backlinks.
If the campaign is SEO and traffic-focused, the main KPI of a campaign would be links earned. If the campaign is focused on general press and brand building for the company, then any significant placement – linked or not – is the KPI.
I believe that at its core, digital PR should be a mutually beneficial relationship. The publisher benefits from the new, fresh topic generated and an idea for a story. The brand benefits from exposure to the publishers audience and the backlink for traffic and SEO signals. It's an immensely valuable activity because it aligns with human nature – both sides win.
Digital PR vs Traditional PR
PRSA defines public relations as:
"Public relations is a strategic communication process that builds mutually beneficial relationships between organizations and their publics."
It's a broad definition, but shows that traditional PR encompasses the whole perception of the brand in the public's eye. PRSA continues:
"At its core, public relations is about influencing, engaging and building a relationship with key stakeholders across numerous platforms in order to shape and frame the public perception of an organization"
So digital PR by our definition is much more focused on placements for our brands on media outlets, while traditional PR has a much broader application.
Digital PR is not a full replacement for traditional PR, especially for established companies. Established companies definitely need a resource for crisis communications, investor relations, event management, and many practices which digital PR do not cover.
Below are some typical functions within PR, the bold and italicized items are unique to traditional PR and not typically covered by digital PR:
Corporate Communications
Crisis Communications
Executive Communications
Internal Communications
Investor Relations Communications
Marketing Communications
Integrated Marketing/Integrated Marketing Communications
Media Relations
Content Creation
Events
Social Media
Multimedia
Reputation Management
Speechwriting
Brand Journalism
As we can see above, traditional public relations covers much more than press placements, which are the main focus of digital PR.
So does a typical company need digital PR, traditional PR, or both?
For smaller and growing companies that need to focus on growth rather than corporate communications, digital PR may be all that is needed during this phase of the company's growth.
It's up to the company to decide where traditional PR fits in. A lot depends on the company size, industry, and risks.
Companies in more regulated sectors like healthcare and finance will need to rely on traditional PR services more than a B2B software startup will, for example. For some of these growth companies, a good blend may be a mix of 80% digital PR and 20% traditional PR.
How to Execute a Winning Digital PR Strategy
1. Start with a Win/Win Mindset
"Show me the incentives and I will show you the outcome."

Charlie Munger, Berkshire Hathaway
What motivates most humans, besides your close family and friends, to do something for you? If they see a benefit for themselves. At the end of the day, you have to be providing something of value to the person at the other end.
This mutually beneficial mindset is the core of a successful digital PR campaign.
It means that for everyone you are pitching, you better be sure that they can use and write about the content you are pitching.
Ensure that their column actually covers the topic you're pitching.
For example, a B2B software publication isn't going to cover a piece on traveling with pets.
But they will cover a survey on how many business travelers may extend their vacations a few days for leisure.
There are many more nuances about the audience you're pitching, but as a guiding principle you always want to keep in mind what benefit the person on the other end is receiving for themselves or their organization.
2. Understand the Journalist & Editor Dynamic
Think about this: for the most part, all writers and journalists at a publication have to run the story idea by their editor.
Do you think they want to continually get shot down by their editor for bringing them bogus stories, or clear puff pieces?
No.
So think first and foremost about how the editor will receive this story, and we want to make our contact look good.
You also want to consider other elements such as seasonality, article volume, recent activity by the journalist, and other timing issues.
If a writer hasn't published in six months on that outlet, there's a good chance they're no longer with the organization.
If it's April and you're pitching Christmas content, maybe don't send that email.
If it's a Friday afternoon and the journalist doesn't publish on Fridays, save it for Monday.
There's dozens of nuances and best practices to consider before reaching out. Learn these to make everyone happy.
3. Pre-Craft the Story
Instead of creating a piece of content ahead of time and trying to shoehorn it into a story later, begin with the end in mind.
Make sure that what you're pitching is a pre-crafted story that the recipient can build their own narrative around it.
They can't do this if the whole campaign is not worth writing about.
The whole reason this content marketing focused digital PR approach can work wonders for many businesses is that it's story and content-centric, not brand-centric.
That means a well-researched, visually appealing campaign created by a B2B printing company can actually get coverage in the media, even though the brand doesn't have a built-in media coverage interest like AirBnb does.
Ideally, the story would appeal to a wide audience, but also have many different derivative angles so the relevancy is high for different audiences.
For example, if creating a campaign about the quantitative differences between international cultures, you can pitch it as it is to more mainline media, but then also pitch it in different ways for different publications, such as:
For business publications: "How cultural differences can impact communication among international teams"
For travel publications: "How travelers perceive different cultures when traveling, a quantitative study"
For marketing blogs: "How does culture impact your marketing messaging internationally?"
When pitching the story, it's critical to help the recipient see the connection between the content you're pitching and what the actual subject line will be for their audience.
You only have a few seconds to make a good impression and help them see the importance before they move on.
4. Have a Unique Angle
Every campaign should have a unique angle and a hook.
With the abundance of content flooding our senses daily, yet another duplication of a campaign done many times will get your email archived.
So you want to connect your campaign to a few unique angles. It's better to have a few angles in your pocket to test out and see which one sticks.
The angles can be segmented by:
Target audience – which part of your content resonates with the audience of the website you're pitching?
Unique data – what makes the data in your campaign new, exciting, unique, never been done before?
New opinion – does the campaign give a new opinion on an old topic?
Controversial take – does the campaign go against common wisdom?
The unique angle should flow through the content title, headlines, and body as well as be a key part of the outreach email subject lines and email body.
It's a basic principle of marketing and PR, and very important to get better open rates and reception.
5. Make Sure it Hasn't Been Overdone Recently
Even if you do have a unique angle, you should do further due diligence to make sure your recipients are not fatiguing from this story or content format.
For example, as I'm writing this, dream job campaigns have done really, really well in the travel market and a few other industries.
But it's only a matter of time before editors get tired of these and start to accept less and less.
There are periods where content formats get popular, flood the market, and then start to get overdone and ignored.
Contrary to popular belief, they don't go away forever, they just lose the hot appeal they had for a period. Similar to economic cycles, there seems to be some sort of content format popularity cycle, although I have yet to further dive into this.
6. Make Their Job Easier
Journalists are short on time, long on options. They are pitched 50 to 200 times a day on average. They barely have time to keep up with their current workload, so you better be making things as smooth as possible for them.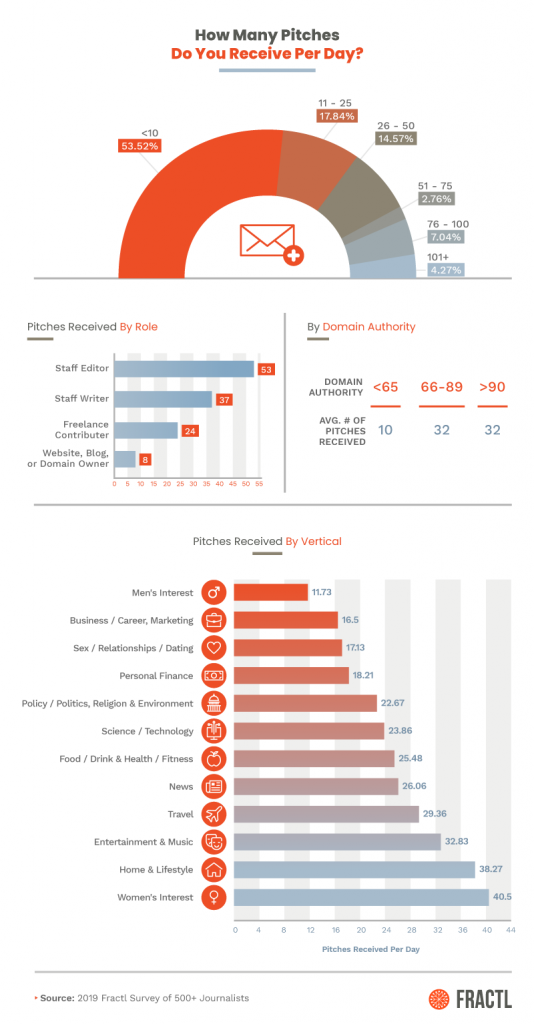 We'll get into more of the details later, but this means crafting the subject line to already sound like the story they want to write, being super clear and concise in the body of the email, and giving them all the visual and data assets upfront.
You want to make the story as plug-and-play as possible.
Of course, the writer and editor will still review the content and add their own take, but they need the core of the story you're pitching to be as seamless as can be.
Part of this means doing research to see how journalists and high-quality bloggers want to be approached, what their pet peeves are, and how you can anticipate their needs.
7. Create a Shareable, Visual Component
What is the reason they need to cite your website as the source?
In digital PR it's because you are the creator of the content that is being featured on the article. When writing the article, the journalist will often name your company as the source and link to you, but the success rate is even higher if they are embedding a visual in their article as well.
This is most often an image, even if your campaign is much more complex than simple images.
The content asset created on your site should be really well done and look great, but it should also be easy to share on the recipient's site.
If you create a data visualization but there's no way for them to embed it in their article, there's a bit too much friction involved.
If you have a video-based campaign, are you providing alternative visuals in case they can't embed the video?
Make it easy for them.
8. Choose the perfect visual format for the content
For example, there was a time in the early 2010s when infographics were on fire and being published anywhere, no matter what the content was. Then they were overdone and some outlets stopped posting them.
Does that mean they're no longer effective?
Not at all.
They can still work really well in some industries and when they are done well. In many cases, an infographic truly is the best way to present information and it would be a disservice to the topic to present it any other way.
As mentioned by Gisele Navarro on the Experts on the Wire podcast, "in certain verticals infographics are done" but she goes on to say if it's really the best way to present the content, you should use the infographic format "for certain things, it's the best format".
9. Make sure the Content Format Aligns with what they Publish
Even if the perfect visual format is matched to the content, that doesn't mean that it will connect with the publisher you're pitching.
Some popular content formats for content marketing and digital PR include:
Data visualizations
Small custom illustrations
Custom photo mockups
3D creative renderings
Mashup illustrations and renderings
Traditional infographics
Visualized statistics posts
Creative photo aggregations
User-submitted photo roundups
Dream job campaigns
3rd party data studies
Custom surveys
Creating new data as a primary source
There are some publishers that hate infographics, some that love them. Some that post almost any dream job campaign, some that are tired of them.
You should do research ahead of time and make sure that the publisher has ever posted your format of content, and even better if it's a common format they like.
You can manually research on the publication, or use a search operator to see how often they publish that format: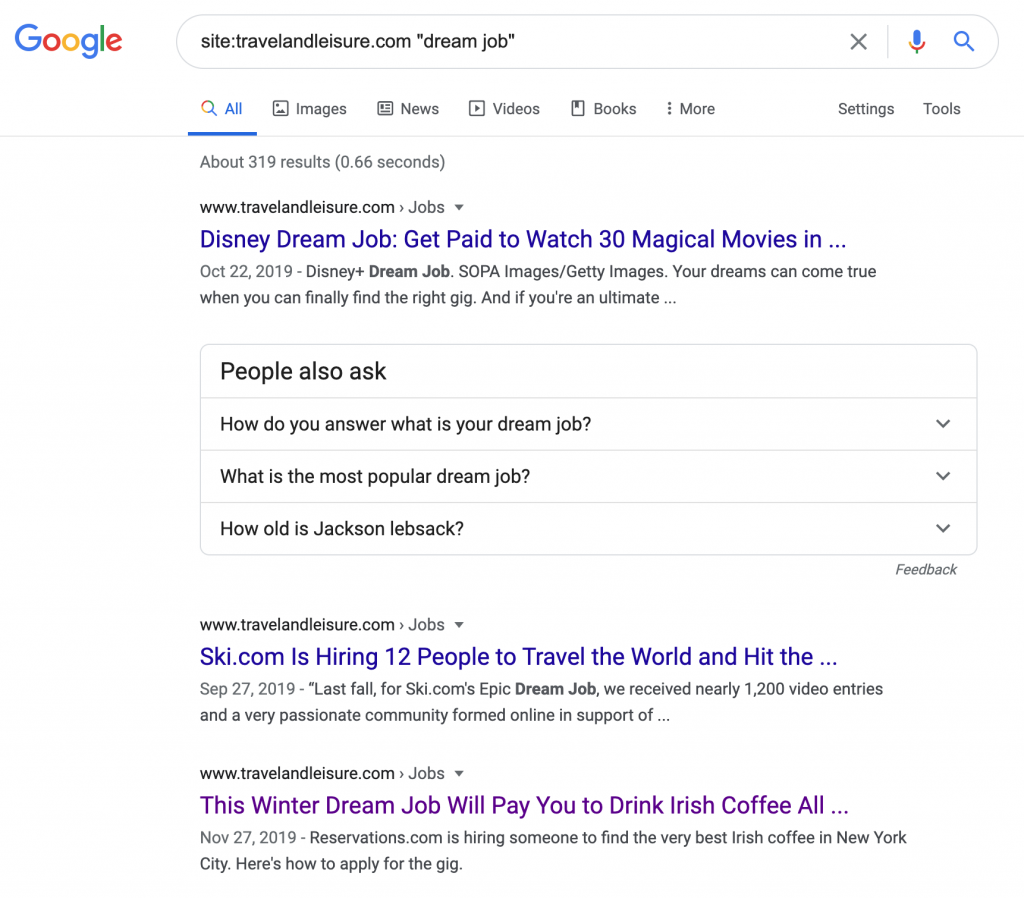 For example, if you're pitching a travel news website, your content should match other types of stories the author has shared in their column in the past. If they are not longer sharing infographics (which they often aren't) but are posting a lot of dream jobs, then you want to consider that in your quarterly planning.
We did just this with one client to get them top placements on travel magazines, and it was truly a win/win for both parties.
10. Make it Data-Backed
Journalists love quoting stats. It helps give articles credibility and cite up-to-date research.
If you can make the whole campaign based on data, you've got a huge leg up on competition that won't put in the time to commission data studies.
Surveys that you run on your own, polling a statistically significant sample of 1,000+ people can be an approachable way to get primary research in your campaign.
You can also leverage 3rd party data resources from government agencies or other research companies.
Even better, you can remix multiple data sources to create your own findings.
In one campaign, we compiled data from government agencies to create a custom "Blue Score" that was a proxy for the health of counties in every state, identifying the top county in each: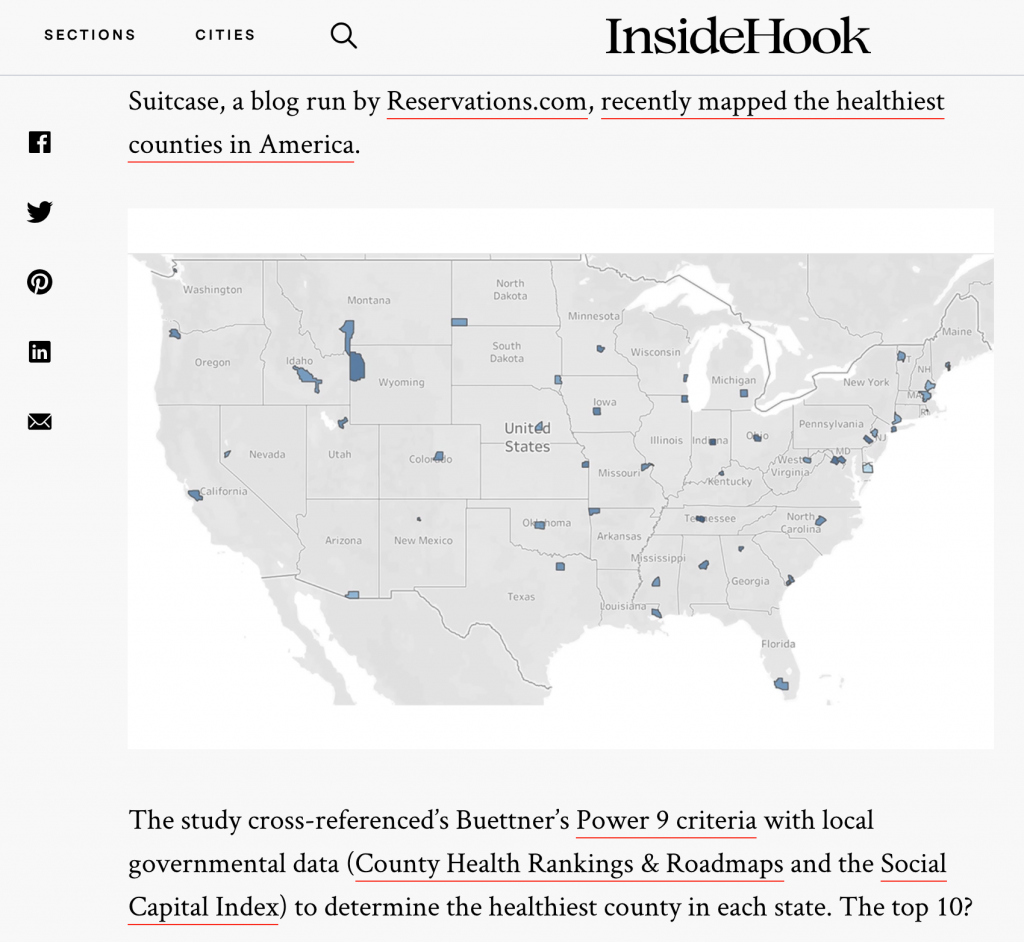 There's an overflowing amount of data, but not enough people interpreting it to give context and insights. Make that the cornerstone of your campaign and you'll be rewarded by the market.
11. Align with Either Trending or Evergreen Subjects
Here are three categories to consider topics:
Trending, hot topics
Evergreen subjects
Societal shifts
As of this writing, COVID-19 is all over the headlines, that's a trending topic that gets a lot of attention, but once it has passed, it's likely to not be talked about in stories the same way it is now.
Conversely, there are evergreen topics that are always popular. Broadly, subjects like cyber security, retirement, personal finances, and travel are appealing to almost anyone, every week. Paired with the right angle, these often have a market for pitching.
I haven't seen much about the impact of societal shifts on digital PR, so if anyone asks, you heard it here first. As the industrialized world continues to evolve and change rapidly, there are societal shifts that often start as hot-button, controversial issues that then move into the mainstream.
The "#metoo" movement changed the conversation around sexual harassment and has gone from a viral conversation to a permanent part of our cultural conversation.
Another example is the headlines that exploded around vaping-related deaths. It was all over the news for weeks, and now the majority of society is aware of this.
There are "slow-rising" societal shifts that grow slowly over time rather than all at once, such as the wealth gap, the gender gap, cost of education, and the cost of healthcare. These topics seem to have started to arise in the 1970s and have become more and more important over time until the problem is mostly solved.
Most recently, with COVID-19, remote working has gone from a nice employer perk, to a massive societal shift. It was trending, now it's a part of our life for the foreseeable future and potentially longer. In Ahrefs we can see how this is trending: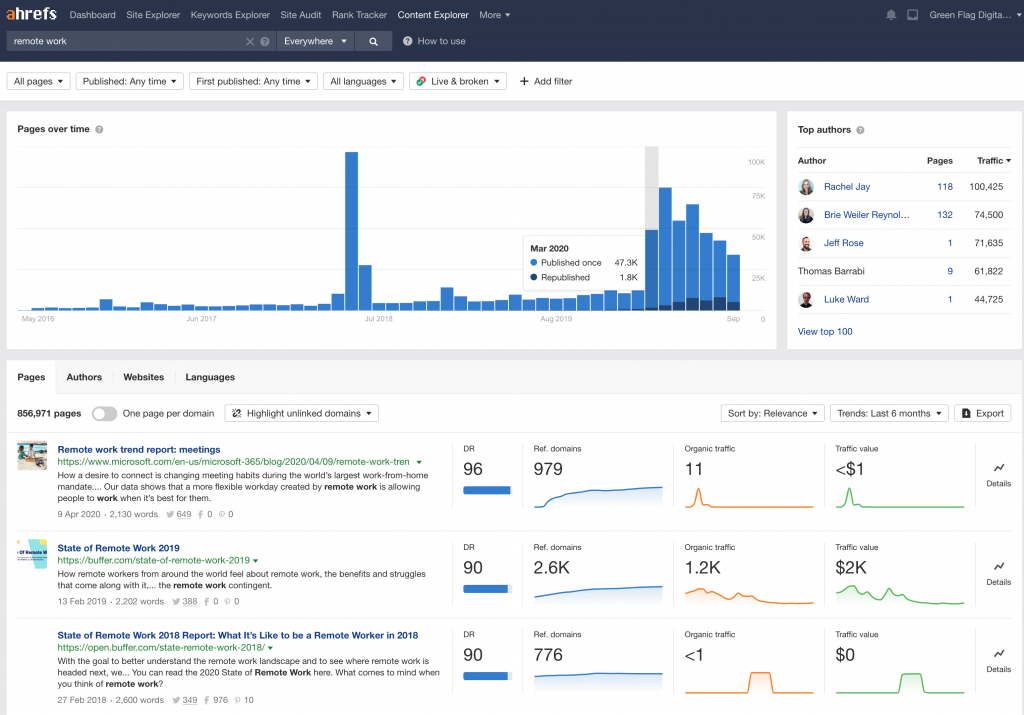 I like Ahrefs for this type of research better than Google Trends, because it focuses on what publishers are writing about, which is more actionable than just what Google Trends is showing people are searching for.
There are also some topics that start as trending, then move onto becoming evergreen. I would classify these differently from societal shifts because they are not as serious.
Would a Game of Thrones-based travel map do as well today as it would a few years ago? Not nearly as well since it's out of the headlines. But there are still large swaths of fans that would love to see these. There was a moment before the show (and books) existed, but now that it exists it's likely to be a permanent part of culture for quite awhile. Lord of the Rings, The Beatles, and Disney movies are some of the best examples of this.
12. Craft a Compelling Headline
There's nothing new I can say about the headline of the story that hasn't been said by many smart people over the last 100 years:
Quote famous people and journalists on titles
If it bleeds it leads
Spend 80% of your time on the headline
The only contribution I have is that it remains relevant as ever on digital stories as much as it mattered in the golden era of print.
It may be even more important as we are exposed to thousands of stories per day on news websites and in social media feeds, so compelling headlines that get to the point quickly are critical to even get that click.
And contrary to popular belief, one study shows that people read the stories just as frequently as the headlines: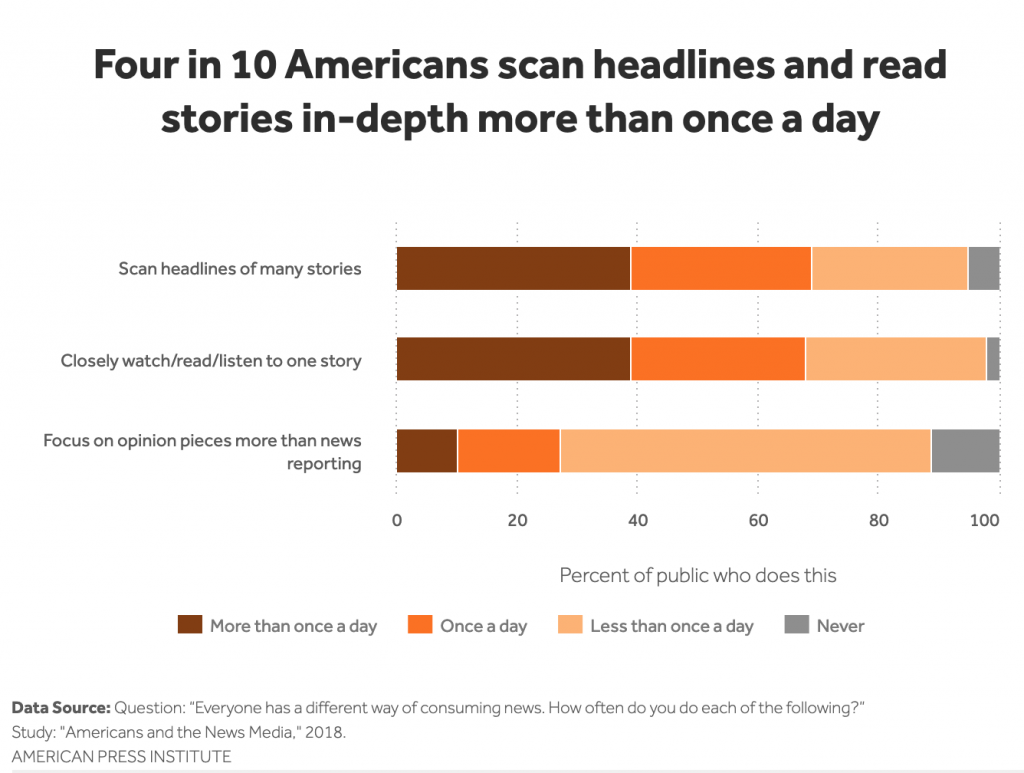 While journalists think of their readers a simpletons who are swayed by a headline, the data shows otherwise: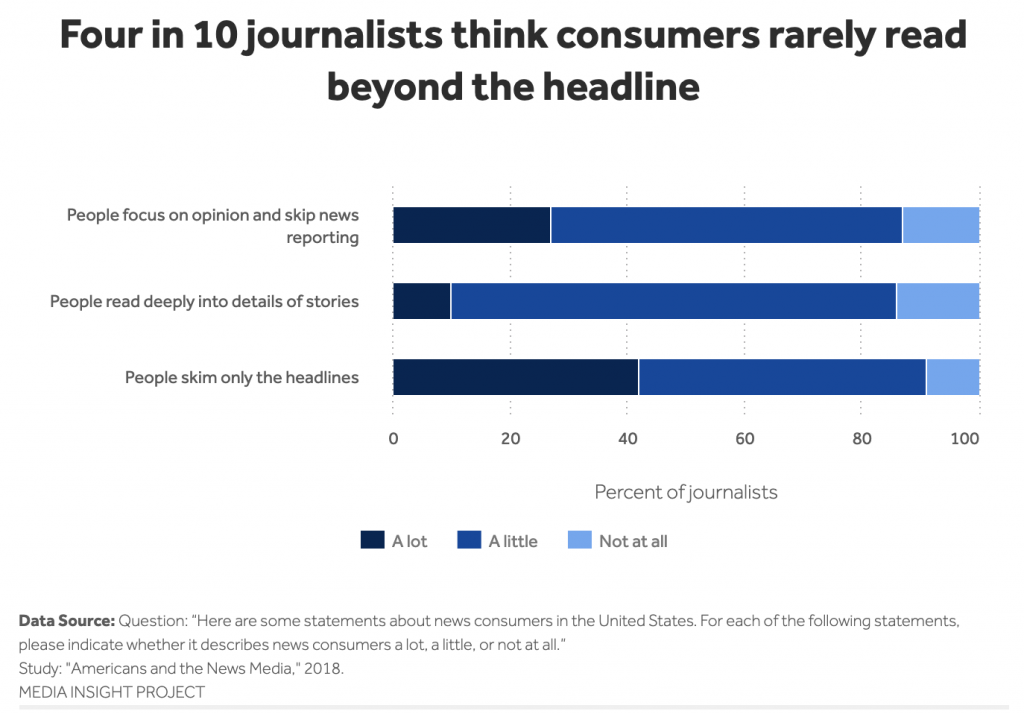 So in summary, headlines are vitally important, but the content has to be substantial as well.
13. Build Targeted Lists of People Who Want to Hear from You
Where digital PR for content marketing may differ from other types of traditional PR is the more focused outreach, rather than the spray and pray approach.
In our version of digital PR we don't publish press releases in Cision and try to hit every journalist we can.
We do the painstaking research ahead of time to find those who are already writing about these topics and truly want to hear from us. It's a combination of tools to speed up the research process and the manual human judgment to sort out the perfect targets.
In fact, the #1 reason email pitches are declined is when it's irrelevant to the journalists beat: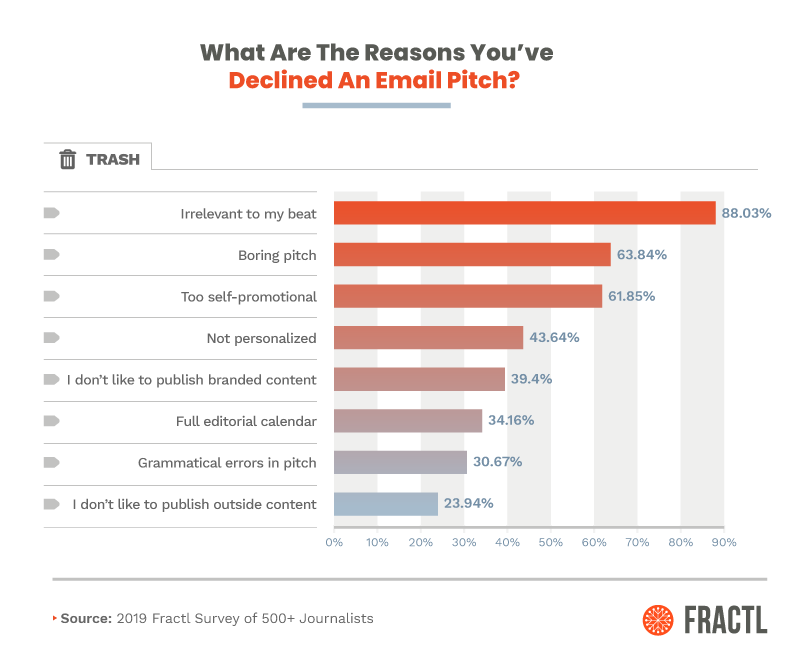 We're not in the business of throwing everything at the wall to see what sticks, we're looking for the perfect alchemy of volume and fit, and that starts with well-crafted outreach lists.
This targeted audience list will greatly affect how you frame the headline in the subject in the email pitch.
14. Pitch with a Compelling Email Subject Line
Once the headline is dialed in you'll want to craft your email subject line to appeal to that recipient.
The subject line should be adjusted to match each outreach list you're pitching. In a typical campaign of 100-200 outreach targets, we may split these into 3-5 different groups depending on industry or publication niche.
So each of these groups would receive a subject line customized for that group. It makes open rates much higher and eventual placements go up.
In addition to a compelling templates subject line for this outreach list, you want some light personalization. In your email outreach software, this can be as simple as including a variable for their name or company name.
The extra touch of "Story for Brian" rather than "Article idea" goes a long way, in our experience.
15. Keep the Email Body Short and Sweet
A mistake of those new to outreach is including way too much information in the outreach email.
I made the same mistake myself early on, including paragraphs of content that was just a wall of text.
The best way to go is to get the point quickly and make it easy for them to decide.
It's a timeless piece of wisdom: short and sweet.
Just like an elevator pitch for a venture capital presentation, you want to quickly show what you're offering and why it appeals to the recipient.
There are other important elements of a winning email body, such as:
Referencing a piece of content they wrote
Naturally bridging the connection between their beat and your subject
Explaining why now – in the context of news headlines, time of year, societal trends, etc.
Making it easy for them to see you content
Providing downloadable assets
All of these come into play and if chained together well, can lead to successful placements.
16. Follow up Appropriately
Journalists are really good about their inbox. They don't want to miss a winning story. So they'll likely read your email and decide very quickly if they want to pass (they'll delete it) or reply back if they're interested.
Want proof? This survey of actual journalists shows that journalist never read pitches just 2% of the time: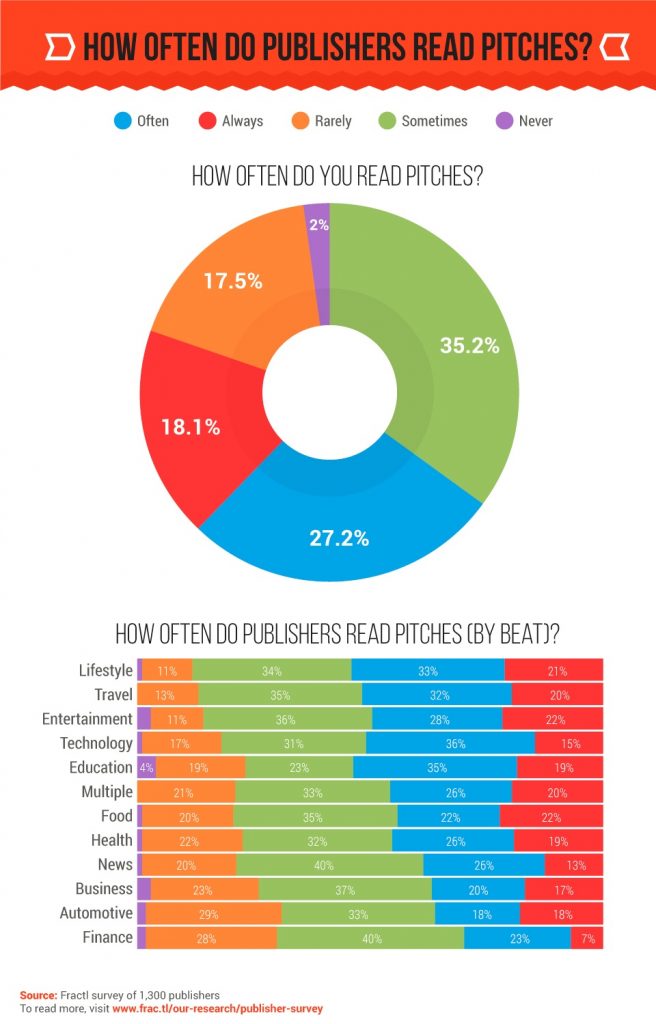 Pay special attention to what industry you're in, as there are slightly varied read rates based on industry.
Sometimes they are on vacation or buried one week, so it can be appropriate to follow up one more time after about a week. More than that and you may start to bother them. Unlike your average professional, journalists tend to be more on top of their email, because they have to, so they're less likely to need reminders.
Mid-tier bloggers or niche publications on the other hand get pitched a lot less and it's ok to follow up two times after the initial outreach. They may also be more casual publishers and so they are not glued to their inbox daily like journalists.
17. Tend to the Relationships
Tending to relationships with websites that publish digital PR campaigns is crucially important, but is a long game. By staying connected with those who like our work, we can build the human relationship and trust, with compounding effects. One of the main reasons companies traditionally hire PR agencies is to buy instant access to their network. It's a bit different with digital PR campaigns, but the principles are the same.
Part of the strategy in the relationship is to give value as much as get value. There are varying opinions here. Some say that when you pitch a campaign to a journalist or blogger, they are getting value because they get a story to write about, which is essentially helping them do their job easier. So it's possible that for many contacts, the value is mutually beneficial. There are other perspectives that say you should keep in touch with journalists and recommend stories to them that aren't your own, just to help them out.
This is certainly a nice touch and can work with some people, but realistically it may not be possible to do for the majority of contacts on a monthly basis, it depends on the makeup of the industry, client portfolio, and agency capacity to do this. To be honest it's quite possible that most journalists don't care about you helping them except when you have a story.
I tend to prefer letting the journalists or bloggers take the lead. If you help them with a good story, they'll ask you to share more often with them. They'll simply say "feel free to keep me updated if you have anything else in [their beat]".
18. Measuring the Success of Digital PR
"There is only one thing in the world worse than being talked about and that is not being talked about." — Oscar Wilde
The typical way to measure the success of digital PR includes measuring placement numbers, placement quality, backlink counts, domain authority of links, referral traffic, and general impressions.
Traditional PR typically uses "impressions" that are a carryover from the days of PR mainly focusing on placement in offline magazines and newspapers. These numbers can be somewhat misleading as they either just take a number of the overall readership of the publication, or calculate a fraction of the average readership.
With digital PR it's much more measurable, because we can approximate exactly how many people viewed an external article via tools like Ahrefs and SEMrush on the organic side of things, or we can use SimilarWeb and other tools for all digital impressions on the specific page itself.
Digital placements tend to have a wider range than offline publications, because you may get a placement on a blog that get 10 visitors a month, or you may get a placement that goes viral and gets a billion views.
Zooming out at the higher level, digital PR is best measured by an increase in traffic and links over a long enough period. Typically this period is at least three months after the campaigns started, and as time goes on the measurement and impact is easier to see. The measurement time period is dependent on the amount of campaigns run, however. We typically recommend 4 campaigns per month, so that you can measure based on 12 digital PR campaigns after a 3-month period.
As with many marketing initiatives, some campaigns will do really well, and some will flop. By having about 12 campaigns, there's enough time and different assets to get a range of possibilities and make a judgement call on their success.
A full 12-month measurement period is a good balance to know how well more of these campaigns will impact your brand in the future years as well.
To give an example, when we do digital PR campaigns, we advise that there should be an average of about 5-10 placements per campaign, but typically we'll see a range of anywhere from 3 to 30 placements, depending on how well the story connects with target audiences.
Digital PR vs Content Marketing
In a content marketing campaign, an asset is created and promoted as a reason for a publisher to talk about your brand.
The way we at Green Flag Digital do digital PR, and many of our contemporaries do, heavily overlaps with content marketing for link building.
In essence we treat digital PR and content marketing as almost the same. The main difference in our mind is that digital PR campaigns do three things differently from content marketing:
Primarily concerned with link and press mentions than with organic traffic to a specific content asset
Target higher-end press than a broad content marketing campaign would
The campaign can sometimes be built around a concept or idea more so than simply a piece of content, such as is the case with PR stunts.
One more distinction as well. When we talk about content marketing for SEO purposes, we are mainly talking about building content aligned with keywords to drive organic traffic, but also content pieces that we can promote and get links to. With digital PR, there is less of an emphasis on keyword research, and more of an emphasis of getting as many mentions of the highest quality possible about the brand.
When creating campaigns, we typically bucket the campaign into one of three categories, depending on the client's goals:
Link-dominant campaign: the client mainly cares about link acquisition to improve the overall domain authority of the site to drive traffic to internal product and service pages
Traffic-dominant campaign: the client has a strong site already, and wants more SEO-driven organic traffic. This works best with brands that have strong retargeting and email opt-in campaigns to make use of the traffic, often top-of-funnel or middle-of-funnel.
Hybrid campaign: a hybrid campaign can sometimes be the best of both worlds. The content that lives on your site will earn traffic for the keywords it's targeting, as well as be a pitchable story to get link placements.
There is also the concept of broad content marketing, which entails email marketing, social media content, reaching out to influencers, offline content, content for sales enablement, content built for visitors browsing the site, etc. Broad content marketing is 100% an important piece of your overall marketing strategy, but beyond the scope of this comparison.
So digital PR and content marketing are closely related, how does digital PR stack up against traditional link building?
Impact on Link Building: "Digital PR Backlinks"
The impact of a digital PR campaign on link building is immense.
In fact, "PR backlinks" used to mean "high page rating backlinks", but now is a shorthand term for very powerful, valuable backlinks. Also, "digital PR backlinks" is also used to make it more clear what methods are being used – an interchangeable term for content marketing backlinks in some cases.
Digital PR focuses on high-quality outlets as the core outreach market, as opposed to some traditional link building campaigns which will look under any rock that may produce a link.
With digital PR you can open discussions and land placements on sites that traditional link builders could only dream of.
We're talking international newspapers, top 1% business magazines, and super high-traffic entertainment sites.
These are the types of placements worth 5-100x more than small blog links.
Although not the only goal of a campaign, high-quality backlink placements on tier one websites is often the primary goal.
That being said, in many campaigns, the unlinked placement still has valuable brand awareness benefits, and can lead to follow-on articles that do link. Brand awareness can be generated broadly on generic outlets, or more targeted on industry publications that your target audience reads.
Traditional link building often uses a broad array of tactics, which may include resource pages, guest posts, scholarships, etc, which are a very different process from pitching high-level outlets with a story worth writing about.
Traditional link building is still a very important tactic, and can be used to supplement digital PR, in ways digital PR can't, such as getting links to specific product and service pages, which are lower down in the marketing funnel.
Finally, in old-school link building, there may have even been pay for placement, this has no place in digital PR and is frowned upon.
So how do you know whether to go with digital PR or traditional link building?
It depends on your goals.
If your site is small, local, or tight on budget, it's best to find low-cost link building tactics that you can use to slowly add links over time.
But for growing companies that want to add fuel to the fire, a digital PR campaign will land much higher quality links in a much more scalable way.
Digital PR Ideas
It's your lucky year – we're working on publishing new digital PR ideas monthly, based on trends and data.
Check out the latest issue here where we look at ideas for the revenge of summer travel after a 2-year hiatus.
How do you come up with your own ideas? We'll do a deep dive post soon, but our approach is as follows:
Start with the business strategy and get clear on how the marketing strategy fits into that.
Create a compelling marketing strategy broken out by budget and channels that will be used, justified by why those channels are the right fit for your company at this stage.
Analyze the value of earned media placements for your site in comparison to other sites in your industry.
Get a clear traditional PR strategy in place, if it applies to your company.
Get a clear SEO strategy in place.
Create a digital PR strategy and show how it works with the two above channels.
Research topics and players in your industry.
Brainstorm what others in other lateral industries are doing well.
Create a list of 10-20 digital PR campaign ideas based on your research.
Validate these ideas across these dimensions: format, audience, timing, expertise, authority, trust, scale, budget, profit, expectations.