Reading Time:
12
minutes
A client recently asked me if they needed to apply the same SEO principles to their homepage as they do for other key pages on their site.
Is homepage SEO a thing, or can it be safely ignored?
On the one hand, your homepage is the page on your site that likely gets the most backlinks, and is therefore the most powerful. So theoretically it should be the easiest to rank keywords for.
On the other hand, homepages tend to be like Yahoo!'s portal: unfocused pages where everything is thrown together.
Thankfully there are tools that can show us what some of the top companies that get SEO are doing with their homepage. We can look to them for guidance on how to set up. We'll look at three different sectors to get a feel and see what's working: ecommerce, travel, and SaaS.
Homepage SEO Best Practices
You'd think that being the one page on your site that most likely gets the most links that you should target your highest value, head terms on the homepage right?
Not exactly.
If you're simply putting your most valuable keyword on the homepage because you don't know where else to put it, you're not guaranteed to rank.
We're going to look at a bunch of examples in a second, but let's look at the savage beast that is Amazon:

Amazon has 3.28 billion backlinks, from almost 3 million domains.
Their most linked-to page by far is the home page: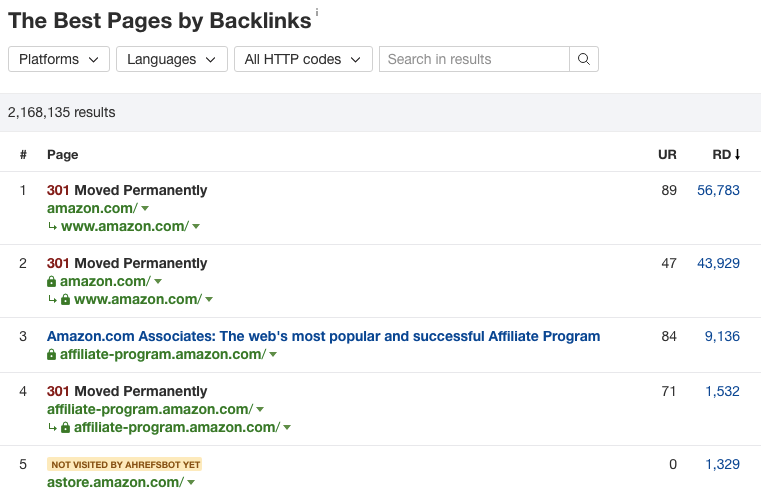 But if we look at their top keywords and exclude the brand name of "Amazon", you'll see their top keywords are all going to individual pages.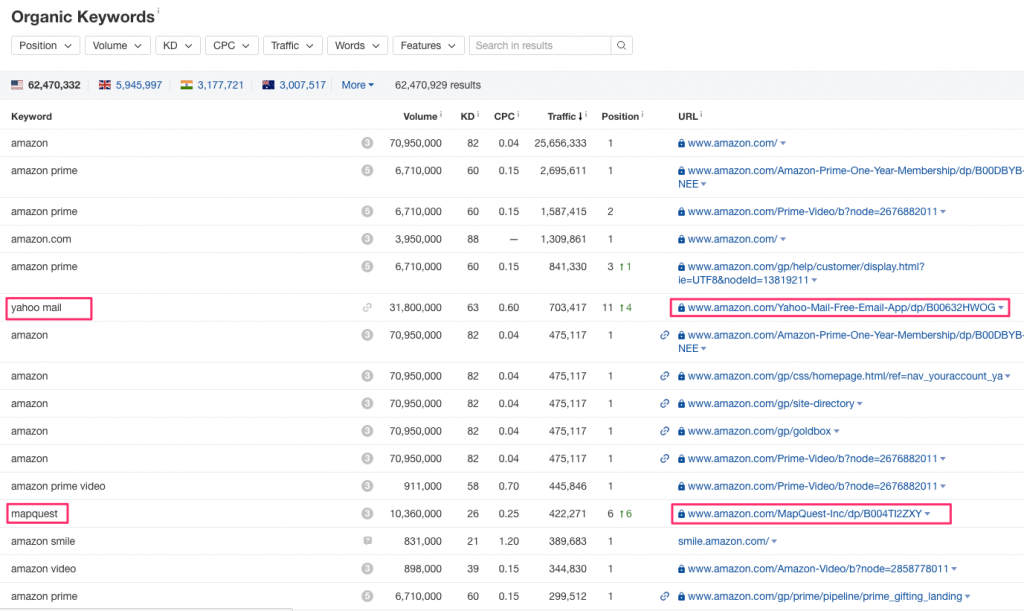 This is because while the homepage gets the most backlinks by far, the fact that it's unfocused and constantly changing means that it's not a good candidate to rank for non-brand keywords.
I'll admit that the fact that "yahoo mail" and "mapquest" are their two top non-brand keywords is just strange, but it still proves our point.
Amazon is a weird example, so we'll get more specific examples in a bit below.
In general, what is homepage SEO and what are the best practices?
Michiel Heijmans of Yoast has a good definition of what homepage SEO actually is:
"The process of optimizing your homepage for Google, or any other search engines, could be called homepage SEO. Let me make a bold statement right after naming it: I don't think that homepage SEO exists (as such). That might not be what a webmaster wants to hear, especially if he has been trying to rank his homepage for years."
I would mostly agree with Michiel that homepage SEO shouldn't be the main focus, but it shouldn't be ignored.
Some General Homepage SEO Best Practices
Get the basics down for optimizing your homepage, ensure it loads fast, has crawlable text outside of images, has semantic markup, and content on the page
Use it as a lauchpad for the rest of your site, what this means for SEO is using the authority of the page to point internal links to the key internal pages of your site
Highlight core features of your product, and use it as an opportunity to rank for certain long-tail or experimental keywords
Don't expect to rank for your most important keywords on the homepage, this isn't the place for that. We'll be focusing a lot on this aspect below.
The whole takeaway of this article is this: brands will optimize their homepages for certain keywords for two reasons.
Some will attempt to rank very important keywords on the homepage. But it's futile because it's just not going to work.
The others will simply be using the homepage title tag as a place to include brand messaging. They're telling the viewer that this is what they're about, this is what they're selling, they're not attempting to actually rank the homepage for that keyword.
SEO, in theory, is not good enough, let's look at examples in three different industries.
Ecommerce Homepage SEO
Ecommerce sites love images. They loooooove putting them everywhere, which is great. It's what the people want.
As a perfect example, here's an example of Nike doing literally zero attempts at any homepage SEO: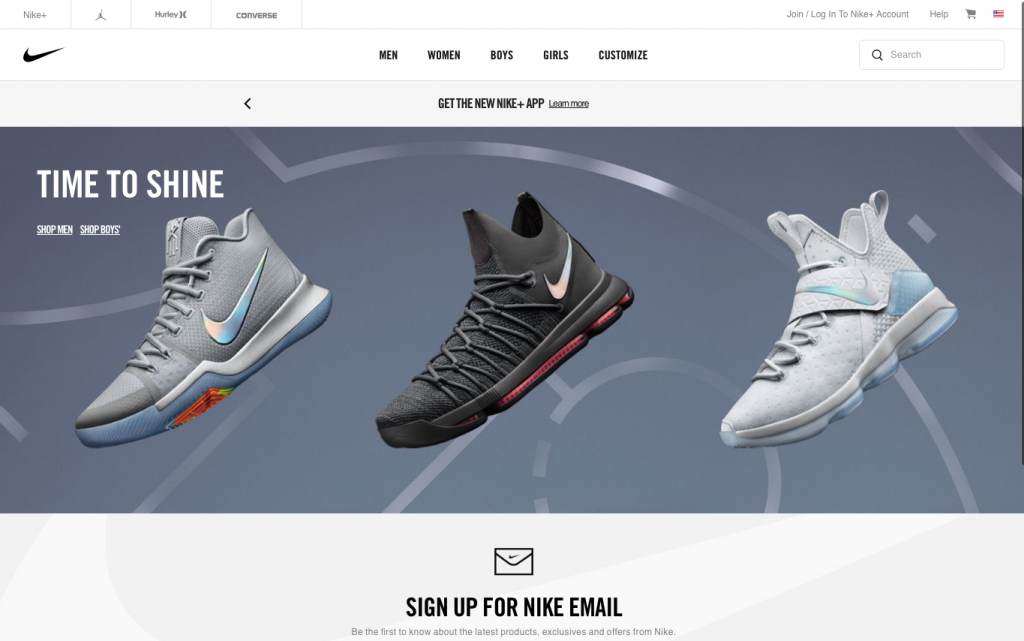 Just one huge image, and a newsletter signup form. Great for CRO, not going to do much for SEO, but that may be ok, as we'll learn.
Ecommerce sites focus on beautiful images first above all else because that's what the users want. As customers, we want to see and learn about the product as much as possible before we commit to the purchase.
The downside of the image first thinking of many ecommerce sites is that text becomes an afterthought. It's more than secondary in the eyes of ecommerce site managers – it's a burden.
This perspective on text content makes perfect ecommerce SEO more challenging.
Ecommerce homepages are usually plastered with images, and there's very little in the way of any sort of descriptive text content.
Let's look at a few examples and then address this challenge after.
Example 1: "laptops"
Search Volume: 2,240,000
CPC: $0.94
Keyword Difficulty: 47
One of the top keywords in the world, "laptops" is extremely popular, yet vague at the same time. I looked through a few of the top laptop brands and resellers, and only two stood out as optimizing their homepage for laptops, HP and Newegg.
This is what their search results look like:
HP

Newegg

So these two brands are actively optimizing their homepage for laptops. The thing is, when you actually go to search for laptops, you're not getting homepages ranking, you're getting this: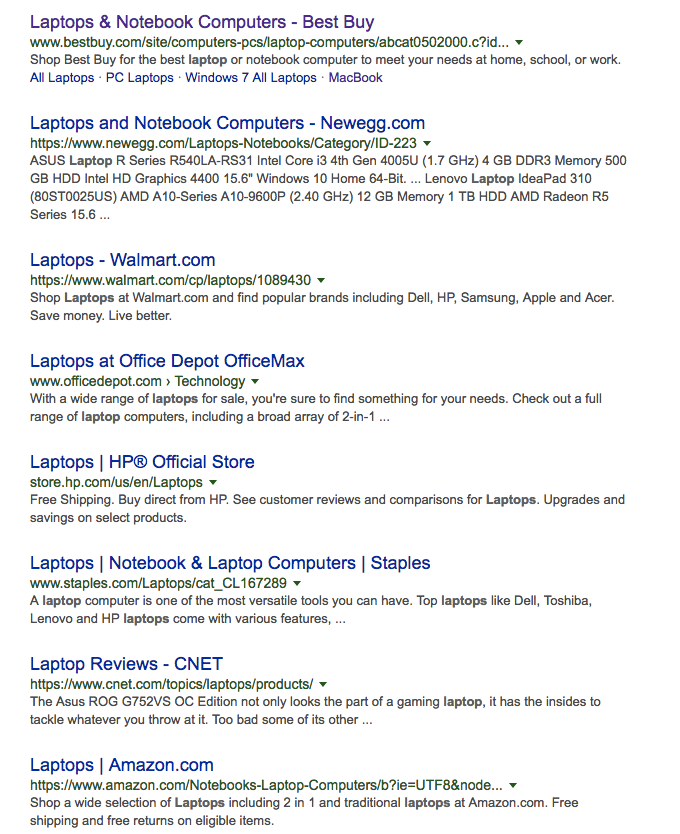 There are no homepages ranking on page 1 for "laptops", they're all category pages. What this illustrates is that be HP and Newegg optimizing their homepage for laptops, they're not doing much to help. Here we see for both brands that their internal category pages are the ones ranking.
The reason those are ranking is because those are the most accurate landing pages that will satisfy the visitor's search query. People searching for "laptops" don't want to land on a generic homepage also offering cameras, drones, and keyboards. They want to save the click.
Example 2: "bedding"
Search Volume: 165,000
CPC: $1.32
Keyword Difficulty: 37
This keyword is another example of a "head term" keyword, tons of search volume and a one to two-word query. Again I searched through all the top brands, and found only Overstock and Bed Bath & Beyond optimizing their homepages for "bedding".
Overstock

Bed Bath & Beyond

It's great that these brands are optimizing for bedding. The thing is, I'm pretty sure they have some very smart SEOs working for them that know their homepage is never going to rank for "bedding".
The honors go to these landing pages: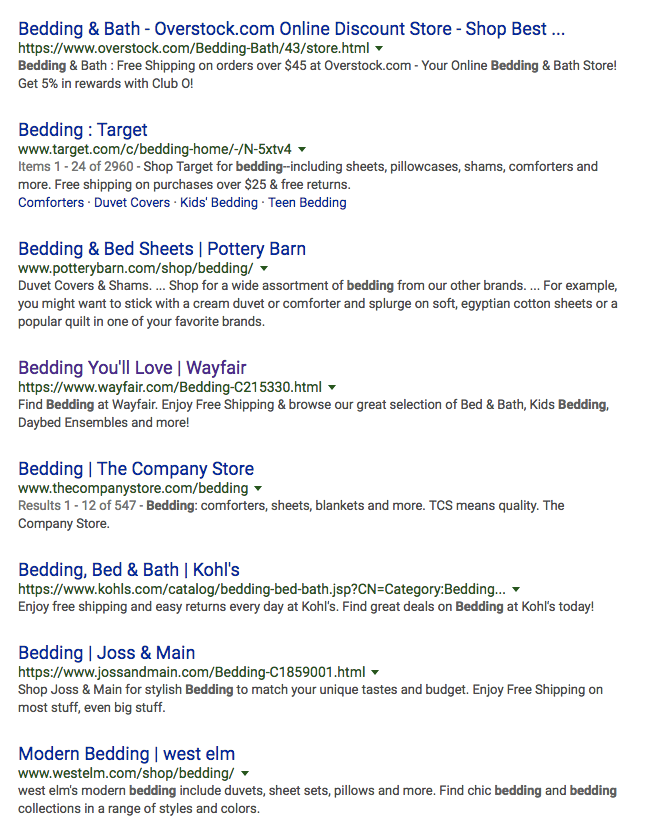 Not one homepage among the whole bunch. These are all category pages. The reason the category pages rank is for two reasons:
Since "bedding" is such a vague keyword, the user is best served by a collection of products rather than an individual product page or general home page.
By default, the bedding category pages are both intentionally and naturally optimized for the keyword "bedding" more so than any other page.
The lesson here is that for any keyword you want to rank, you have to see what's already ranking in the search results. That will tell you what page type the users want to see. Go make that happen
Ecommerce Homepage SEO Tips
There's a strong temptation to only copy what competitors and larger brands are doing. You definitely want to analyze them and learn from them, but don't blindly follow. Standards are constantly evolving and changing. Just as you shouldn't copy Amazon because you're not Amazon, you shouldn't blindly follow other brands to the 't' and assume they have all the right answers.
Here are some tips for ecommerce homepage SEO that will make you shine:
Follow the ecommerce industry standards in showcasing big beautiful images, but never include text hidden in the images, text should be text, styled to look good
Put the user first always, don't do things just for SEO or just for some other reason, you'll find that SEO and design and UX best practices can line up for the user and be beneficial
When you have sections on the home page, use descriptive text as a benefit, to explain the section
Along those lines, don't see content and descriptive text as a burden that "the SEO guy wants", but as beneficial for the user
If you have new products you're working to get visibility and traffic to, feature them on the homepage, this will also help with internal linking and indexing
Travel Homepage SEO
The travel industry vitally needs organic traffic to thrive, but the specifics of it depend on what part of the travel industry we're talking about.
You've got the range of travel models such as:
Online Travel Agencies (OTA) – such as Expedia, Orbitz, Travelocity, etc
Flight aggregators such as Kayak or Google Flights
Large tour operators and tour marketplaces – such as Viator, Contiki, Zicasso
Travel review sites – such as Tripadvisor and Oyster
So each of these sub-categories has their nuances, but let's look at a few examples.
Example 1: "cheap flights"
Search Volume: 6,120,000
CPC: $1.43
Keyword Difficulty: 75
For those that don't automatically use Kayak or Google Flights, the keyword "cheap flights" is one of the most searched commercial keywords in the world.
Ranking #1 for this would give you approximately $2,187,900 in traffic value if you were to pay for this with Google AdWords. This is assuming a ballpark 25% click-through-rate for ranking #1.
Let's take a look at what major brand are optimizing their home pages for "cheap flights". We can generally assume if it's in the precious real estate of the title tag, that it's being optimized for that page.
Expedia

Skyscanner

Hipmunk

All three of these sites are slightly different variations of travel search engines, and all three are optimizing their homepage for "cheap flights".
Despite this, none of these homepages are ranking in the SERPs for "cheap flights".
Instead, we get this: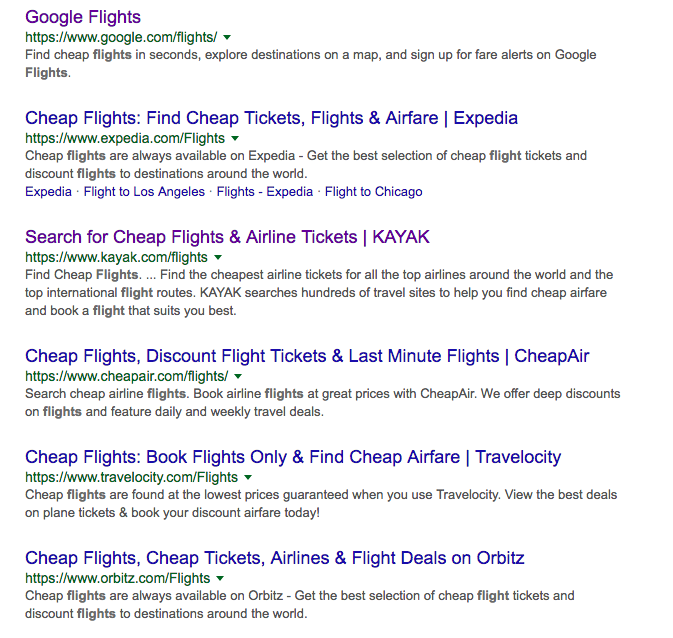 All of the ranking pages are specific flight pages, except for the actual brand CheapFlights.com. (EMDs still work)
So why do these brands even bother including the keyword in their homepage title? We'll get to that in a bit.
Example 2: "cruise deals"
Search Volume: 246,000
CPC: $2.22
Keyword Difficulty: 40
"Cruise deals" is another transportation deal travel keyword and another heavy hitter. Ranking #1 for this keyword would bring in $136,530 worth of traffic value per month. For the right company ranking for that keyword, the actual value to the company could be ten-fold.
We see major cruise lines optimizing their homepages for this keyword:
Norwegian Cruise Line

Carnival

Holland America

Yet once again, when it comes to the pages that are actually ranking for "cruise deals", it's none of these home pages: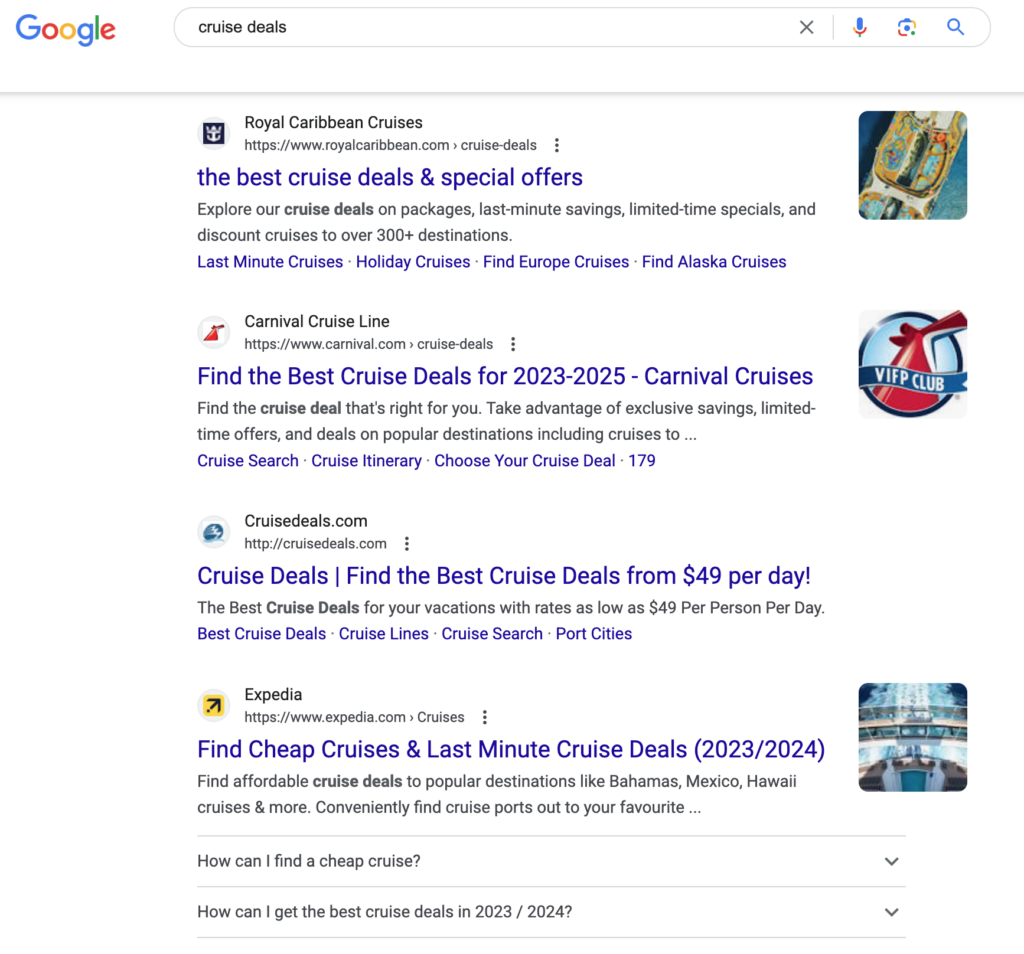 Carnival surely has that #1 ranking, but it's not the home page – it's their dedicated Cruise Deals page, which is the best fit for the user in the end.
So what's the reason for these travel companies to bother optimizing their title tag for keywords at all if there's no chance these pages are going to rank?
Branding & messaging.
If the smart marketers at these companies know what they're doing, they know that their homepages aren't actually going to rank for these keywords. They know that the dedicated landing pages for those keywords are the pages that will rank.
What the marketing and SEO bosses at these companies are doing is controlling the messaging around their brand. When people type "Carnival cruises" into Google, they want to entice users to click on Carnival's listing and not some third party that will end up taking a commission.
Travel Homepage SEO Tips 
Despite the fact that you shouldn't bank on your homepage ranking for your valuable non-brand keywords, here are some top tips to keep in mind for your travel homepage SEO checklist:
Feature your seasonal travel products to help push internal links to those pages
Showcase your latest deals and offers – helps with user experience and engagement metrics that indirectly help SEO
Include a bit of text content describing your travel company in general
You don't need to go overboard on optimization as you might for your internal pages
Use as an opportunity to push internal links to the "money" pages of your site
Good testing ground for personalization and A/B testing
Software-as-a-Service (SaaS) Homepage SEO
I've saved one of the best for last, as I'm a huge consumer of SaaS products. I'm subscribed to at least ten of them, and I know there are many other digital marketers subscribed to dozens and dozens.
So as a long-time consumer of these services, I feel my perspective on SaaS SEO is valid.
Example 1: "crm software"
Search Volume: 74,000
CPC: $25.77
Keyword Difficulty: 69
The keyword "crm software" (customer relationship management software) is a beast. A solid 74,000 searches a month with a mind-blowing $25.77 cost-per-click. Ranking #1 would bring in $476,745 worth of search traffic. Per month.
That shows both how valuable the keyword is and how insane their profit margins must be. Or how much VC money they're burning trying to get each extra customer.
I was surprised to see the heavy hitters such as Salesforce, HubSpot, and Zoho not including "CRM" in their homepage at all. Perhaps they're fairly advanced in the organic search realm and know that including the keyword in their homepage doesn't line up with their goals. Maybe.
Infusionsoft and Pipedrive are both optimizing their homepages for the term:
Infusionsoft

Pipedrive

You know the drill, once again we see no homepages ranking for the keyword: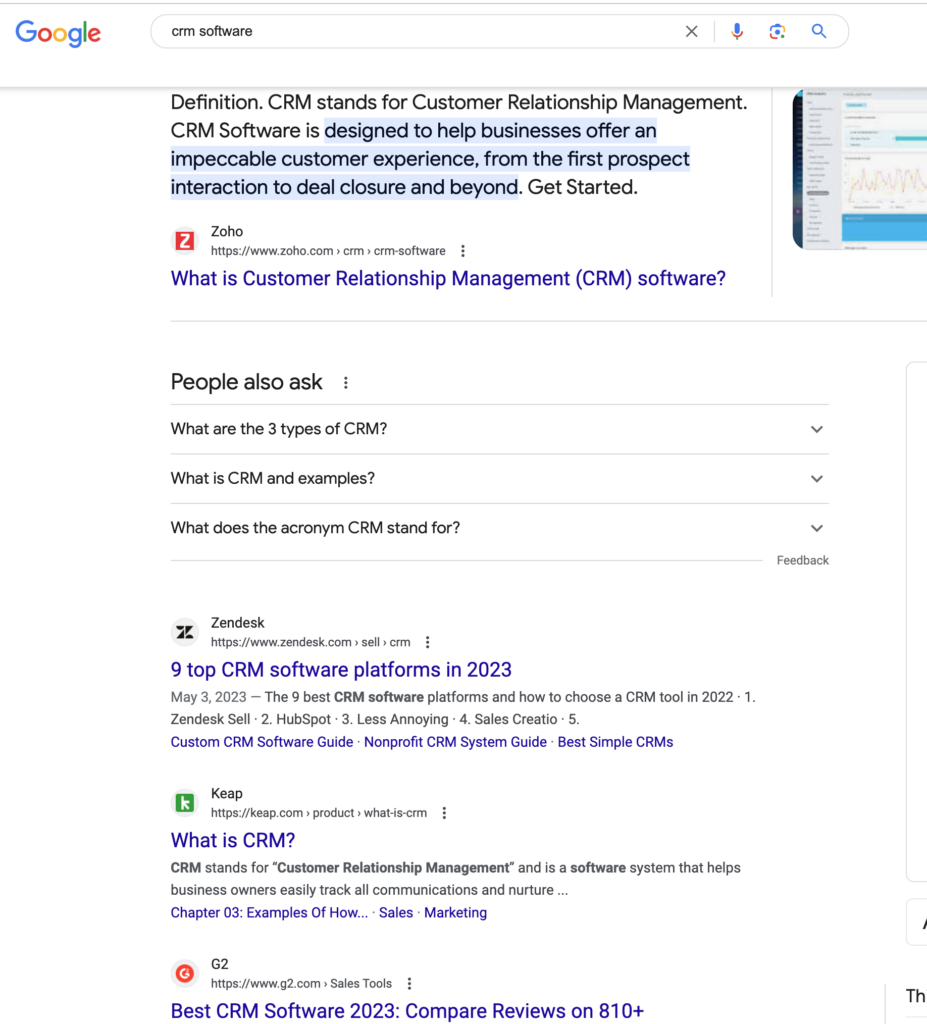 The most interesting thing here compared to our past examples is the absence of any CRM software companies in the first few results, we see a definition site and two review sites that dominate the organic area above the fold.
This is once again an example of Google providing what its users want (ignore the paid ads that are opposite J) instead of what the companies want.
Example 2: "email marketing software"
Search Volume: 8,100
CPC: $13.63
Keyword Difficulty: 60
Another nasty lucrative keyword, email marketing software providers are making like a 90% margin on us hard-working marketers.
Ranking #1 for a keyword like this would be worth about $27,600 in search traffic. Not as huge as some of the other keywords, but this one is more niche. The term "email marketing" gets 74,000 searches and similar CPCs. So we've got some funny money stakes here.
Let's look at who's doing what: 
Constant Contact

GetResponse

MailChimp
Not an exact match optimization, but pretty close. 

So let's look at the results: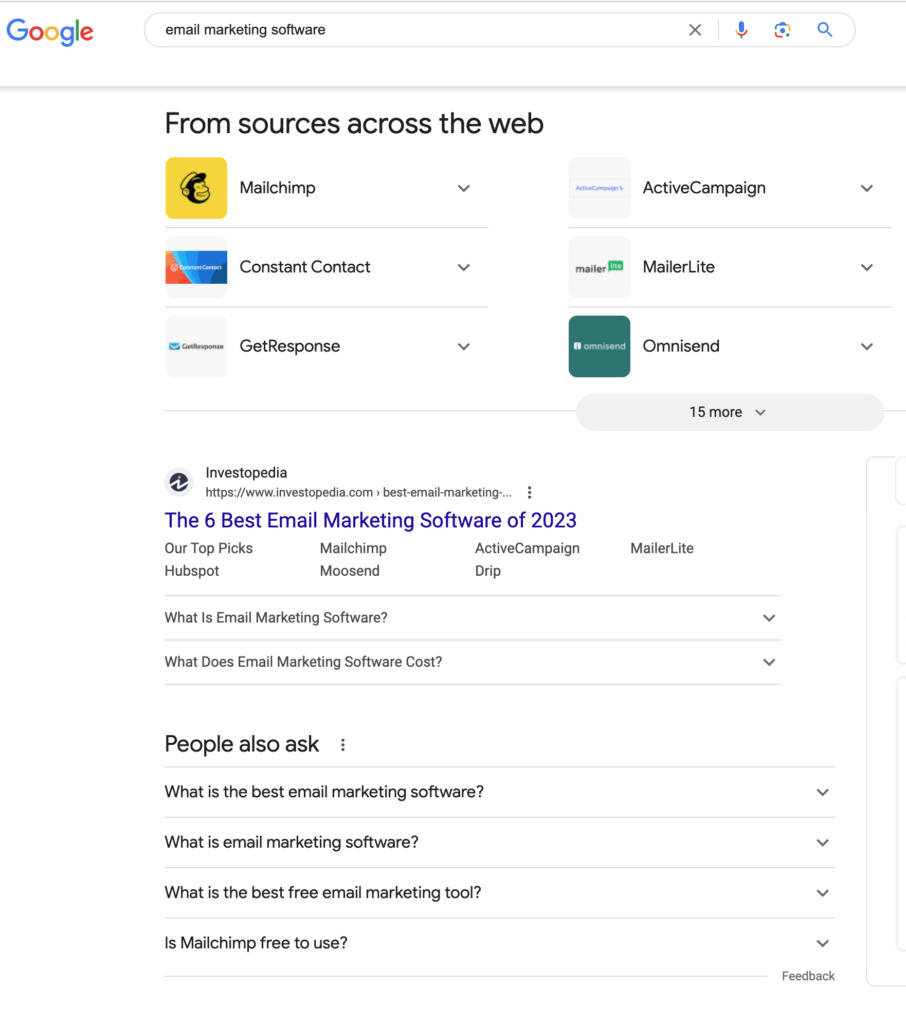 Again, we see a roundup post ranking, not a home page.
SaaS Homepage SEO Tips
To be blunt, marketers at SaaS companies just tend to be more advanced and savvy than other verticals, so I'm not surprised to see them implementing best practices better than other industries. That being said, here are some thoughts on how best to optimize a SaaS homepage:
Use the homepage as a beautiful sales or feature page, talk to your users and explain the features. MailChimp does a beautiful job at this, and so does HubSpot
MailChimp: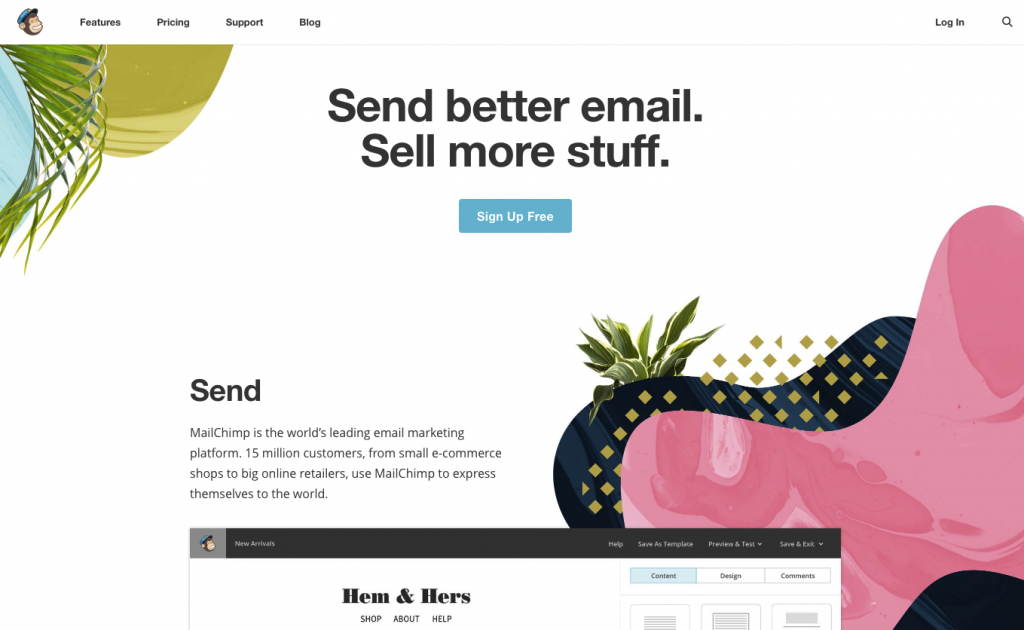 HubSpot: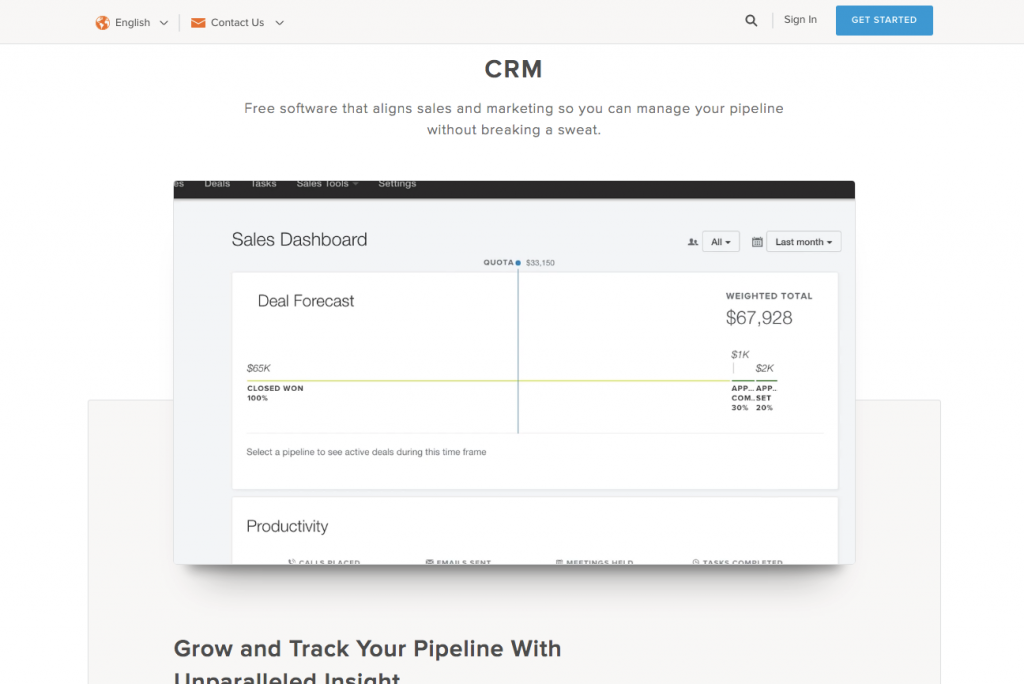 This is more experimental, but you can totally include cutting-edge and high-growth features on your homepage if they're not prominent to get a page of their own. They'll most likely rank on the homepage if you plan it correctly, and then you can migrate to their own page after that
Use the homepage as a portal to your featured products and offerings. Use the power of the homepage to push internal links to new pages that you want to focus on and get ranking fast.
What to do Next
The reality is that each and every keyword is its own strategy. Google has been around for almost twenty years and has perfected search result user experience. They're going to show searchers what they're looking for as best they can.
What that means is that you can't force-feed your chosen page into the SERPs. You have to look at what's ranking to understand the user intent, and then create a page that satisfies that query even more.
Homepage SEO is complicated. All of the results we looked at today more or less show that homepage SEO doesn't truly work for important keywords. At the same time, if you're a decent human being you'll follow some of the best practices to give your homepage a fighting chance for what it's good for.
I would love your feedback! How do you optimize your homepage SEO? What is your perspective? Did this provide clarity or confusion?
Reviewed for quality and up-to-date information, as well as updated some old screenshosts on August 30, 2023