Bucket List Events is a renowned tour operator offering extraordinary, once-in-a-lifetime trips worldwide. With offerings such as Oktoberfest, The Masters, Running of the Bulls, and the Olympics, they aim to provide unrivaled experiences and exclusive access to events that cater to discerning travelers.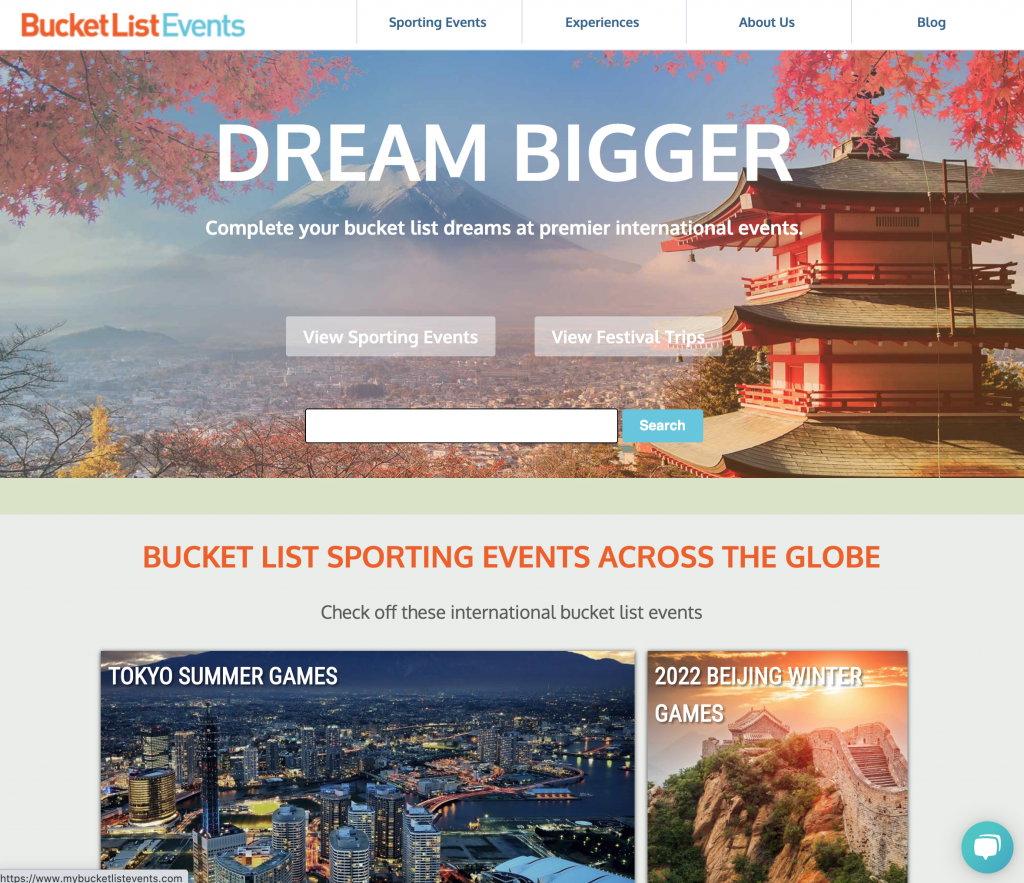 Background
Joe Robison, the founder of Green Flag Digital, initially served as the director of marketing at Bucket List Events.
During his tenure, he embarked on a transformative journey to overhaul the company's digital marketing strategy & execution.
This substantial effort included migrating their website from Magento to WordPress, overseeing a full redesign and rebranding, and capitalizing on HubSpot for marketing automation.
On the SEO front, Joe deployed a new content creation strategy to boost organic traffic and launched several innovative link-building campaigns.
Key Results
Over four years, we collaborated with Bucket List Events, catapulting their site from an under-performer to a leader consistently ranking #1 for core travel package search terms such as "oktoberfest packages" and "tokyo olympics packages".

Our efforts resulted in:
A staggering 902% growth in organic traffic, from 10,700 visits in Q1 2015 to 107,300 visits in Q1 2019.
An impressive average yearly organic traffic growth of 105%.
A significant increase in SEO-driven revenue from less than $1 million in 2014 to nearly $5 million in 2019.
An overall website traffic boost from 19,800 visits in Q1 2015 to 145,100 visits in Q2 2019.
Annual revenue growth from low seven figures to mid-seven figures, primarily driven by website leads.
"We hired Joe and Green Flag Digital when we first launched our business. With their help, we defined and expanded our online presence, increasing our web traffic by an average of 105% year over year. Joe and his team consistently delivered highly qualified leads that understood our product. Our annual revenue multiplied during the engagement, rapidly exceeding more than $5 million annually, driven almost exclusively from website leads. I'd highly recommend the Green Flag Digital team for any company looking to expand their inbound marketing and SEO."

– Brian Peters, CEO, Bucket List Events
Strategies Used
Site-Wide SEO Improvements:
We addressed foundational SEO issues comprehensively. Our strategy included mapping out the URL structure based on keyword research, implementing internal linking, overhauling on-page SEO on every page, and continuous refinement and optimization of the process. Our targeted approach helped Bucket List Events stand out in a highly competitive market, dominated by larger tour operators and tour aggregators.
Two-Year Blogging Campaign:
Backed by thorough keyword research, we embarked on a consistent blogging campaign. This helped draw in top-of-funnel traffic, boost brand awareness, and convert visitors to email subscribers. We published multiple blogs monthly, focusing on longer-form content and writing about topics that potential customers were actively searching for.
Continuous Content Marketing Campaigns:
Due to the nature of the product, serving customers with the best experiences on earth, there was always a new tour experience just around the corner. This meant seasonal campaigns supporting all of our event experiences were the heart of all that we did.
Marketing Automation with HubSpot:
We leveraged HubSpot to automate the powerful, yet repetitive tasks that allowed us to deliver value to customers and prospects faster.
This included:
Email automation sequences – drip campaigns and followups
Personalized email automations – based on user interest levels and activities to serve them best at the right place and the right time
List cleaning, building, and iteration – using automated list tools built in to HubSpot, we kept dynamic lists clean and healthy at scale, provide a better experience to employees, customers, and email spam filters.
Conversion Rate Optimization and UX:
We redesigned the experience and UI on key tour service pages to prioritize trust, value, and optimize for conversions.
We wanted to help our prospective customers find the right details on the packages they needed, at the right time.
Unlike many other tour operator hiding behind gated forms, we took the transparent approach to share pricing information with prospects up front. We added price calculator tools to help them estimate costs and make the right decision for themselves.
At the same time, we emphasized that tour sales staff was standing by to help them find and customize the right package for them. This is a true example of self-serve and sales-led service in action.
Conclusion
Through an integrated and focused marketing strategy, combining email marketing, SEO, CRO and design, Green Flag Digital successfully helped Bucket List Events amplify its digital presence, website traffic, and revenue.
This case study exemplifies our expertise in delivering holistic SEO solutions that not only understand the broader marketing picture but also drive substantial business growth.
Our journey with Bucket List Events is a testament to the power of SEO, affirming our capability to assist other tour operators and travel businesses in achieving their online traffic, leads, and revenue growth objectives.
Interested? Let's Talk
We can apply strategies and implementation from our experience in the travel industry to your firm, helping solve these problems:
SEO Strategy & Implementation: We empower you with the strategy and advice to analyze your market and make key business decisions with SEO in mind.
PR & Media: We can help you create owned content that lives on your site forever, and pitch creative content through our unique Content PR process to land earned media coverage.
Marketing Automation: In the age of AI, things are moving fast, we can help you implement marketing automation strategies, incorporating HubSpot, Zapier, OpenAI and other platforms to get work done, faster.
AI-Powered Generative Content: We can help define AI-powered generative content strategies using programmatic SEO and media principles.
Sales Enablement: We can help you connect organic SEO traffic and media with sales enablement content. We can craft stunning visuals, business graphs, and trends reports that help move interested prospects through the sales cycle and trust your expertise to close the deal.