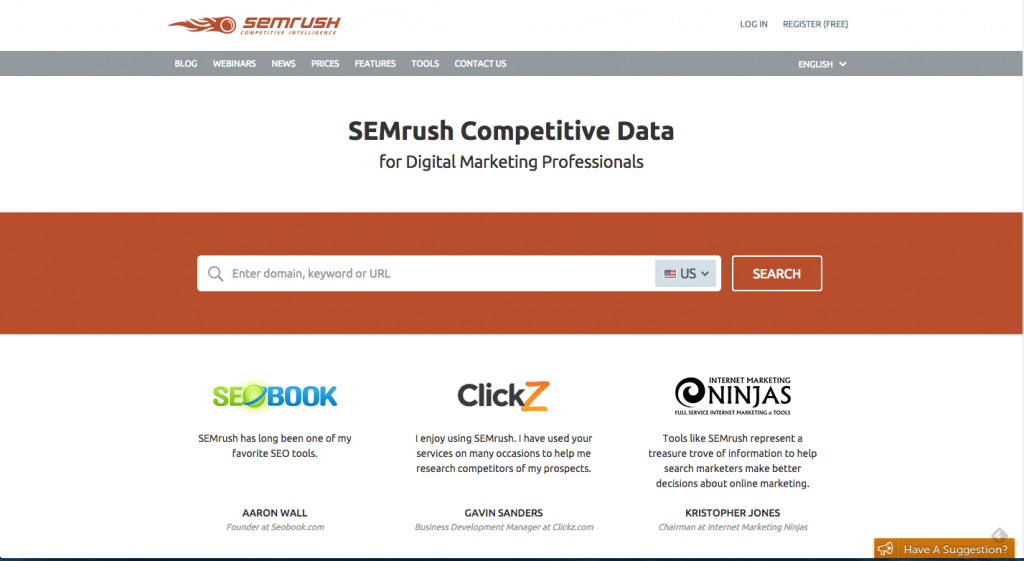 I've used a lot of tools to help improve SEO and content marketing research. Tons and tons.
I currently subscribe to four paid SEO tools, and these are the two most valuable that I'm currently paying for: SEMrush and Ahrefs.
First a recap of some of the paid tools I've tested (and this is only a fraction of all of them out there):
Majestic
Moz
Raven Tools
Brightedge (corporate level)
URL Profiler
Keyword Snatcher
Advanced Web Ranking
Authority Labs
All of the above tools have their strengths and weaknesses, and a different blend is required depending on your project. This is just one man's opinion. This actually might be the most incomplete list of SEO tools to use in 2015, but we have enough content deluge in our life so I'm keeping it short for you.
Why I use SEMrush
Quite simply, there's nothing that will give you a better way to quickly size up the SEO value of a site than SEMrush. It's very intuitive and fast, especially when you need to size something up very quickly.
Here are my top uses for SEMrush throughout the month:
Researching a prospective client's website
Comparing a client's current organic traffic vs competitors
Benchmarking a company vs its closest competitors
Quickly seeing how quickly a company has grown with search traffic
Getting a feel for how well a company's content strategy has worked for them
Detecting Google algorithm penalties
Finding an outsized weakness or strength of organic traffic vs other traffic sources
Looking at sites in an industry to see who the top dogs are and how much revenue they generate from SEO
Determining if a new business idea is worth the investment
Generating new keyword ideas based on competitors rankings
Finding competitor weak spots on keyword rankings
Seeing what keywords a client is ranking for
Uncovering what content investments are paying off for a website
Quite simply, SEMrush is excellent for initial market research and comparisons. It is snappy and fast, and the most addictive part of it is seeing essentially how much revenue companies are earning from organic traffic.
There are a bunch of other beta features such as rank tracking, backlink comparison, PPC and display ads spying, and more – but those aren't as much the core strengths of the tool.
There are some drawbacks of the tool – one being that only the top 20 positions are analyzed for keywords. Realistically, however, anything below the 20th position is not commercially lucrative so that's why they leave it out. If you need more than that data, Google's Search Console provides all of that.
SEMrush is a simple enough tool to get started with – most website and business owners can play with it – but there are tons of features that will allow an advanced expert to make some power moves with.
Can't Live without Ahrefs
I've tried a bunch of backlink checking services, and Ahrefs takes the take for the fastest, most user-friendly, and most powerful. Many tests have been run comparing backlink checkers. After testing a few of the tools mentioned earlier, I love Ahrefs the best.
Like SEMrush – they make it super user friendly to get started. Just punch in the URL you want to look up and it gives you some limited sample data. Anything more and you'll need a paid subscription. This tool is probably more on the intermediate to advanced end for users.
My top uses for Ahrefs:
Seeing how popular a potential client's website is on the web
Seeing if a client has ever generated publicity from major news outlets
Determine if a website has performed any link building outreach
Checking how difficult it would be to catch up to a competitor's website
See the newest links for a website
See the overall volume and quantity of backlinks for a website
See if a website is trending upwards or downwards in popularity
See the top pages of a website (based on # of links)
See the most popular content on a website (based on social shares and links)
Tons of other combinations of metrics
Some of the cooler new features they've introduced are the content analysis checker (like Buzzsumo) and keyword checker (like SEMrush). I don't believe Ahrefs is powerful enough just yet to replace those two tools, but it's a pretty good solution if you could only choose one.
The combination of these two tools works for me and gives me a ton of power when doing content and SEO research. It may not work for your projects, but definitely check these out and see if they work in your workflow.
backlink checkers
business research
competitor research
content strategy
seo tools