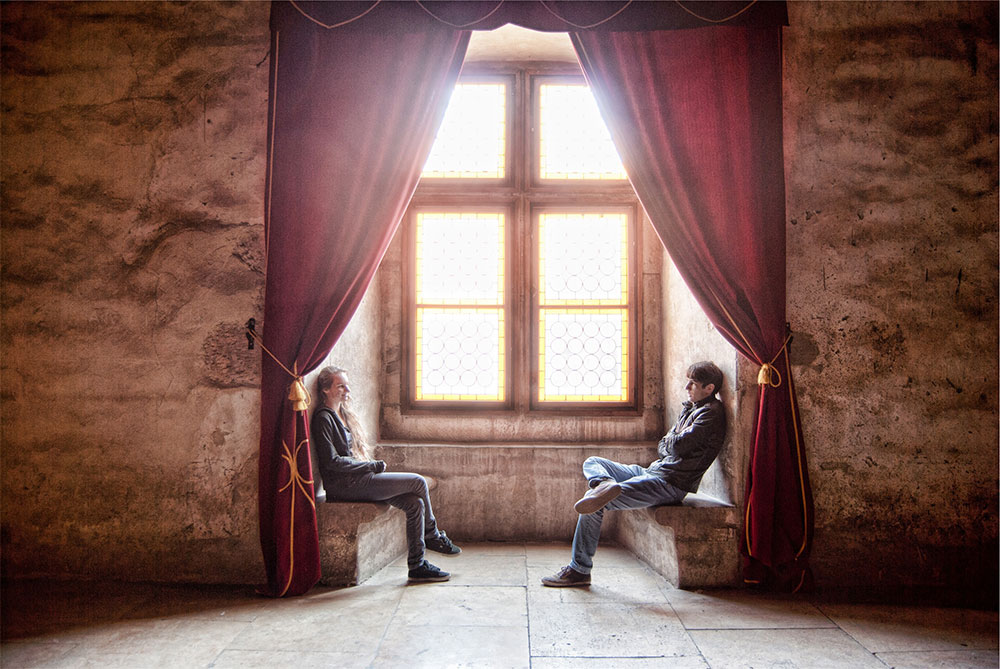 Notice how they're talking one to one?
The most agile and tech-focused new companies are the ones fully embracing permission marketing. Older, big brand giants continue to pump their millions into old-school techniques, focusing on reach and volume rather than permission and interaction.
According to Seth Godin in Permission Marketing, "this creates mammoth opportunities for new companies, for companies with nothing to lose, for companies with the flexibility and initiative to try a very different way of gaining and keeping customers."
One of the most important ideas of permission marketing, and repeated often by many, is that it's better to engage deeper with current customers first rather than spray your message across millions. Thankfully, with the tools we have today this is much easier than it was in 1999. Today we have sophisticated marketing automation tools like Hubspot, Active Campaign, Infusionsoft, Pardot, and more. As companies learn more and more about their customers, learning about them and grabbing more permission becomes shockingly easier.
The One to One Relationship
In his book, Seth cites The One to One Future by Don Peppers and Martha Rogers as "a book that changed the marketing landscape forever." The manifesto argues that companies are much more profitable selling more things to fewer customers. I've heard this before, but hearing it in the manner and the way that it is laid out is a huge revolution for me.
If you're selling travel tours to customers, rather than acquiring new customers and eyeballs continuously, it's much more profitable to encourage past customers to go on another trip with you. If you're selling an organic bottled juice, making it a daily habit for your customers rather than a weekly habit creates 7x the profit for you.
This is not a new concept in the business world, but in the context of permission and inbound marketing, it fits like a glove. The goals are aligned completely.
Peppers and Rogers tell you to focus on these four things when selling to customers:
Increase your "share of wallet". You have to build and earn trust, learn about the customer, and suggest more products or services to meet their needs.
Increase the durability of customer relationships. Customer retention is much cheaper than acquisition. Invest in keeping customers in the fold by educating and incentivizing them constantly. This will keep them in your graces longer.
Increase your product offerings to customers. This goes along with the share of wallet idea, by expanding offerings to meet the various needs of customers, you are increasing your profits and interactions with them.
Create an interactive relationship that leads to meeting more customer needs. An interactive relationship means making it a two way conversation. Both educating and incentivizing the customer, but also listening to their replies and questions. Be more responsive and attentive to their needs, and you'll earn more permission and trust from each customer.
Where Blogging and Social Comes Into Play
HubSpot share this image often: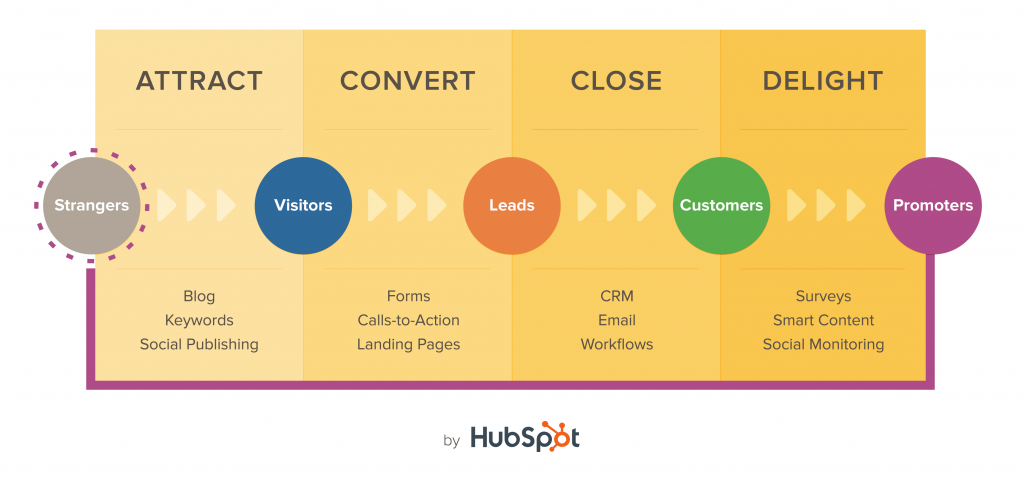 Here's another view, in funnel form: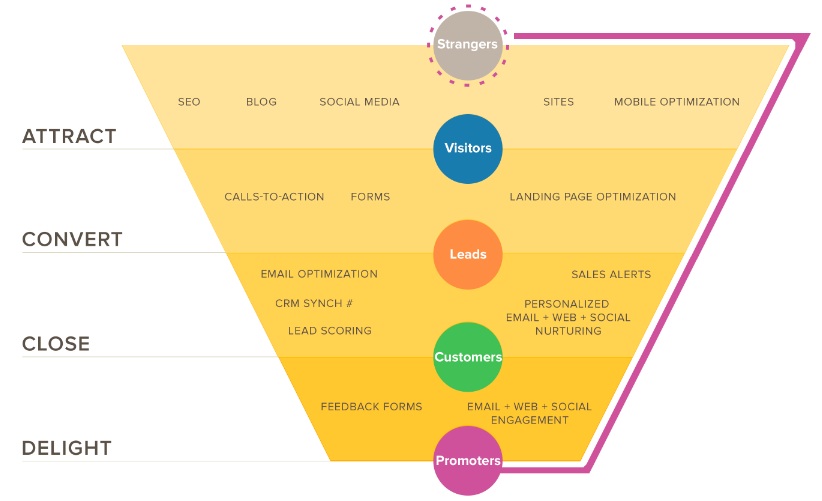 In 1999, when Permission Marketing was written, blogging wasn't an option, and search engines were a shadow of what Google now is. In order to create awareness, interruption marketing was still a necessary start of the process.
That's changed today by a few new technologies: blogging, social media, and search engines.
Now, in order to create awareness and turn strangers into visitors, the bar is lowered – although that means there's a deluge of content and media bombarding people everywhere they go. Cutting through that noise is a topic for next time.
inbound marketing
marketing funnel
one to one
permission marketing